February 2, 2010 at 2:19 pm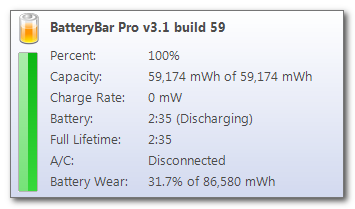 BatteryBar is a very nifty and accurate battery meter for Windows netbooks and laptops. There are two versions available, a free one and a Pro version that adds some extra features. This includes a low battery warning, the ability to customize settings as well as a context menu for preferences.
It is the one year anniversary of BatteryBar and to celebrate, Osiris Development is letting you buy BatteryBar Pro for whatever you think its worth. Prices range from $1 to $10 (the latter of which is the normal cost). Spending $1 – $3 will get you a 1 year license, whilst spending $4 – $5 will get you a 2 year license. A lifetime license will cost from $6. The software is Windows 7 compatible so you shouldn't have any problems getting it working on the latest netbooks.
Via Netbooked.