February 3, 2010 at 9:17 pm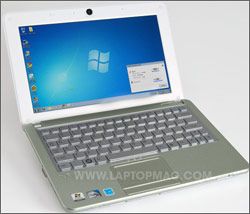 The Sony Vaio W Eco Edition netbook is the company's first Pine Trial netbook to be announced. As you can tell by the name, it doesn't differ hugely from the Vaio W netbook. It gets its Eco tag as it has recycled plastic parts, an innovative carry bag and an electronic manual. Also, the carry bag, manufactured using 100% recycled PET bottles, has been designed to replace the cardboard box that normal electronic devices come in.
Laptop Mag has reviewed the Vaio W Eco and found that it caters for a wide range of users including kids (with its pre-loaded kid-safe browser), colour schemes designed to attract female custom and the geeks with its HD screen. However, the question is that at $480, is the netbook worth the $80 premium? Laptop Mag concludes that it depends on your use. However, there are certainly better equipped netbooks out there for cheaper the cost including the Asus Eee PC 1005PE, Toshiba NB305 and HP Mini 5102.