February 8, 2010 at 10:09 am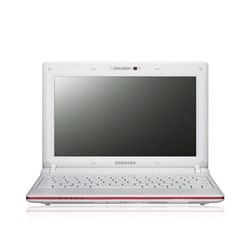 Samsung has released four new Intel Pine Trail netbooks and amongst them is the 10.1-inch Samsung N150, powered by a 1.66GHz N450 Atom processor, boasting an 8.5-hour battery life. Cnet recently reviewed the Samsung N150 netbook and whilst they lauded its battery life, the keyboard fell short, a disappointment considering Samsung's pedigree in this area.
The chassis comes with a glossy black lid (I really wish Samsung would go back to its matte lid on the Samsung N120) that is a bit of a fingerprint magnet. Samsung's netbook keyboards have stood out in the past, however Cnet found the one in the N150 disappointing. This was due to close proximity of keys that caused errors aplenty. However, the touchpad made up for this with accurate tracking and mutt-touch gestures out of the box.
The 10.1-inch (1024 x 600) matte display is pretty good and the performance is as you would expect from older Diamondville netbooks. It scored 1,355 in PCMArk05 and 155 in 3DMark06. Battery life is where it really stands out, lasting for 5 hours and 2 minutes in the Battery Eater Classic test. It offers good value for money too at around the £280 mark. Click here to read the full review.
Official page: Samsung
More information: TestFreaks