After months of speculation, Nvidia has finally released details on the next generation of Nvidia ION graphics. There have been various rumours up until now including whether the new ION is a chipset or discrete solution, performance leaks and talk of two ION solutions. As with any kind of leak, the reality is that some of these rumours have been spot on whilst others have been off the mark.
We are big fans of Nvidia's original ION chipset, believing it makes a massive difference to a netbooks overall proposition. The ability to play flawless 1080p video, HD Flash as well as enabling casual gaming is a real game changer for those who demand a multimedia solution. In our view, next generation Nvidia ION builds on this further. Click through for full details on the new ION.
Next generation ION is a discrete solution
The next generation Nvidia ION solution employs a discrete solution as opposed to the chipset architecture seen in the original ION. Nvidia couldn't use the same chipset methodology as in the original ION as the new Intel Pine Trail processors use a two-chip architecture. The new Intel Pine Trail platform uses the DMI bus to connect to the Pineview processor and NM10 express chipset. However as Nvidia doesn't have a license to create chipsets around the DMI bus, the ION GPU uses the PCI Express lanes of the Intel NM10 chipset to interface with the Pine Trail platform. This is possible as the NM10 has an integrated PCI-E controller. Whilst bandwidth over these PCI-E lanes was an issue, Nvidia has made a number of optimisations to overcome this.
The picture below compares the next generation 40nm ION chip on the left compared to the original ION 65nm chipset on the right. The size difference relates to the fab manufacturing process used in each chip.
Next generation ION specifications
The next generation ION is DirectX 10.1 compatible and has up to 512MB of dedicated DDR3 memory. It supports all current Intel Pine Trail processors as well as a number of different display interfaces including HDMI, DVI, VGA and even DisplayPort. There is no compatibility with other processors right now, such as VIA, however Nvidia hasn't ruled this yet. In terms of an Intel CULV + ION solution, Nvidia has simply said "watch this space".
Two ION chips cater for different display sizes
There will be two next generation ION chips on the market. The lower specced version will be for use in 10-inch netbooks and will come with 8 CUDA cores. The higher specced version will come with double the number of cores (16) and will be used in 11.6 / 12.1-inch netbooks and desktops. The original ION also had 16 cores, but from our understanding the new ION is clocked faster.
What is not clear is whether an OEM can opt to use the 16-core chip for use in a 10-inch netbook if they wanted to. The reason for the two chips relate to TDP (thermal design power) issues in using the higher specced version in 10" netbooks. The 8-core version of ION has a TDP of 6W versus 13W for the 16-core version.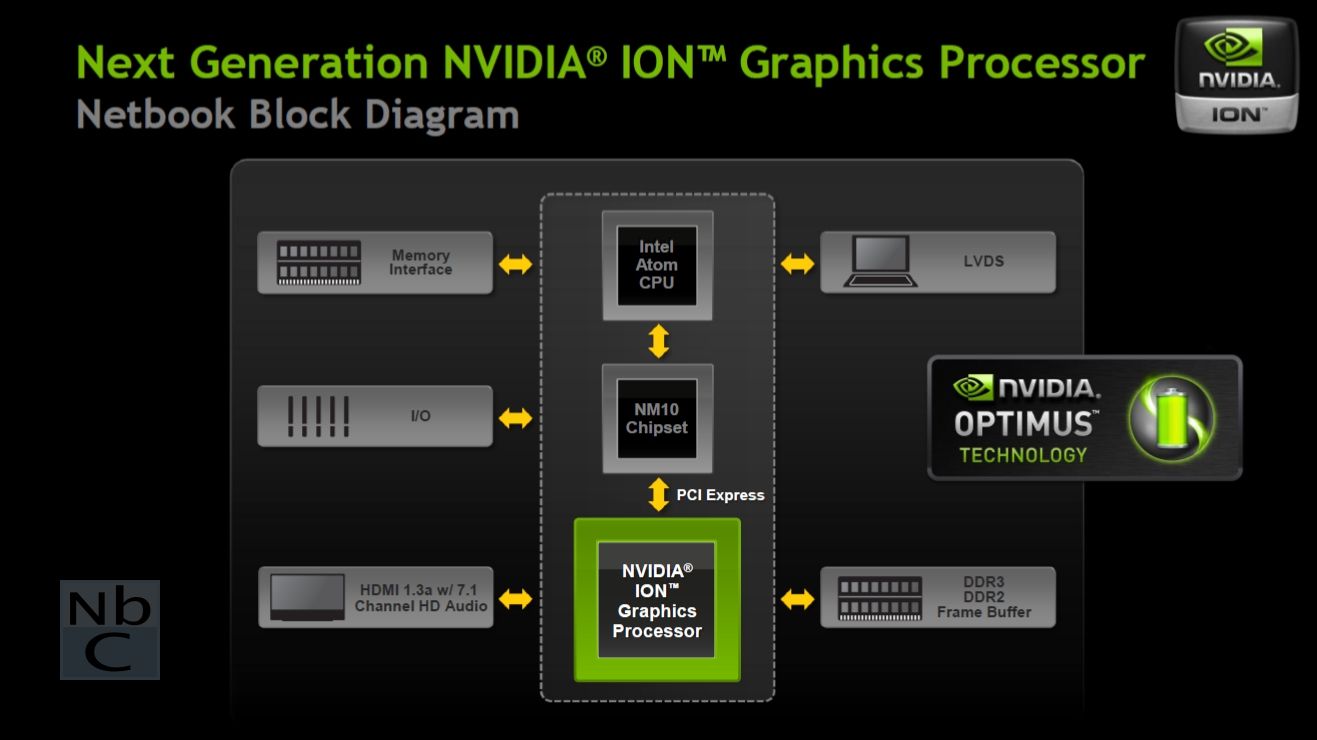 The actual GPU part used is the Nvidia GT218. You can make out the chip part in the picture below.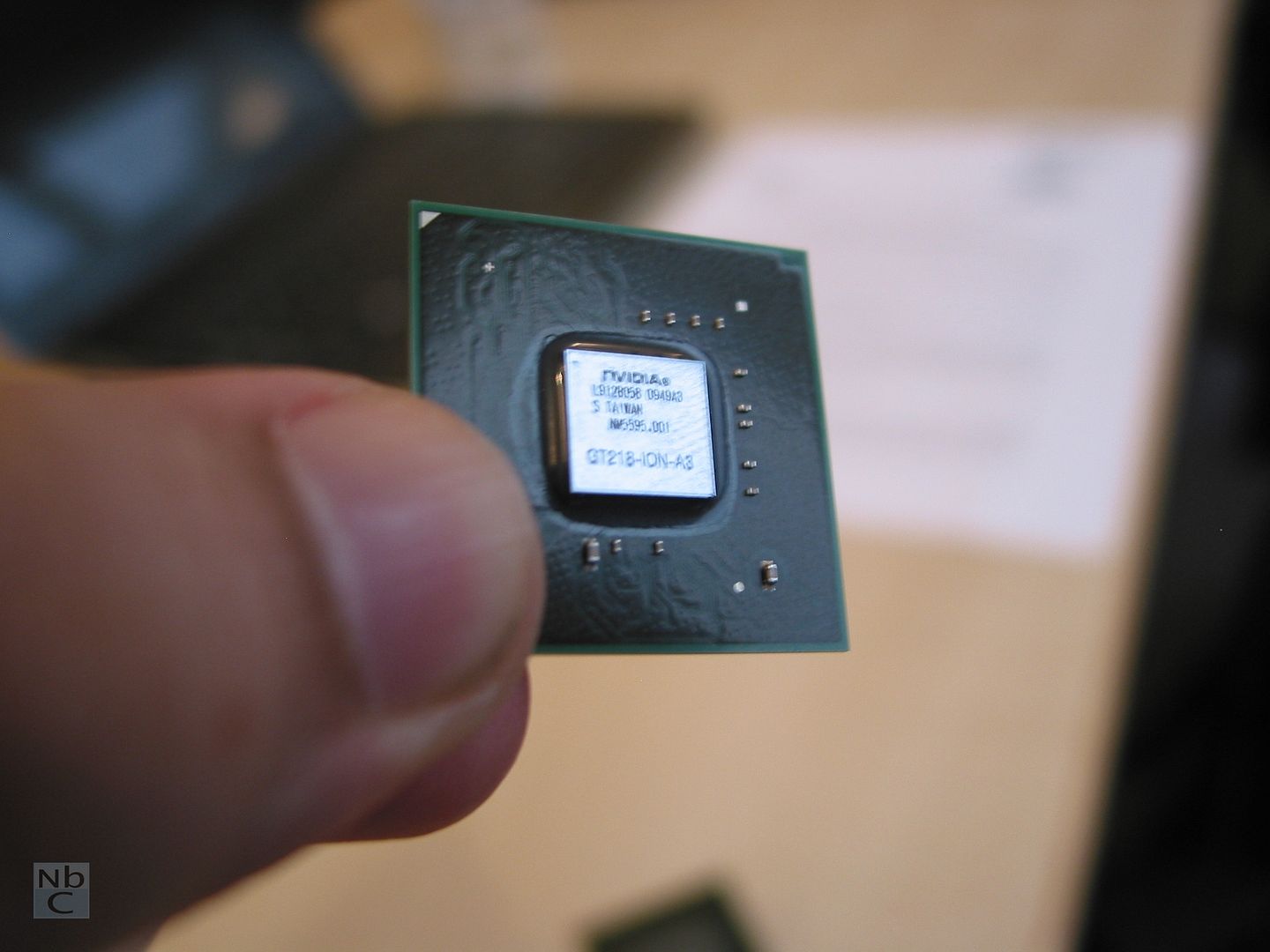 Next generation ION performance
We have to trust Nvidia on this one as we didn't get to see any raw benchmarks ourselves. However, they claim that the 16-core next-gen ION part is 50 percent faster in the 3DMark06 benchmark than the original ION. The difference is even more pronounced when using the 3DMark Vantage (DX10 only) benchmark – next generation ION is twice as fast as the original. We look forward to testing this for ourselves at some point in the future, however if these results are close to being true it is a very impressive feat.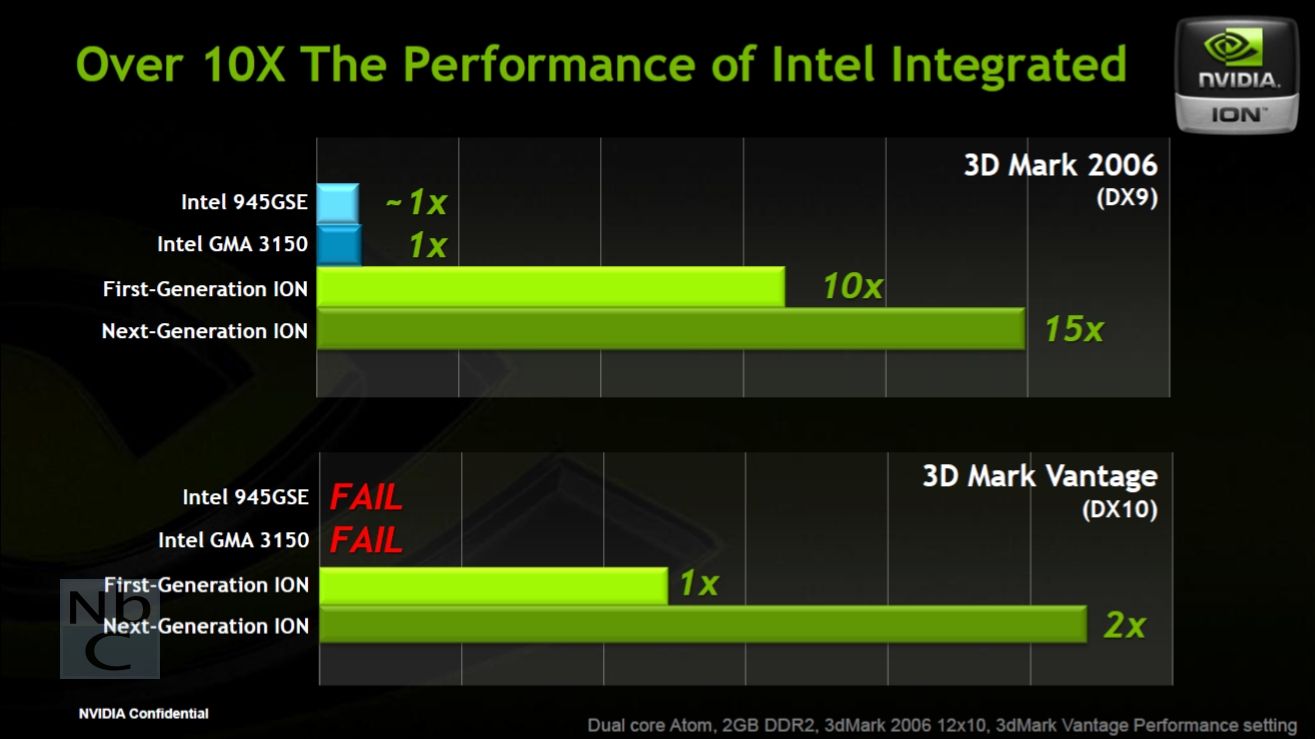 Nvidia Optimus technology now part of ION
We have talked about Nvidia's Optimus technology at length before. In simple terms it is an automatic switchable graphics system that preserves battery life. If a task needs the extra grunt, such as gaming or Flash video, then the Nvidia GPU will switch on. As soon as you stop, the GPU will automatically switch off again. As can be seen below, when using Office or browsing basic websites, the system will use the IGP.
However, when gaming, watching HD content or using Flash websites the GPU will kick into action.
The result is that the GPU only works when it is needed, leaving you with a battery runtime nearly as good as a system that just uses the IGP but with the GPU benefits when needed.
Next generation ION branded simply as 'ION'
Nvidia will not change the branding for the next generation of ION graphics. There is no 'ION 2' or the like, these new GPU parts will be branded ION, just as the original. This potentially creates a very confusing scenario as all parts will simply be known as Nvidia ION. There will be some clues to knowing whether you have the newer part though. We know that, by default, all Pine Trail netbooks using ION graphics will be using the next generation part. From a marketing point of view, some companies may decide to use the term 'ION with 512MB memory' or 'ION with Optimus technology' to differentiate it from the original ION chipset.
Next generation ION turns your netbook into a multimedia workhorse
As with the original ION, Nvidia has created a compelling proposition for the use of ION in netbooks. This was easily apparent when reviewing the 11.6-inch Samsung N510. We were able to watch any HD video content with ease, 1080p YouTube Flash was watchable and we were even able to play Call of Duty: Modern Warfare 2 on the netbook too.
This even extends to encoding video using CUDA hardware accelerated applications. The number of CUDA-compatible software is only likely to increase as time goes on.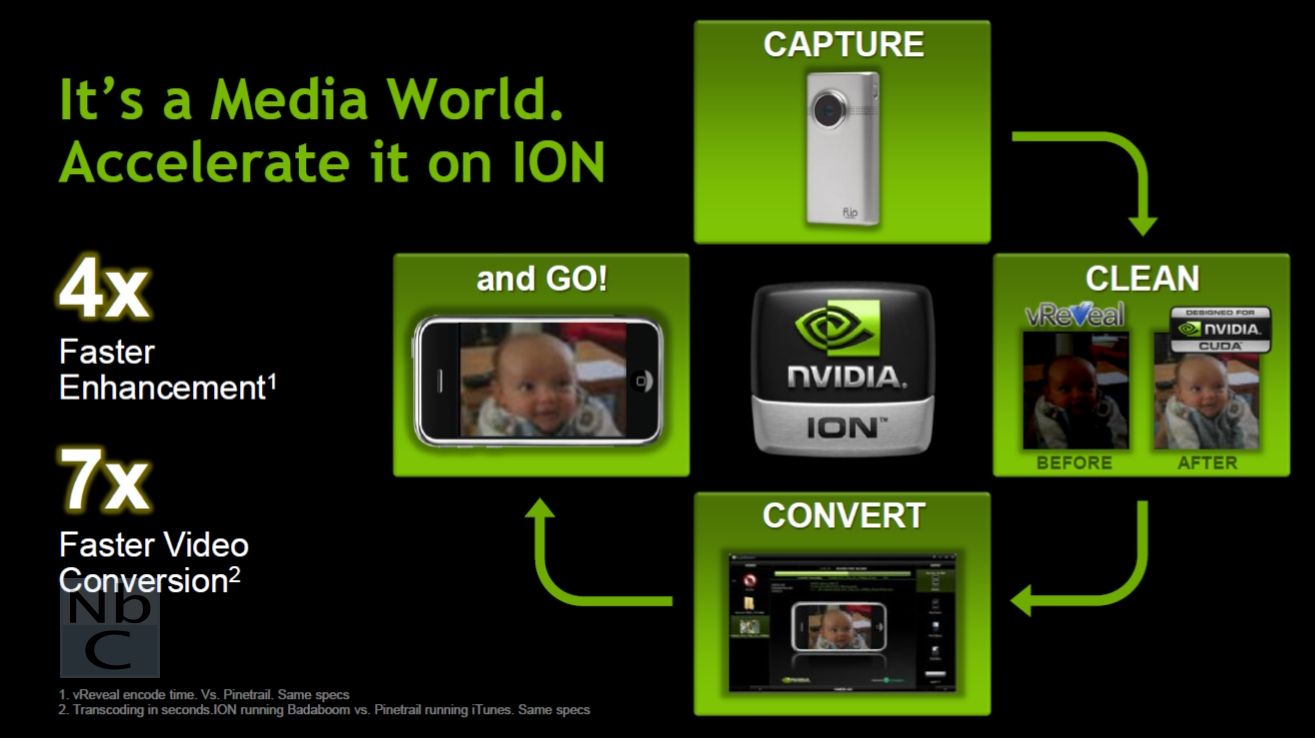 The other indirect ION benefit is its pairing with Windows 7 Home Premium that allows for a more enjoyable OS experience. I found the tagline at the bottom of the slide below quite interesting. Personally, I've not really had any problems with the limitations of Windows 7 Starter, but obviously some people do.
Conclusion
Nvidia is expecting that over 30 next-generation ION products will be shipping by this summer. From all that we've seen, we wouldn't be surprised if the H2 2010 number is significantly higher. Nvidia has built on the original ION to create a GPU part that is apparently 50 percent faster than the original and is more energy efficient.
However, in our view, the biggest difference between the old and new ION part is Nvidia's Optimus technology. In our view netbooks are all about portability and battery life and Optimus allows one to buy a device with very strong multimedia capabilities without having to sacrifice on runtime. It is all of these factors combined that has created one of the most compelling netbook technologies we've yet seen. We are very much looking forward to testing a next generation ION netbook in the near future to see if the performance and battery life lives up to Nvidia's claims.
Next generation ION Chip Shots