March 11, 2010 at 11:58 am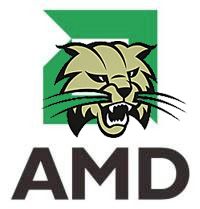 AMD already outlined its plans to enter the netbook processor market during an analyst day last November. As a quick reminder, the company introduced two new processor cores codenamed Bulldozer and Bobcat for release in 2011. Bulldozer is designed for desktops & servers, whilst Bobcat is targeted at ultra-thin notebooks. However, netbooks will also be targeted for the first time within the Bobcat family.
We knew that Bobcat was being designed with power efficiency in mind and AMD's chief marketing officer, Nigel Dessau, recently said that the netbook chip will run with a similar TDP to the Intel Atom (10W-15W) and "it will have a good processor integrated with graphics, so you won't need the [Nvidia] Ion graphics to give it half-decent performance."
The chip will be purposely designed for screens no larger than 12-inches. "If we'd had a part, we'd have been in this space. We didn't have a part so we went and worked on a part for the thin and light space. The plan is to come to market next year with a Fusion part that fits in it nicely in a netbook type thing," Dessau said.
Via InternetNews.