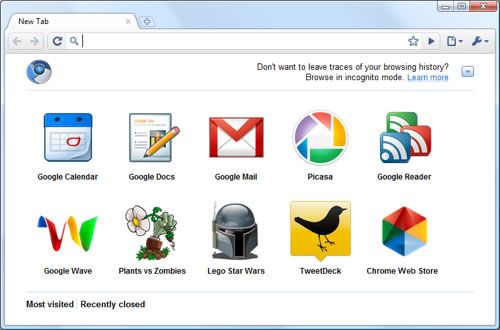 Google announced some exciting new developments during its annual I/O developer conference. This includes a new online application store for the Chrome browser and, eventually, Chrome OS. This new web store will house both free and paid software, much like other app stores out there.
Google will line up its own apps on the platform, as you would expect, including Google Docs, Google Calendar, Google Reader and Google Wave. However, third-party apps will also exist including twitter client Tweetdeck. Installed apps will appear as a tab on the app browser that will have a built-in payment system. The app store is expected to hit the Chrome browser later this year and will be included at the launch of Chrome OS.
Google also announced a new HTML5 open-source video codec called WebV. This format incorporates open source video and audio codecs — VP8 and Ogg Vorbis — in one container based on Matroska. The company claims that this new format will play well on everything from notebooks and netbooks to smart phones and tablets and should be simple to create.