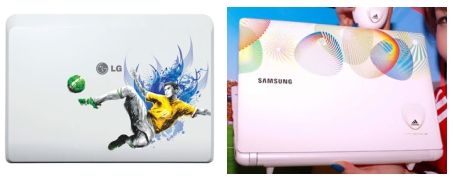 Two new football special edition netbooks have been announced, no doubt with the upcoming Football World Cup in mind. First of all we have the Samsung N150 Adidas that is powered by a 1.66GHz N450 Atom processor and sports a 10.1-inch (1024 x 600) display. Other features include Bluetooth 3.0.
LG also has the X140 World Cup Edition netbook that has a 10-inch (1024 x 600 or 1366 x 768) display and is powered by either a N450 or N470 Atom processor. It comes with a World Cup logo on the lid and is available in black, white and pink.
Via Netbook News.it and Netbooked.