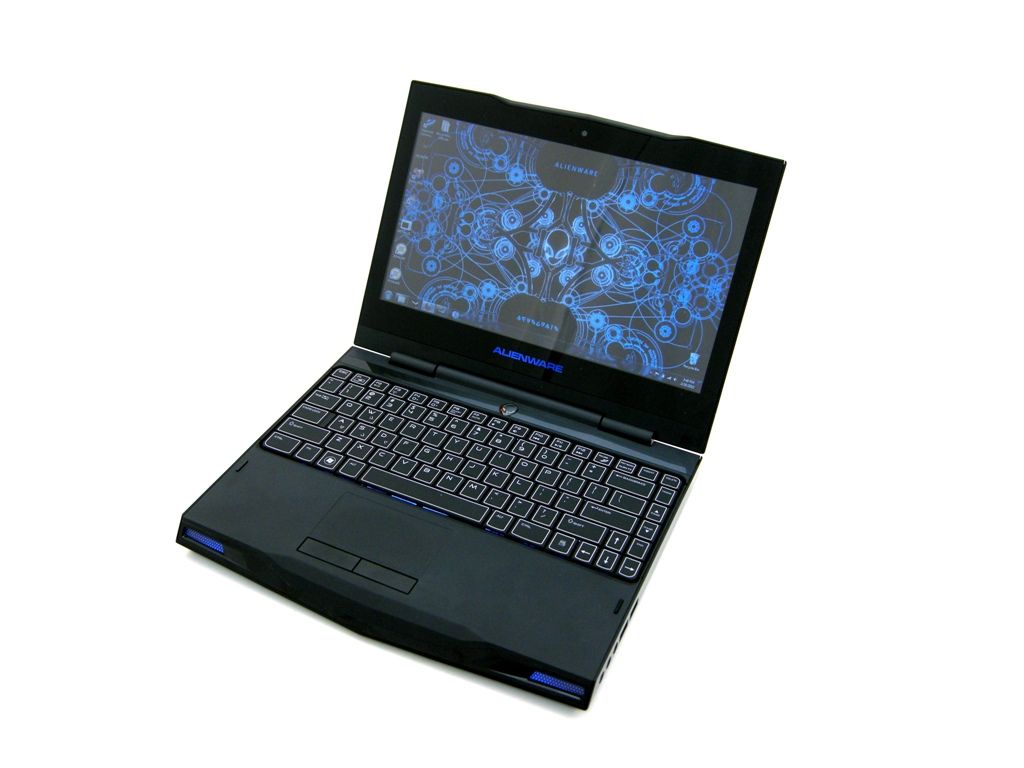 The original Alienware M11x came with basically two processor options, the 1.3GHz Pentium Dual-core SU7300 or 1.4GHz Intel Celeron SU4100. However, more recently, Dell revamped the M11x to feature the latest Core i5 and Core i7 processors, also bringing with it Nvidia's power-saving Optimus technology.
NotebookReview managed to get hold of two Alienware M11x models at E3, one with the 1.066GHz Core i5-520UM processor and another with the 1.2GHz Core i7-640UM. They ran a wPrime test and compared the results to the original M11x they reviewed that sported the 1.4GHz SU4100. As you'd expect the Core i7 and Core i5 was faster than the SU4100, however overclocking the SU4100 gave it second place at 51.15 seconds compared to 39.47seconds (lower is better) for the Core i7-640UM. However, both the Core i5 and i7 models are also overclockable. Check out the results after the jump. Read more
Dell has finally updated its 11.6-inch uber-gaming ultraportable, the Alienware M11x, with options for Core i5-520UM and Core i7-640UM processors along with Nvidia´s Optimus technology for its GeForce GT 335M graphics.
The new processors have already showed up in many countries around the world, including the UK and is due to hit the US later today. The Core i5 CPU is available in a £849 model and if you´re after the Core i7 CPU, you´ll have to fork out an extra £180.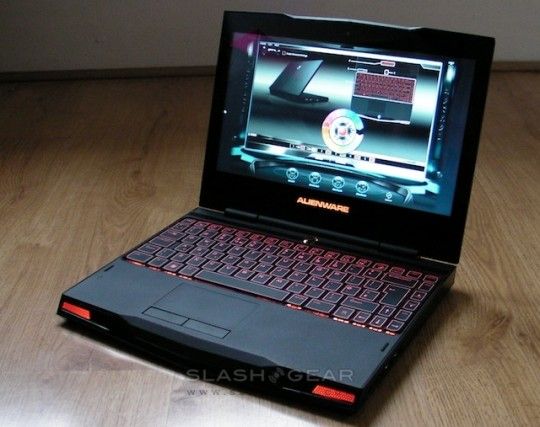 The 11.6-inch Alienware M11x gaming ultraportable behemoth will be getting an update next month that will include the latest Intel Core i3, i5 and i7 processors. Pearce Clune, Head of Dell's Consumer Operations for Middle East, Africa and Turkey, revealed so in a video interview with Shuffle Magazine.
This will be welcome by many, however personally I hope the M11x also gets Nvidia Optimus technology at the same time. The inclusion of the intelligent GPU switching tech should mean a longer run time. We'll keep you posted on developments, but in the mean time check out the video interview after the jump (the reveal is at 2:20). Read more
Dell has announced the Latitude 2110 netbook as expected. The refresh over the 2100 comes in the form of the newer Pine Trail Atom processors with Dell targeting the device to not only the education market, but also business customers too.
Given that different segments have different needs, the netbook has not been designed with a one-size-fits-all mentality. The 10-inch model comes with either 1024 x 600 or 1366 x768 resolution options. As before the 2110 has a -resistant keyboard and anti-microbial rubber coating. Read more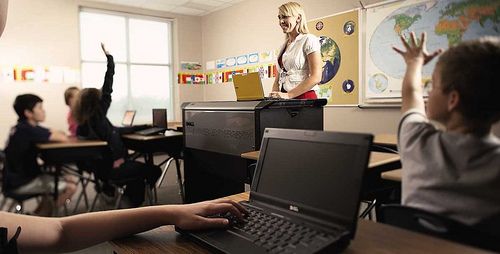 Sascha from NetbookNews.de says that the Dell Latitude 2110 netbook, a refresh of the popular Latitude 2100 netbook aimed at the education market, will be formally announced next week. There's no other details for now unfortunately, so we'll have to wait until next week to see whether Dell managed to make it a bit slimmer as well eye the full list of specs.
April 25, 2010 at 8:07 pm
Dell will launch a "netbook tablet " and normal netbook, both sporting Android according to a leaked roadmap obtained by Android Central. The Dell Sparta netbook will come with a rotatable 11-inch (1024 x 768) display powered by an ARM processor. It will also come with optional 3G along with Wi-Fi and Bluetooth.
The Dell Athens netbook is more typical in its form-factor and will sport a similar sized display and ARM processor. It will have a thin chassis and weigh less than 900g (1.98lbs). These models are expected to launch during the Autumn. Check out a large screencap of this Dell roadmap after the break. Read more
April 22, 2010 at 10:22 am
Following a whole raft of Dell smartphone leaks, it looks like the company is also planning a 7-inch tablet sporting the Nvidia Tehra 2 chipset and Android 2.1.
Dell is calling the tablet 'Looking Glass' and looks like it's the bigger brother of the 5-inch Streak tablet. It comes with a 800 x 480 resolution touchscreen 4GB of RAM and ROM, SDHC card slot (32GB compatible), 1.3MP camera, Wi-Fi (b/g/n), Bluetooth 3.0 and an optional ATSC/DVB-T TV tuner. It is expected to land in November 2010. Click through for the specs. Read more
April 17, 2010 at 4:59 pm

Last year everyone was jumping on the netbook bandwagon, this year it's all about tablets. The latest behemoth believed to be prepping their own competitor to the Apple iPad is Dell.
Engadget received word along with some images of some unannounced 7-inch and 10-inch Streak tablets. The smaller version is expected to arrive later this year and the latter will launch in 2011. That's all the detail we have for now, no word on specs or pricing.
April 15, 2010 at 10:35 am
One of the best Hackintosh netbooks around has reached its natural end of life. Dell is discontinuing the Mini 10v netbook, in light of the new Pine Trail Mini 10 models. The Mini 10v came with a 1.6GHz N270 Atom processor.
If you were considering buying a Dell Mini 10v then fear not as Amazon
is still selling the model, although you'd better act quick as it may not be around for long.
Via TUAW.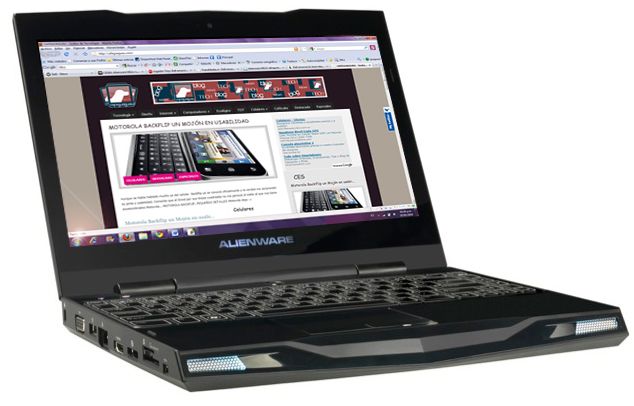 The Alienware M11x had an unfortunate launch timetable. Just as it was coming to the market we started to hear about Nvidia Optimus power-saving technology. Well it looks like Alienware won't be sitting back for too long, judging by some discussion over at the NotebookReview forums.
Member Darkhan, who is believed to have inside links with the company, has said that Nvidia Optimus and an Intel CPU refresh will hit the M11x in June/July. Good news if true, however I'd be a bit annoyed if I had just bought one, especially given the short timeframe before new models will appear.
Via Engadget.
Dell and Hewlett-Packard (HP) are significantly reducing their investment in the production of 10-inch netbooks according to sources at Digitimes. The reason behind is this is supposed lower than expected profits from the current Intel Pine Trail netbooks.
The report goes on to say that HP may quit the 10-inch netbook segment altogether and instead focus on 11.6-inch AMD-powered netbooks. The competitiveness in this segment is one of the reasons why there has been a slow take-up of smartbook devices by vendors. I find it hard to believe that both companies would want to move away from 10" netbooks given their success in this segment, but stranger things have happened.
Update: Electronista is reporting that the Dell Mini 10 is "not going anywhere," according to a spokesperson.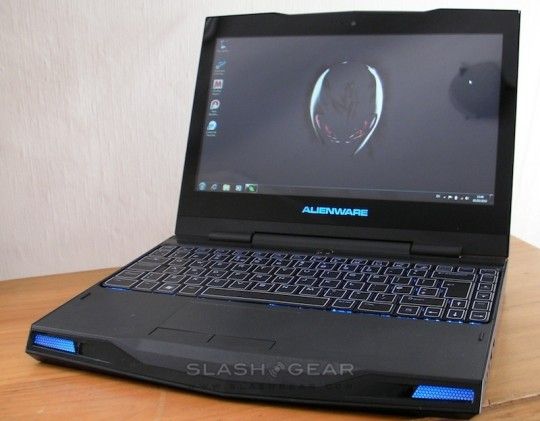 The Alienware M11x is probably one of the most advanced 11.6-inch ultraportables on the market right now. Whilst we have already seen a very positive review, we were yet to come across an unboxing video. Slashgear has stepped up to the plate and have shown exactly what you get packaged with the M11x.
The model tested comes with a 1.3GHz SU7300 Core 2 Duo processor, 4GB DDR3 memory and a 256GB SSD. Graphics is taken care of by a GeForce GT 335M with 1GB of dedicated memory. Initial impressions are that it is all solidly built but the casing is a real fingerprint magnet. Battery life is said to last for 8.5 hours although this hasn't been tested yet. Check out the video after the break. Read more
February 26, 2010 at 11:21 pm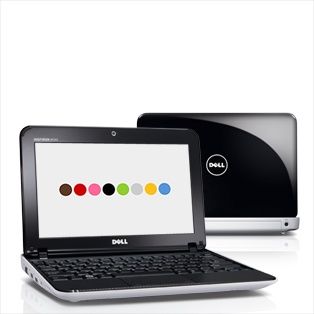 The Dell Mini 10 is now available with a high-resolution (1366 x 768) display and Broadcom's Crystal HD Accelerator card. Dell includes the latest Broadcom Crystal HD driver (Version 3.18) as well as Adobe Flash Player 10.1 Beta 3 to get HD video content working on the netbook smoothly.
This new Dell Mini 10 SKU comes as part of a Mini 10 bundle that you can check out here. It also includes a 6-cell 56WHr battery, 250GB HDD and SRS audio. The Broadcom chip supports a number of different media players with hardware acceleration. Check out a list after the break. Read more
February 13, 2010 at 11:28 pm
The Alienware M11x is probably the most powerful 11.6-inch device on the market. Whilst we saw the first review pop up last week, we hadn't seen any close ups of the M11x. Johannes from NewGadgets.de managed to get some hands-on time with the gaming beast and shot a quick video tour that shows the ports, switchable graphics (not Optimus) and backlit keyboard. It's well worth the watch if you're considering the M11x as a future purchase. Check it out after the break. Read more
February 4, 2010 at 5:46 pm
Whilst we wait for the 11.6-inch Alienware M11x to start hitting consumer's hands, the folks over at HardwareHeaven have reviewed one of the first models off the production line. To say they were impressed is an understatement. According to them, the M11x is "without doubt one of the best laptops we have tested… if not the best. Not only that, it's right up there as one of the best products we have ever tested, in any category."
High praise indeed. The design carries on the aggressive lines of its larger brothers in the Alienware range, it also felt sturdy and robust. The backlit keyboard is comfortable to use as is the touchpad with near silent mouse buttons. The 11.6-inch (1366 x 768) display is bright and speakers have a good amount of volume. Read more