Jolicloud v1.0 is set to bring with it full touchscreen support, just in time for the mass number of tablets and convertible netbooks that are due to hit the market. There's no release date for the latest version, but we've attached a video after the break that shows a demonstration of the touch-enabled Jolicloud OS running on a Samsung NB30 netbook with touchscreen display. Read more
The project release of MeeGo v1.0 has been announced for netbooks. The MeeGo Netbook User Experience (as they are calling it) includes a UI similar to Moblin and provides instant access to synchronized calendar, tasks and appointments. Social networking functionality has been aggregated and v1.0 uses the Chrome browser.
The next release, MeeGo v1.1 is planned for October and will include touch support. The MeeGo API has also been released that includes Qt 4.6. If you want to give MeeGo v1.0 a whirl on your netbook you can download it here.
Canonical has announced its own instant-on operating system called Ubuntu Light. This lightweight OS has a tailored netbook interface called Unity and will boot into a browser in 7 seconds. It also features chat, IM, browser and media player applications.
Unity will be the desktop environment for Ubuntu 10.10 Netbook Edition that is expected to be released in October 2010. Unity is designed for netbooks and touch devices and will include a new panel and app launcher.
Via Mark Shuttleworth.
When the smartbook category was first announced, many didn't expect that we'd still be waiting for the first device to make an appearance almost a year later. ARM's marketing VP, Ian Drew, has commented on the delays and says that they have been caused by issues with Flash optimisation as well as cold feet from manufacturers.
"We thought [smartbooks] would be launched by now, but they're not. We've seen things like Adobe slip — we'd originally scheduled for something like 2009," said Drew. "Our target is mostly internet machines — it becomes sort of a requirement that they run the internet. [The delay in optimising] Flash has stalled it". Read more
April 30, 2010 at 3:13 pm
Canonical has now released Ubuntu 10.04 that sports a new (less brown) look, faster boot speeds, an online music store as well as social network integration.
Netbook owners will be glad to hear that UNE benefits from faster SSD boot speeds as well as faster suspend/resume time that should help battery life. It is available to download right now here.
April 29, 2010 at 10:28 am
In an unexpected move, HP acquired Palm for $1.2 billion yesterday. One of the side affects of this acquisition could be HP using Palm's WebOS operating system for use in a number of devices, besides smartphones, including tablets and netbooks.
On the conference call yesterday, HP's Todd Bradley said "between smartphones, slates, and potentially netbooks, there are a lot of opportunities here." HP is obviously testing a number of different form-factors and OSes at the moment including the Compaq AirLife that sports Android and the HP Slate. Whilst there's nothing definitive right now, we look forward to see exactly what could come of this deal.
Via Engadget.
April 20, 2010 at 12:43 pm
Synaptics has announced the Gesture Suite for Linux that at long last brings multitouch gesture support for touchpads. A number of Linux flavours are supported including Google Chrome OS, Fedora, Ubuntu, RedFlag, SuSE, and Xandros.
Current Linux netbook owners will be disappointed to hear that a downloadable update is not available. The software is only available to OEM partners, so hopefully we'll see some standalone Linux netbooks fully embracing this latest update in the future.
Via Electronista.
April 15, 2010 at 11:19 am
Intel has demonstrated the new MeeGo OS ( a collaboration between Intel's Moblin and Nokia's Maemo OS) at IDF 2010. In a few videos it has shown some demos of MeeGo v1.0 on an Acer netbook along with other devices such as HDTVs and smartphones.
The netbook demo shows MeeGo looking to be remarkably similar to Moblin. There are different sections to the screen including integrated social networking as well as full compatibility with Intel's AppUp store. Check out the demos after the jump. Read more
April 13, 2010 at 11:31 am

MeeGo, the lovechild between Intel's Moblin and Nokia's Maemo operating systems, is getting a lot of support from the industry. The Linux Foundation has released a list of all those showing public support for the new OS including a mix of hardware and software developers.
Included in the list are netbook heavyweights Acer and Asus and highlights that we may see dedicated MeeGo netbooks at some point in the future. Acer's Jim Wong, senior corporate vice president and president of IT Products Global Operations said: "Acer was an enthusiastic adopter of Moblin and we're excited about Moblin's evolution into the MeeGo software platform. We're looking forward to ecosystem innovation that will be enabled by the open nature of MeeGo." Read more
For those wondering just how quick Asus' ExpressGate instant-on operating system is compared to traditional Windows, you're in the right place. Sammy Production did a video benchmark comparing boot times side-by-side on two Asus Eee PC T101MT netbooks.
Asus ExpressGate is basically a rebranded version of Splashtop that took around 20 seconds to boot. For those wondering why it wasn't faster, it is because there are two versions of Splashtop. The one normally found on notebooks and desktops uses 512MB of Flash memory and takes around 5 seconds to boot. The other uses the hard disk partition (as in the netbook) that means it's slower. Check out the video after the jump. Read more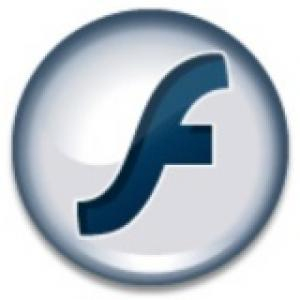 Adobe has finally announced the arrival of Flash Player 10.1 Release Candidate. The RC edition should have most of the major bugs fixed following the beta phase and for those people that had issues with previous versions you should give Flash 10.1 RC a try.
Flash Player 10.1 offers hardware-accelerated flash for those with Nvidia ION, Intel GMA500 and Broadcom Crystal HD powered netbooks. A number of operating systems are supported including Windows, Linux and Mac. You can check out the release notes here (PDF) and download it here.
Via Liliputing.
March 31, 2010 at 10:52 pm
Meego, Intel and Nokia's merged OS via the melding of Moblin and Meego, has now received its first pre-release build. Those of you with Atom netbooks (pretty much most of the market), along with the Atom-powered Moorestown MIDs and the Nokia N900 can now download the release here. The first proper release is still expected in May.
March 26, 2010 at 5:02 pm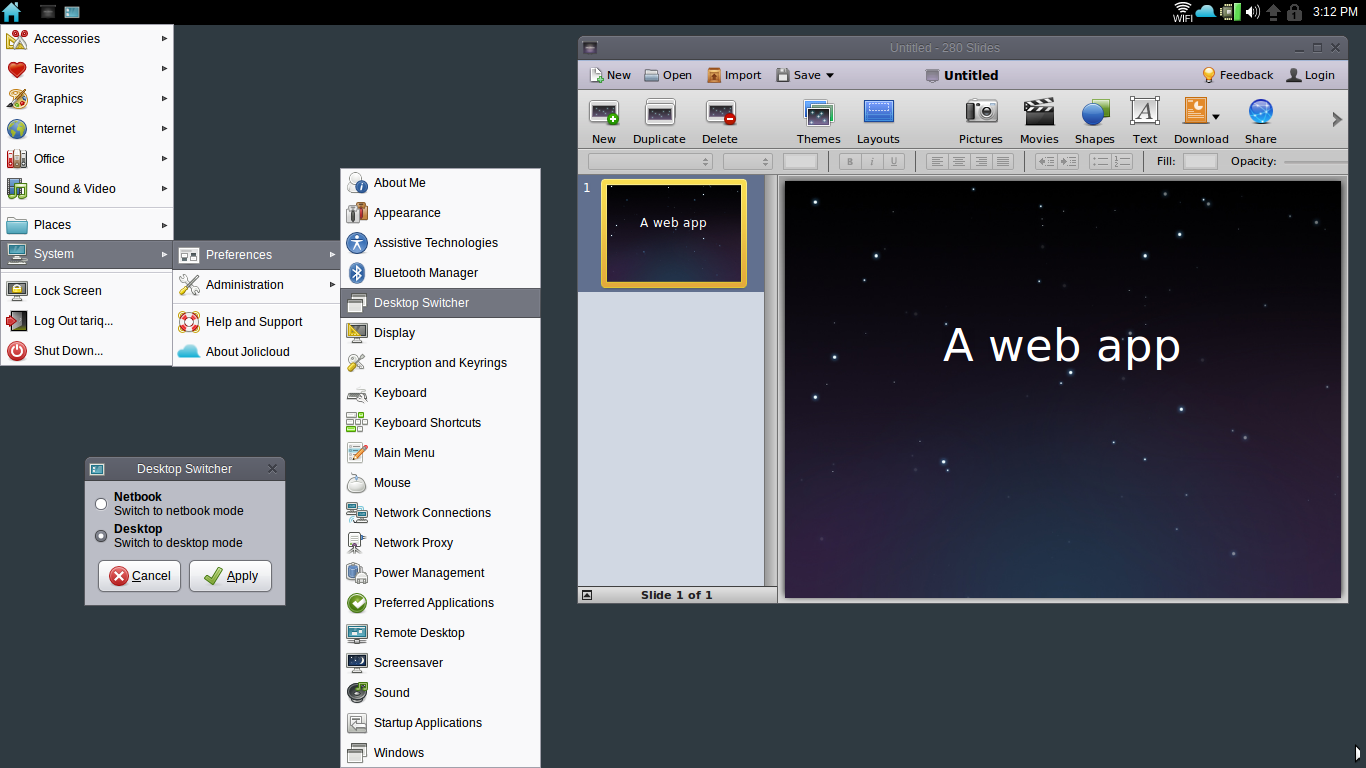 Jolicloud is now rolling out its desktop mode switcher that allows you to view the OS more suited to a desktop environment. If the screen is bigger than 11-inches, the desktop mode will be enabled by default.
Apps can now be organised just how you want in this new mode. To upgrade to the new version just hit "Update All" from the Preferences menu.
March 23, 2010 at 8:02 pm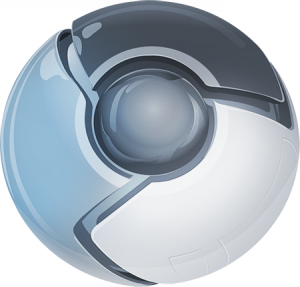 Jolicloud has released its new web application platform today that is based on Google Chrome rather than the Mozilla Prism of old. Current users need simply to update the system for the new platform to be installed. The new system should be faster with a smaller memory footprint and enables HTML5-ready browsing.
Jolicloud has named its customised Chromium (open-source version of Chrome) web app platform Nickel and even released the source code. Jolicloud says that Nickel is the "Chromium for fullscreen web apps". The company says that over 600 apps are available in its App Center.
March 20, 2010 at 10:13 am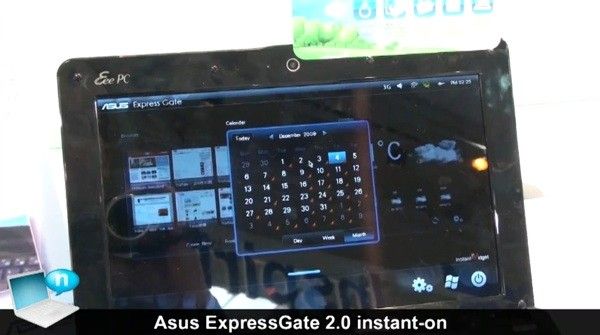 Asus' ExpressGate instant-on operating system will be getting a replacement that was being shown off at CeBIT earlier this month. Notebook Italia has a video hands-on overview of ExpressGate 2.0 that is based on the SplashTop OS.
The interface has seen a complete overhaul and is a big improvement over the original. Hopefully it should be available to download soon from the Asus Support site. Check out the video after the jump. Read more