October 12, 2009 at 8:23 pm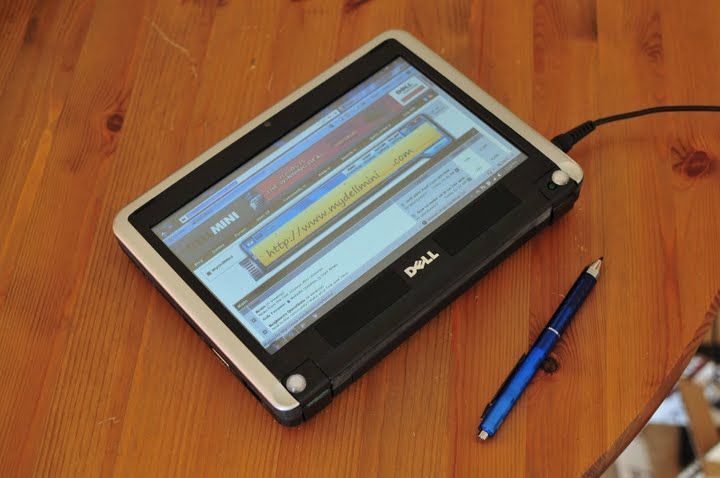 Windows 7 is expected to herald a new dawn for touchscreen PC devices, mainly due to its in-built touch functionality (as long as you're running Home Premium or higher). MyDellMini member Rob928 wanted to join in on the action and decided to mod his Dell Inspiron Mini 9 netbook to convert it into a touchscreen slate tablet.
This certainly looks like a complex mod involving removing the lid and trimming the hinges. A solder-less touchscreen kit was used for the finished result. Whilst the modder got the tablet to work with Windows 7, it is subject to heat build-up (40-50 degrees) as much of the heat is normally vented through the keyboard. Some pictures of his work in progress can be found here.
Via GadgetMix.
September 24, 2009 at 4:50 pm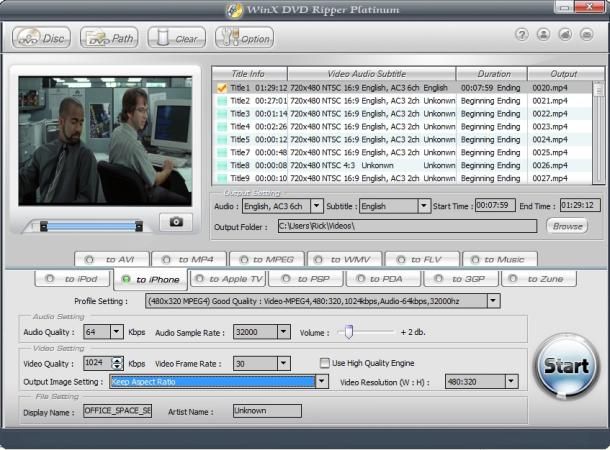 Netbooks typically don't contain optical drives, which means watching DVD movies aren't possible. Whilst there are a number of software tools to rip your DVDs onto the hard drive, we thought we'd highlight this special offer.
Digiarty Software is giving away WinX DVD Ripper Platinum, which normally sells for $24.95, from now until September 30th. The program has a clean interface and it is simple to use. I tried using it myself and had no problems in ripping a movie, working very quickly.
The free version will work for a lifetime, without fee. Minor updates will also be free. There is a major upgrade coming in November though that will cost. You can download the free version here.
August 5, 2009 at 6:38 pm

One of the compromises when buying a netbook is the limited screen real estate you have over a desktop. This can cause frustration with certain programs and endless scrolling. One such problem is not being able to read emails in the inbox properly due to the number of labels in the Gmail subject lines.
Google has now provided a work around in Gmail that allows you to automatically hide the labels from the inbox messages. To turn this on, you simply need to go to the Gmail Labs tab under Settings and click on "Remove Labels from Subjects". We do wish more software companies were as sympathetic to netbook users as Google is!
Via Gmail Blog.
August 4, 2009 at 11:36 am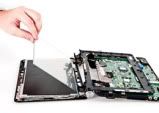 There's already a number of guides around the net on installing a touchscreen display on your beloved netbook. However, we thought we'd highlight a well-put together guide from the guys over at Laptop Mag.
It's a step-by-step guide going through all the little steps needed to successfully install a touchscreen. This includes where to buy a third-party display, including the Fido Hub touchscreen for $100. You can check out the full tutorial here.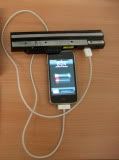 Now I've certainly never seen anything like this. The guys over at Prusadjs.cz hacked a MSI Wind battery so that it could be used to charge other USB devices, namely an iPhone. The 3-cell battery only provides a few hours of battery to run the netbook, but it has enough to power to keep a USB device charged for a while.
The mod is not for the faint hearted, he ended up opening up the battery and soldering an USB port. The great thing is that once modded it still can be used to power the MSI Wind netbook. Check out the video after the jump. Read more
If you are tired with how old Windows XP is looking, especially with the imminent launch of Windows 7, then you may want to give XPize a look. It is a free application that allows you to update the look of XP with a new theme and user interface.
The team behind XPize run the software on a volunteer basis, along with similar software for Vista called Vize. As you can tell from the screenshot, the larger icons are well suited to netbook displays. You can check it for yourself here.
Via JKOnTheRun.
July 27, 2009 at 12:45 pm
Trying to get high-definition video content playback is a no-go for most netbooks out there. Even the latest Intel GMA500 graphics included in the Poulsbo chipset has poor driver support, which means you'll have to wait for ION-based netbooks to get some real HD goodness. However, Broadcom has an alternative with its Crystal HD Media Accelerator.
This PCI-E card enables "flawless playback of all internet steaming video" according to the company, along with support of 720p and 1080p (H.264) video content. It is currently included as an option with the HP Mini 110, although it hasn't appeared on other netbooks thus far. Not wanting to wait, Terracode decided to mod their Acer Aspire One with the HD accelerator (BCM70012). Read more
The last mod we came across for the Asus Eee PC netbook was one that we'd not come across before (Mighty Mouse trackball). Now here is another. JustBlair created a custom-built LED whose primary function is to alert you to new messages, whether it is via email or social networking. Specifically speaking, this LED notifier alerts you to new messages from your email, Twitter and Pidgin .
He modded an Asus Eee PC 901 by creating an extra LED to the top left of the device. He used an AtMel AtTiny45 microprocessor, a 5mm red/green/blue LED that would light a different colour depending on which service the message was from. Judging by the 'how-to' post, it's clearly quite a complicated but ingenious mod, which includes programming the chip. Luckily, he got it all to work first time. For the full details head over to his blog post here.
Via Liliputing.
We have seen a number of netbook mods here at NbC, but this is a first. One hacker, who was fed up with the scrolling on the touchpad of his Asus Eee PC 901, decided to stick an Apple Mighty Mouse trackball into its palm rest. Plasti-Bots has the complete tutorial on how you go about doing this for the enterprising modders out there.
It's certainly not one for the novices out there. The trackball wires had to be unsoldered from the mouse, and then soldered onto the motherboard. The finished result looks very professional and the video below shows how well it works. I wonder whether this is something manufacturers may intend on building into their netbooks in the future… Read more
Most mods out there which tell you how to get internal 3G functionality are quite complicated and certainly not for the novice modder. João from BassoPT's Ultra Mobile Computing has come up with a relatively easier solution that will only work on the Samsung NC10. However, this still involves opening the bottom of the netbook, so you'll have to see where your skills fit before trying this at home.
João basically opened the bottom and replaced the Wi-Fi Mini PCI-E card with a 3G modem. Obviously this means that you'll have no wireless access, but João solved this problem by using a small Buffalo USB 2.0 Wi-Fi dongle. The other issue is that once you insert your sim card into the slot it will remain there unless you take off the whole bottom casing again. Or, you could always hack a hole into the casing to provide easy access. JKKMobile says that this is one of the few netbooks where you swap out the Wi-Fi module for a 3G one.
The Asus Eee PC 1008HA Seashell is beautifully super-slim 10-inch netbook. However, to maintain this slender form-factor the engineers have done a fabulous job in carefully cramming in all of the components into its chassis. We know that this is a sealed unit, which means that there are no access panels to change the RAM and it also has a sealed battery.
For those Eee PC 1008HA users who are wondering just how you go about changing the RAM, then check out a couple of videos after the jump. We already showed you the 1008HA teardown in pictures, but the video may be a little clearer.
Amusingly, instead of using a wrist strap once inside the Eee PC, the guy in the video decides to use bright yellow kitchen gloves to avoid static. The first video goes through opening the 1008HA and swapping out the RAM. The second video goes through putting everything back together. Check out both videos after the break. Read more
June 19, 2009 at 10:35 am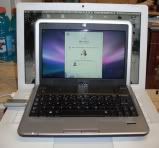 For the security conscious Dell Inspiron Mini 9 users out there, this is a mod you may want to pay attention to. MyDellMini user Rich2871 modded his Dell Mini 9 netbook with a fingerprint scanner embedded to the palm rest. Be warned though, Rich2871 is quite experienced when it comes to mods. His Mini 9 already includes a 64GB SSD, an internal 4-port USB hub, and OS X.
He ended up taking an external USB fingerprint scanner, taking out the main components and connecting it with the internal USB headers of the Dell Mini 9. That's even before you hack a hole in the case! Judging from the procedure it doesn't like a particularly easy mod, however the finished result certainly looks impressive.
Via Portable Monkey.
Opera launched a new application today called Opera Unite that it hopes will 'reinvent the web', their words not ours. This web-based application is an interesting take on cloud computing and comes built into the Opera browser. What Unite does is to turn your computer into a web server and client, which you can use to access files from any other browser (say on a netbook whilst away from home).
Some of the services that are currently offered through Unite includes file sharing, hosting web sites, sharing music or photos, posting sticky notes and chat. Opera realise that many people like to use different browsers, so they have made sure that Unite has cross-platform support. As long as Unite is running on one machine with Opera, then you can access your content on any operating system or browser (or even your phone). Read more
One of the (small) criticisms we had of the Asus Eee PC 1000HE, when we reviewed it, was that the Wi-Fi performance felt a bit patchy. Apart from having a nightmare trying to set it up in the first place, we noticed it didn't latch onto a signal as quickly as other netbooks/laptops did.
Well it looks like these problems may be a thing of the past, courtesy of a wireless driver from the yet to be released Eee PC 1005HA. According to the Eee User Forum, people are reporting that this driver (7.7.0.259, 13 March 2009) improves performance and stability.
To get this to work, you need to make sure you have a 1000HE with the Atheros AR928x (AW-NE771) card installed. We don't have the 1000HE to hand any more, but we'd be interested to see if this tip works.
Via GadgetMix.
One of the benefits of owning a Dell Inspiron Mini 10v over its Mini 10 cousin, is that its RAM is not soldered onto the mainboard. This means that you can upgrade your RAM to 2GB if you wish. However, what Dell don't tell you is that to actually upgrade the RAM is a daunting process.
On the bottom of the unit, all you have is an access panel to the Wi-Fi module, which seems a strange decision to me. However, for those that are up to the challenge of literally taking apart your Mini 10v, then a MyDellMini Forum member has come with a three-part video tutorial. This involves removing the keyboard and getting access to the motherboard where you'll find the RAM slot. Check out the detailed videos after the break. Read more