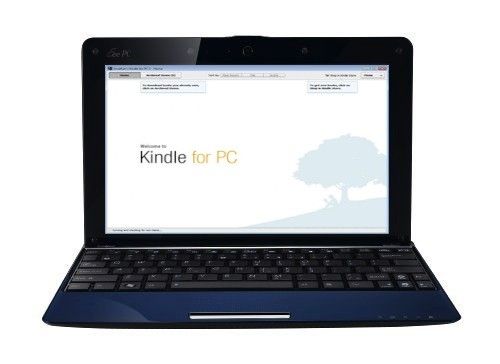 Amazon has teamed up with Asus to pre-install its Kindle for PC application on netbooks/laptops that are sold through Amazon.com. The e-book application will only come preloaded on select devices including the Eee PC 1005PE.
Whilst I agree the idea makes sense, personally I'm not too fond of pre-installed apps when I buy a new netbook / laptop. In fact to keep things fresh, the first thing I usually do is re-install the OS to get rid of the clutter. Also, the thought of actually reading a book on an LCD display for long periods fills me with pain. Now bring this onto a Pixel-Qi equipped device and it becomes a different story altogether.
Via Engadget.
MSI will showcase a tablet PC dubbed Slatebook that will be announced at Computex in early June. The tablet will be powered by Intel's latest Menlow processor and the company is currently considering Nvidia Tegra 2 options, depending on market demand.
The 10-inch tablet will come with Windows 7 and sport built-in 3G and Wi-Fi. The tablet will also feature e-reader capabilities (could this mean it has a Pixel Qi hybrid display?) MSI is expected to price the Slatebook at below $500.
Mary Lou Jepsen has confirmed over on her blog that Pixel Qi will be shipping do-it-yourself screen kits for their 3Qi hybrid displays at the end of Q2 2010, meaning a likely June launch date. She rightfully says that many people do not realise how easy it is to change their display, going on to say that it's only slightly more difficult than changing a bulb.
"It's basically 6 screws, pulling off a bezel, unconnecting the old screen and plugging this one in. That's it. It's a 5 minute operation", says Jepsen. Pricing and netbook compatibility remains a mystery for now.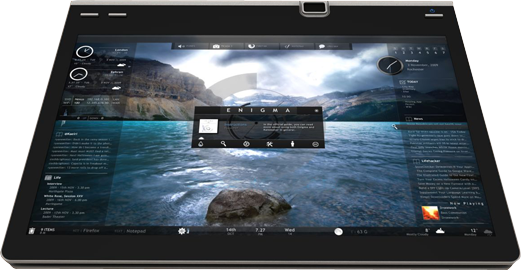 Hard details of Notion Ink's 10.1-inch Adam tablet have been few and far between. That has now changed with the company unveiling the specifications over on it its official site. We can now confirm that there will indeed be two SKUs, one including the Pixel-Qi display and one without. It will also come with a HDMI out, a rotating 3.2MP webcam, a 10.1-inch (1024 x 600) capacitive multitouch display and a 3-cell battery that should be good for 16 hours in full colour mode.
The design has also changed since our last look of the device at CES 2010 earlier in the year. The guys over at Technoholik managed to spend some time with the Adam and we've included their hands-on video after the jump. Slashgear also has had a pre-MWC play around and shot a video demonstrating Adobe Flash and its rotating webcam. Pricing is still a mystery, but hopefully more details will emerge at MWC that officially starts today. Read more
Of the many tablets shown off at CES 2010 in January, the Notion Ink Adam was one of the most interesting. It utilizes two of the most exciting technologies in the mobile computing space, the Nvidia Tegra 2 chipset as well as Pixel Qi's 3Qi Hybrid 10-inch display. Whilst the device shown at CES was very much a prototype, Slashgear has managed to get their hands-on with renders of what the finished tablet will look like.
Interestingly, the company is considering two models, one that is 12.9mm thick and the other is 11.6mm in thickness (for reference the iPad is 13.4mm thick). Notion Ink hasn't said what the differences are, but one version may end up excluding the Pixel Qi display that no doubt adds bulk and instead going for a vanilla LCD display on the slimmer model. Read more
If CES wasn't an indication enough that 2010 is likely to be the year of the tablet (or slate if you prefer), then Gizmodo has a nice comparison table where it has compared six slates (including the recently announced Apple iPad).
Having a quick run through the list, the Notion Ink stands out for me. It's the only one to come with a Pixel Qi display for e-reading duties and sports Android, Tegra 2 and even a HDMI out. The only glaring omission is Adobe Flash support, but I'm sure Android will support this at some point down the line. Check out the detailed comparison table after the break. Read more
Following the official Nvidia Tegra 2 announcement, a whole number of different next-gen Tegra powered products were shown on the trade floor at CES. Rather than creating a post for every single one, we've summarised each below and attached any relevant videos. Most of these consisted of tablets, rather than smartbooks, but it gives you a good idea of what to expect over the coming year. Check out the Tegra 2 action after the jump. Read more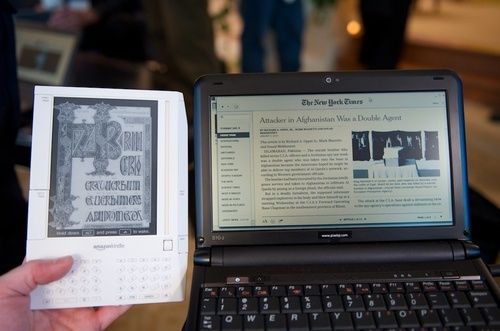 We have already seen a few demos of Pixel Qi's e-ink killing, 3Qi display, but there's always room for more. The 3-in-1 display can not only switch between an efficient black-and-white mode and a high resolution colour screen, but also to an e-paper mode suitable for reading in direct sunlight.
The possibilities for such a screen extend behind obvious e-reader devices. Judging by the number of hands-on videos (after the break) we've seen, it seems that this is genuinely innovative technology and once refined, could feature on many netbooks/notebooks/smartbooks of the future as well as e-readers.
Being able to turn off the backlight saves you 2W of power (down to 0.5W) so you could extend the battery life of your device too if needed. We were hoping that we'd see some firm product announcements at CES of devices using these displays, but until we do, check out a number of hands-on video impressions after the jump. Read more
The production of Pixel Qi's 3Qi Hybrid Display is starting shortly and will ramp up over the first quarter of 2010. The company also confirmed that the first displays will hit "specialized tablet devices with multi-touch."
The driving force behind the project, Mary Lou Jepsen, did not give any hints as to which manufacturers she is working with but expects further announcements at CES 2010 in early January. Interestingly, for those budding modders out there, Pixel Qi also confirmed that it plans to make its displays available through a DIY kit.
The 3-in-1 display can not only switch between an efficient black-and-white mode and a high resolution colour screen, but also to an e-paper mode suitable for reading in direct sunlight.
Samsung has been demonstrating a number of new types of display at the SID Display Week 2009 show. As well as 10-inch low-power and touchscreen panels, it was also showing off a 10.2-inch colour e-paper display. Pixel Qi doesn't have the limelight all to itself, as this screen is also capable of playing video too.
In what seems very similar to Pixel Qi's hybrid display, the screen combines both e-paper and video technologies, allowing the user to switch between the two. This involves switching between "memory mode" and "dynamic mode" pixels. However, from what I can tell it doesn't seem as accomplished as the 3Qi display from Pixel Qi and neither does it seem as far down the road. Read more
Pixel Qi has made a number of demonstrations of its 3Qi display over the past week or so at Computex in Taiwan. All of this coverage has prompted many questions, which its founder & CTO, Mary Lou Jepsen, has only been too happy to answer. Among the questions include battery life and price.
The latter is very interesting as the $200 muted price is for the entire netbook NOT just the 3Qi display itself, as was previously thought. This is mainly because the hybrid panel is based on existing LCD technology.
Another video compares the 3Qi display to the Amazon Kindle, a Toshiba R600 with a transflective LCD and a standard LCD touchscreen, with and without the backlight, indoors and out. The last video talks more about the Pixel Qi display versus current LCD technology as well as the OLPC project.
So far, there is no hardware partner to use this innovative display. Despite this, Pixel Qi is still expecting mass production of this display by the end of the year. Check out all of the videos after the jump. Read more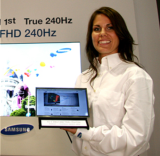 Samsung is unveiling some of its latest developments on the display side at the SID (Society of Information Display) 2009. From the netbook perspective, the most interesting is a new 10.1-inch LCD which is touted to use around 50 percent less power than normal LCDs. This display is manufactured using Samsung's proprietary Pentile technology.
This display has a HD resolution of 1366 x 768 pixels along with "perfect reading capabilities both indoor and outdoor" according to Akhibara News. I'm not sure what that means, but Samsung is also highlighting some next-gen displays which include a 10.2-inch colour e-paper display (something that is maybe similar to Pixel Qi's 3Qi display) along with a 10.1-inch diagonal integrated-touch netbook panel (anticipating the launch of Windows 7).
We have heard quite a bit about Pixel Qi's 3Qi Hybrid display recently as well as seeing photos of the screen in direct sunlight and photos comparing it to the Amazon Kindle. The 3-in-1 display can not only switch between an efficient black-and-white mode and a high resolution colour screen, but also to an e-paper mode suitable for reading in direct sunlight.
A video of the display has now been released which shows John Ryan, COO and VP of Sales and Marketing at Pixel Qi, describing the technology as well as the company's plans for the display. The video also demonstrated the display outside when using it in e-paper mode, very impressive stuff. Pixel Qi is planning production of these panels by the end of the year.
Another video, shows the 3Qi display playing a movie in full colour mode. The screen can handle video playback at 60fps. It's only a very short clip (9 seconds) but well worth a watch for this promising technology. Check out both videos after the break. Read more
Mary Lou Jepsen has been on the road demonstrating the new 3Qi display from Pixel Qi, which combines three types of display in one screen. There is an efficient black-and-white mode, a high resolution colour screen and also an e-paper mode suitable for reading in direct sunlight.
We have already seen some pictures of the display, including the e-paper mode in direct sunlight. But now, Mary Lou has updated her blog with a picture that many want to see, the 3Qi display versus the Amazon Kindle with backlights off. It's impressive how good the 3Qi display looks and, to my eyes, is more legible than the Kindle. Click through for a larger screengrab of the photo comparison. Read more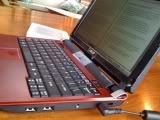 Mary Lou Jepsen recently demonstrated Pixel Qi's much anticipated 3Qi Hybrid display this week. The 3-in-1 display can not only switch between an efficient black-and-white mode and a high resolution colour screen, but also to an e-paper mode suitable for reading in direct sunlight. Time managed to get a closer look at some modded Acer Aspire One netbooks with the Pixel Qi display.
The pictures show a toggle switch on the side of the netbook that allows you to switch between reflective and emissive display. The way in which Pixel Qi's technology differs from E-ink is that the 3Qi screen allows you to use the netbook as traditional LCD which means full colour and video (at 60fps). Read more