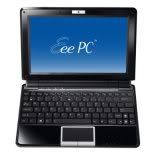 The Asus Eee PC 1000HG was first announced back in February when it was launched in Taiwan. It is not a netbook that Asus seems to be pushing too heavily as we still cannot even find a product page for it on the Asus site. The 1000HG, as you can guess, is pretty much a 1000H but includes integrated 3G. At the time, no details on whether the 1000HG would appear in other markets were given. Nonetheless, according to a number of UK retailers, it now looks like the 1000HG is set to launch in the next couple of weeks.
However, it is not going to come cheap. Play.com has it for £429.99 on pre-order with an estimated release date of 11 May 2009. Amazon
also has it for a similar £429 but its shipping date is "1-2 months". MoreComputers has the cheapest price we could find at £402.76 and expects stock on 19 May 2009. This seems incredibly expensive, considering you can buy the Eee PC 1000H for just £287 at Amazon
i.e. you are paying over £140 just for the benefit of 3G. It's no wonder Asus aren't pushing this model too hard!
The 1000HG specifications are the same as the 1000H (bar the integrated 3G). The 10-inch (1024 x 600) Eee PC 1000HG netbook comes with a 1.6GHz N270 Atom CPU, 1GB RAM and a 160GB HDD. It will also come with a 6-cell battery which should be good for around 7 hours of battery life. It weighs 1.45kg and will be available in black & white.