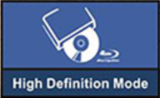 Asus quietly launched the new Eee PC 1000HV netbook in Italy recently. This was the first Eee PC to sport discrete graphics in the form of ATI Radeon HD 3450 graphics with 256MB of dedicated memory. Whilst the benchmarks were expectedly better than most other 10-inch netbooks, another point that caught the eye was a mystery 'High Definition' mode in Asus' Super Hybrid Engine utility.
This utility allows you to overclock (or underclock) the Atom CPU depending on your usage. As things stand (version 5), the Super Hybrid Engine has three different modes. The Power Saving mode underclocks the CPU to a minimum 750MHz on the N280 Atom CPU. The High Performance mode is the standard speed of the chip (1.66GHz for the N280) whilst the Super High Performance mode overclocks this to 1.75GHz. Read more
The Asus Eee PC 1000HV was first spotted last week and it looks like this model is already hitting retail in Italy. One of the users of EeePC.it, managed to get hold of one and has given an indication as to what this new Eee PC is capable of.
As a quick recap, the 1000HV is very similar in terms of specs to the Eee PC 1000HE. However, one of the key areas in which it differs is that it packs discrete graphics with an ATi Radeon HD 3450 GPU with 256MB memory. This should, in theory, give it a significant boost when watching HD content or playing games. Read more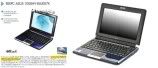 The Asus Eee PC 1000HV was first revealed as part of the Eee PC roadmap back in July last year. No features were announced, but according to the leaked slide (below), it was to fit in a 'Pro Fashion category' next to the 1002HA and T101. Nothing had been heard since that leak, but fast forward 10 months and the model has now been spotted for pre-order at an online retailer.
The good thing is that a full set of specifications have been listed alongside it too. The most interesting point is that it will pack discrete graphics with an ATi Radeon HD 3450 GPU with 256MB memory. Apart from that, it appears to be very similar to the 1000HE. The 1000HV has a 10-inch (1024 x 600) display powered by a 1.66GHz N280 Atom CPU, 1GB RAM and a 160GB HDD. Read more