The Asus Eee PC 1002HAE is a pretty refresh of the 1002HA, which comes with an aluminium skin, chiclet keyboard and the faster 1.66GHz N280 Atom CPU (the 1002HA has a N270 Atom). Portable Monkey has reviewed the Eee PC 1002HAE and it seems that there are other minor changes too that affects the overall proposition.
Upgradeability is made difficult as the screws on the access panels have been plugged which makes them difficult to lift without damaging the case (or at least without the right tools). The battery should last around three to four hours, acceptable but other models are now pushing battery lives double this. This battery sits at the front of the netbook, which will mean higher capacity batteries will cause it to tilt backwards. Also, there are some instances of flex on the keyboard and despite having an aluminium exterior, the weight wasn't found to be different to the 1002HA.
On the positive side, the netbook has good build quality, with relatively lightweight chassis. The display is matte, which automatically earns it brownie points. The large touch-pad allows for multi-touch gestures and the whole device runs cool and quiet. The Eee PC 1002HAE is only available in Japan for now. Click through for the key review points after the break. Read more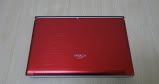 The Asus Eee PC 1002HAE is very similar to the Eee PC 1002HA apart from the fact that it has a sleek aluminium skin, chiclet keyboard and the faster 1.66GHz N280 Atom CPU (the 1002HA has a N270 Atom). It certainly looks very attractive and it's a shame that Asus have only confirmed this for the Japanese market until now. Peter from Portable Monkey has gone hands-on with a 'Deep Red' version and provided his initial thoughts.
From the exterior it looks as if not has much has changed from the Eee PC 1002HA. However, the lighter aluminium casing brings the weight down from 1.45kg to 1.2kg. It's nice to see the Eee PC 1002HAE using a matte display, although it does have glossy innards. A full review is expected shortly, in the meantime check out the video hands-on after the break. Read more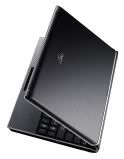 Asus has announced yet another Eee PC netbook and they just keep one-upping themselves on their confusing model naming structure. The 10-inch Asus Eee PC 1002HAE appears to be a refresh of its elegant 1002HA netbook. However, Asus has taken the design cues one step further with the 1002HAE, by dressing this particular variant in a gorgeous aluminium skin which will come in Deep Red, Dark Blue and Metal Grey colours.
Asus has also upped the power under the hood to a 1.66GHx N280 Atom CPU (as opposed to the 1.6GHz N270 found in the Eee PC 1002HA). The rest of the specifications remain the same. The 1002HAE netbook comes with a 10-inch (1024 x 600) LED-backlit display, 1GB of RAM and a 160GB hard-disk drive. Other features include wireless draft n support, a 1.3MP webcam and a card reader. The battery should last 3.8 hours. Read more