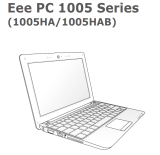 News on Asus' next netbook in its Seashell line, the Eee PC 1005HA, is coming through thick and fast. Only yesterday, we had the full official product page up and now the manual is available for public consumption. You can have a look at the schematics along with exactly what ports you'll find on the netbook.
The manual is headlined Eee PC 1005HA / 1005HAB. We first heard of the 1005HAB when rumours of this device first circulated. However, up until now we don't have any confirmation as to how the 1005HAB will differ from the 1005HA. We already know of the 1005HA-H and 1005HA-M models that were detailed by Asus France last week. Read more
Asus is looking to follow the Eee PC 1008HA Seashell with another netbook using the 'Seashell' brand name later this summer. The Asus Eee PC 1005HA will be very similar to the 1008HA in looks and specs but will come with a removable battery as opposed to the sealed battery found in the 1008HA.
A firm release date for this hasn't been given, although we understand that it is expected to launch within the next couple of months. The 'Eee PC 1005HAB' is already listed on the official Asus support pages although there are no documents there for now.
A quick search on Google highlights a number of European retailers already listing the 1005HA-M for pre-order. According to the specs listed, the Eee PC 1005HA will come with a 6-cell (2200 mAh) Li-Polymer battery as opposed to the 4-cell battery in the 1008HA. This means that it will end up weighing 1.4kg as opposed to the 1.1kg for the 1008HA. This new Seashell will come with three USB ports as opposed to the two found on the 1008HA.
Other than that, the specs are the same. It has a 10-inch LED backlit display with resolution of 1024 x 600 pixels. It will be powered by a 1.66GHz N280 Atom CPU, 1GB RAM and a 160GB HDD. Our sources indicate that the 1005HA could be priced as low as £349 on launch. The current European pre-order pricing is between €350 and €400. We'll bring you more information on this as we have it.