When the smartbook category was first announced, many didn't expect that we'd still be waiting for the first device to make an appearance almost a year later. ARM's marketing VP, Ian Drew, has commented on the delays and says that they have been caused by issues with Flash optimisation as well as cold feet from manufacturers.
"We thought [smartbooks] would be launched by now, but they're not. We've seen things like Adobe slip — we'd originally scheduled for something like 2009," said Drew. "Our target is mostly internet machines — it becomes sort of a requirement that they run the internet. [The delay in optimising] Flash has stalled it". Read more
April 25, 2010 at 8:07 pm
Dell will launch a "netbook tablet " and normal netbook, both sporting Android according to a leaked roadmap obtained by Android Central. The Dell Sparta netbook will come with a rotatable 11-inch (1024 x 768) display powered by an ARM processor. It will also come with optional 3G along with Wi-Fi and Bluetooth.
The Dell Athens netbook is more typical in its form-factor and will sport a similar sized display and ARM processor. It will have a thin chassis and weigh less than 900g (1.98lbs). These models are expected to launch during the Autumn. Check out a large screencap of this Dell roadmap after the break. Read more
March 10, 2010 at 6:17 pm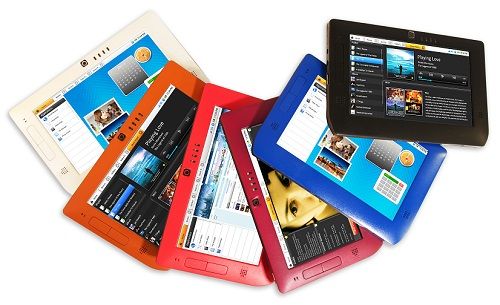 The impending release of the Apple iPad tablet will cause a rush to market of similar devices says ARM. The company expects that it will see ARM-powered 50 tablet devices launching globally this year. Not surprising, considering that this years CES and CeBIT were swamped with tablet devices of one form or another.
This is set to continue at the Computex show in Taipei in June, with ARM renting more space than last year to show off various mobile devices including tablets, smartbooks and e-readers. "The first tablet devices will launch in the second quarter by [mobile network] carriers," said Roy Chen, ARM's worldwide mobile computing ODM manager. "You'll see a lot more in the third quarter." Read more
February 23, 2010 at 10:31 am
We are very excited about the smartbook form-factor here at NbC. Whilst some may question the need for yet another device category, smartbooks sit distinctly from netbooks in our view. Our definition of a smartbook is a device that is always connected and one that runs on an ARM-based chip.
Both are interconnected as ARM provides a SoC with embedded 3G, Wi-Fi and Bluetooth functionality. The result is similar to that of many smartphones, long battery life, a near enough instant resume function and the ability to check the internet from wherever you are. Read more
February 16, 2010 at 1:55 pm
HP is showing off its 10.1-inch Compaq Airlife 100 smartbook at the Mobile World Congress tradeshow in Barcelona. The Airlife 100 looks very much like a typical netbook, although it features a touchscreen resistive display and is powered by a 1GHz Snapdragon chipset and Android 1.6 combo.
The touchpad has a few shortcut buttons adjacent to it with key controls for the Android interface, such as the Menu, Home and Back keys. Other features include a 16GB SSD, Wi-Fi, 3G connectivity and a 12-hour battery life. The Airlife 100 smartbook will initially be offered by Telefonica through subsidized contracts. Read more
February 12, 2010 at 12:40 pm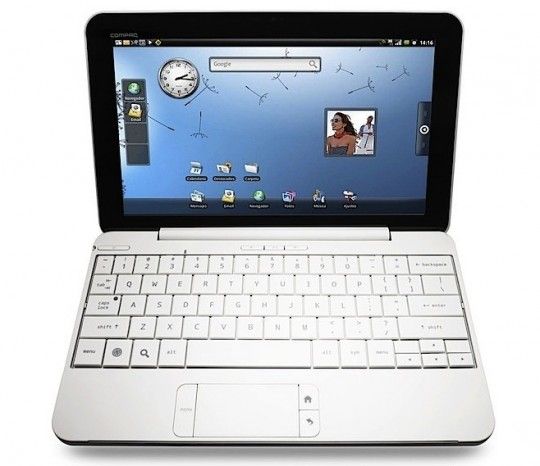 HP Spain has announced the Compaq Airlife 100 smartbook. It comes with a 10.1-inch display and integrated 3G pointing to the ARM chipset (possibly a Qualcomm Snapdragon?) Other features include a 16GB SSD, Wi-Fi, card reader, webcam and a 12-hour battery life.
The Airlife 100 looks like a very attractive slim line device, sporting a flat-key keyboard and some additional shortkey buttons sitting besides the touchpad. I didn't notice the mouse buttons, which could point to an integrated solution. It's also difficult to tell whether it comes with a matte or glossy display and at what resolution. Read more
February 4, 2010 at 12:59 pm
Arm Chief Exective, Warren East, thinks that netbooks/smartbooks could penetrate as much as 90 percent of the total PC market in a few years time. You would expect East to be bullish, but even so they are quite bold predictions.
"Although netbooks are small today – maybe 10% of the PC market at most – we believe over the next several years that could completely change around and that could be 90% of the PC market. We see those products as an area for a lot of innovation and we want that innovation to be happening around the ARM architecture," said East. Read more
January 28, 2010 at 8:17 pm
Qualcomm has released a statement, where it responds to Germany company Smartbook AG's "aggressive campaign to prevent the continued use of the term "smartbooks" by journalists, manufacturers and consumers".
Qualcomm goes on to say that it is complying with a restraining order in Germany that requires it to issue a disclaimer if it wants to use the smartbook term. It goes on to say that 'smartbook' is a generic term used to describe a subset of devices sitting between netbooks and smartphones.
Qualcomm is looking to cancel the trademark in Germany. Smartbook AG has been trying to register the term in other countries, however European countries have thrown out their request. Hopefully, we'll see an end to this ridiculous dispute very quickly. Check out the full statement below. Read more
January 9, 2010 at 5:37 pm
Following the official Nvidia Tegra 2 announcement, a whole number of different next-gen Tegra powered products were shown on the trade floor at CES. Rather than creating a post for every single one, we've summarised each below and attached any relevant videos. Most of these consisted of tablets, rather than smartbooks, but it gives you a good idea of what to expect over the coming year. Check out the Tegra 2 action after the jump. Read more
January 9, 2010 at 3:51 pm
Earlier in the week, Freescale announced a $200 tablet reference design that it hopes will come to the market via an OEM partner as early as this Summer. The tablet has a 7-inch (1024 x 600) display and is powered by the i.MX515 processor (including the ARM Cortex A8 chip), 512MB RAM and 4-64 GB of flash storage.
A number of publications went hands-on during CES this week with a mixed reception. The UI tended to be a bit laggy but the resistive touchscreen worked well. The build quality also wasn't great and neither was the keyboard according to some reports.
Interestingly, there is an optional ($50) docking keyboard that the tablet slides right into turning it into a quasi-netbook. However, the dock keeps the display at one angle and can't be folded over, so it's only real use will be on a desk. Check out some videos of the device in action after the break. Read more
January 8, 2010 at 10:23 am
Qualcomm is planning on launching at least two new Snapdragon chipsets this year. The first is a 45nm version of the current Snapdragon, the 8X50A, which will have a 1.3GHz clock speed. It will be offered to OEMs later this month and products are expected by the end of the year.
Also, just before the year end, Qualcomm will launch the 8X72, a 1.5GHz dual-core Snapdragon chipset to be used in upcoming smartbooks and maybe some high-end smartphones. The chip will be capable of encoding 1080p HD video content.
Via Hexus.
January 7, 2010 at 7:13 pm
Nvidia has formally announced the 40nm Tegra 2 chipset. The new chip combines a dual-core ARM Cortex A9 processor (running up to 1GHz speeds) with Nvidia graphics to create a platform expected to be used in a number of HD tablets, smartbooks and smartphones launching this year.
As you would expect, Tegra 2 can stream 1080p video, has HDMI-out and benefits from Flash Player 10.1 hardware acceleration. It does all this with an all day battery life. According to Nvidia, Tegra can deliver over 16 hours of HD video (140 hours of music) on a single charge – astonishing if true. Read more
January 7, 2010 at 12:39 pm
HP is showing off a new concept smartbook over at CES in Las Vegas. The smartbook is powered by a 1GHz Qualcomm Snapdragon (QSD8250) chipset and is loaded up with the Android operating system. It also has a 10-inch resistive touchscreen display
As with other smartbooks it has 3G and WiFi for always-on connectivity. In terms of exterior, this is no Lenovo Skylight, not a surprise given it's a prototype. The chassis used looks almost the same as the current HP Mini netbooks. There are no other details for now, but check out some hands-on videos after the break. Read more
January 6, 2010 at 10:38 pm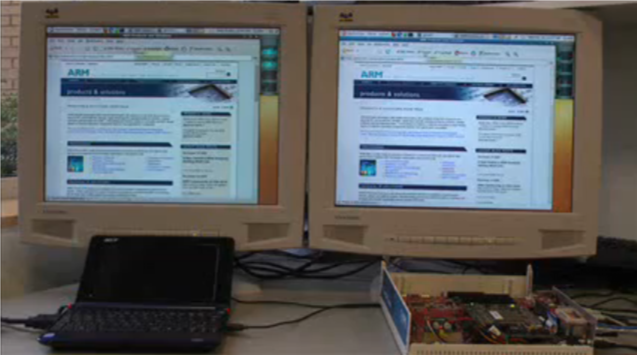 For those doubting the threat that ARM poses to Intel in the portable space should watch the following video. It shows a 1.6GHz Intel Atom netbook pitted against a 500MHz dual-core Cortex A9 development board in a browser rendering test.
Both devices are running the same operating system, using the same browser and are running on the same corporate network. Whilst you may expect the ARM chip to severely lag the Atom, it's amazing to see how close it keeps up to Intel's CPU (especially as the Atom platform has integrated graphics which is lacking on the Cortex A9). Smartphones with the power of netbooks coming soon? Check out the video after the break. Read more
January 4, 2010 at 11:36 am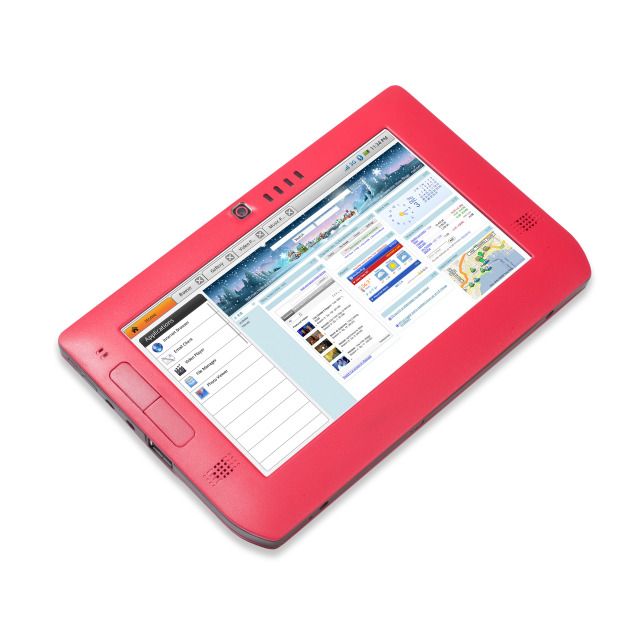 We expect to see a whole raft of smartbook devices at CES this week. Right on cue, Freescale has revealed a 7-inch (1024 x 600) tablet reference design that it is shopping to potential OEMs. The company hopes that its tablet design would be able to hit retail for less than $200 and could appear as soon as Summer 2010.
As with all smartbooks, the tablet is expected to be always-on and have an all-day battery life. In terms of specifics, the smartbook tablet is based on the i.MX515 processor, which incorporates the ARM Cortex A8 chip. It will also come with 512MB RAM and 4-64 GB of flash storage. Read more