June 15, 2009 at 11:19 pm
This morning we reported on a 12.1-inch netbook from Japanese manufacturer Dospara, who had launched an ION-powered netbook powered by a dual-core 1.6GHz Atom 330 CPU. Well it now looks as if we have a similar specced model from ASRock, dubbed the Multibook G22.
In fact, so similar is this model that I believe they are the same device underneath but marketed under different brands. Apart from the CPU and GPU, you'll find the same 12.1-inch (1366 x 768) display, optical drive, 320GB HDD, Wi-Fi (draft-N support), Bluetooth 2.1, HDMI out, a 1.3MP webcam and three USB ports. It also comes with a 4400mAh lithium ion battery that should be good for just over three hours.
If you had any doubts that they were the same model then the fact that they both have exactly the same dimensions (305×225×37.5mm (WxDxH)) and weight (1.92kg including battery) should put those doubts to rest. Right now, we have no idea where this ASRock will be marketed or any prices. Hopefully some more information should be forthcoming.
Update: It appears that this model will have an Intel CULV processor and chipset rather than ION, according to Liliputing.
Via Blogeee.
April 29, 2009 at 4:14 pm
Nvidia held a press conference in Taipei yesterday to unveil two nettops based on the Ion platform, the ASRock ION 330 and Pegatron's Cape 7. Interestingly, during the conference, Nvidia claimed that over 40 Ion-powered netbooks, nettops and all-in-One PCs are scheduled to launch by the end of this year.
Whilst the number of nettops powered by Nvidia's Ion platform is growing all the time, we have yet to see it being utilised by netbooks. Hopefully it won't be long before Ion-powered netbooks are revealed, the latest rumours point to a number of manufacturers releasing Ion netbooks at the Computex show in June. Read more
ASRock has revealed its first entry into the netbook segment at CeBIT. It confirmed that it's 12-inch netbook will be called the MultiBook G12 and will be powered by a dual-core CPU(no specifics here unfortunately). We first reported that ASRock plans to enter the netbook category earlier this week, but didn't expect further detail so soon. It will come with a 12.1-inch WXGA (1280 x 800) display and will support up to 2GB of RAM. Whilst looks-wise, it doesn't stand out from the crowd, it will come down to pricing to see how attractive the overall package is. The G12 will start to ship in Europe after the end of CeBIT, no details on whether this plans to hit the US right now.
Specifications:
Intel Dual-Core CPU
DDR2 memory support up to 2GB
Integrated Graphics
12.1" WXGA (1280×800)
2.5" STA support up to 500GB
10/100/1000 LAN, Wifi
1.7Kg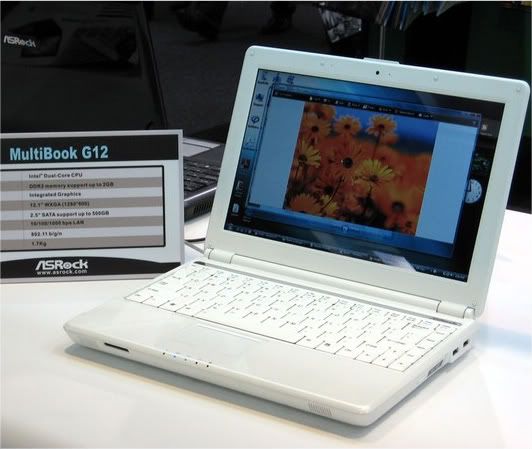 March 3, 2009 at 10:48 am
ASRock plans to enter the mobile computing market by launching a 12″ netbook/notebook called the G12 in late April this year. It will come equipped with either Intel Pentium or Celeron processors and multi-touch pads according to a Chinese-language Apple Daily report. ASRock have up until now concentrated on motherboard manufacture, highlighting that the low cost mobile computing segment is proving hard to resist. The M12 will be priced below US$500 but no firm details on pricing yet. We'll bring you more as we have it.
Via Digitimes.