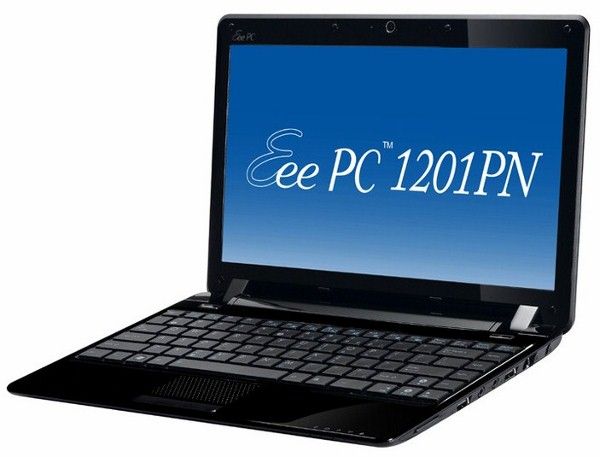 The first review of the Asus Eee PC 1201PN has popped up courtesy of Laptop Mag. The 1201PN is the latest model to use the same 12.1-inch 1201 netbook chassis and this particular model comes with a single-core N450 Atom and next-generation ION without Nvidia Optimus technology.
They found that the Eee PC 1201PN improved on its predecessor (the dual-core 1201N with first-gen ION) in two ways. The first being the fact that it lasts 40 minutes longer (4h 33m) and the second being better 3D performance. They continued to like the comfortable keyboard and the fact that it has a HDMI output. On the negative side, they found that performance was sluggish compared to the 1201N, the mouse touch buttons were a tad stiff and the 0.3MP webcam was a bit poor given the current 1.3MP standards. Click here to read the full review.
The Asus Eee PC 1201PN ION-powered netbook is now shipping at Amazon.com
. As of writing both the Black
(1201PN-PU17-BK) and Red
(1201PN-PU17-RD) models are in stock for $484. The Silver
model, however, is still at pre-order for the same price.
As a quick recap, the Eee PC 1201PN comes with a 12.1-inch (1366 x 768) display and is powered by a 1.66Ghz N450 Atom processor and next-generation ION. It is believed that this model does not come with Nvidia's Optimus technology, although we'll have to wait for official confirmation of this. Other specs include 2GB RAM, 250GB HDD (5400RPM), HDMI, W7 Home Premium, Wi-Fi (b/g/n) and a 0.3MP webcam.
Via Netbooked.
Whilst there are still no signs of the ION 2-packing Asus Eee PC 1201PN launching in the UK, it has seen its release in New Zealand. This single-core 1.66Ghz N450 Atom powered netbook is selling for AUD$799 in the region and users are already getting hands-on.
This particular model has 2GB RAM, 250GB HDD, Wi-Fi (b/g/n) and Windows 7 Home Premium. Hopefully this means the 1201PN will be landing in other regions very shortly.
Via Netbooked.
April 23, 2010 at 11:52 am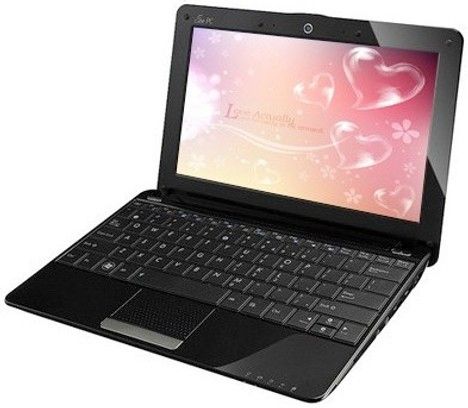 Following on from this morning's rumour that the 12-inch Asus Eee PC 1201PN will not feature Nvidia Optimus technology, despite running next-gen ION graphics, Blogeee is reporting on another Asus netbook that will include Optimus.
The Asus Eee PC 1215N netbook will come with Intel's new dual-core Atom netbook processor, next-generation ION and Optimus technology. It is expected to launch in July. No other specs are known at this time.
Update: Notebook Italia is also confirming the existence of the Eee PC 1215PN, although they say it will launch in June, rather than July. They also confirm the Optimus-less 1201PN and say it will launch in May.
April 23, 2010 at 10:49 am
I'd park this firmly in rumour territory for now, but Pierre from Blogeee is reporting that Asus' upcoming Eee PC 1201PN netbook that comes with ION 2, will not be sporting Nvidia's Optimus power-saving technology.
His source for this news is Nvidia France, who has suggested that next-generation ION graphics is not synonymous with Optimus technology. If true, this is completely against my understanding of the next-gen ION part. ION 2 was presented to us as having embedded Optimus technology. At no point was it suggested that it is a feature that a manufacturer may or may not include. Read more
April 22, 2010 at 10:07 am
The wait to see next-generation Nvidia ION graphics hit netbooks already feels like a long while. However, this wait is set to get longer if Engadget is to be believed. The 12-inch Asus Eee PC 1201PN with 16-core ION is now expected to hit Europe/Asia in late May and the US in June.
The 8-core ION Acer Aspire One 532G has also been delayed by a month is now expecting to appear in early June also. It's unknown what has caused this delay, although Nvidia claims it has nothing to do with them.
April 21, 2010 at 5:44 pm
The Asus Eee PC 1201PN will be the company's first netbook with next-generation ION when it launches shortly. It uses the same chassis as most other 12-inch netbooks in the Eee PC 1201 range, but differs from its current ION netbook (1201N) by offering a single-core N450 Atom processor as opposed to the dual-core 1.6GHz Atom 330.
For those wondering how the Eee PC 1201PN will perform then NotebookCheck has the answers. They've taken an exhaustive look at the performance of ION 2 and used the Eee PC 1201PN to do the benchmarks. Read more
The last time we saw some benchmark numbers for Nvidia's next-gen ION, it seemed to suggest that the performance wasn't up to the original. Following the official new ION announcement this morning, we now know that two ION versions are hitting netbooks. An 8-core version for 10-inch netbooks and 16-core version for 12-inch ones.
It is safe to say that the Asus Eee PC 1201PN will sport 16-core ION and Notebook Italia has managed to conduct a benchmark to give us an idea as to where performance sits. Using the 3DMark06 benchmark, they managed to record a score of 2,013. This compares to a score of around 1,580 3DMarks for the Asus Eee PC 1201N. Read more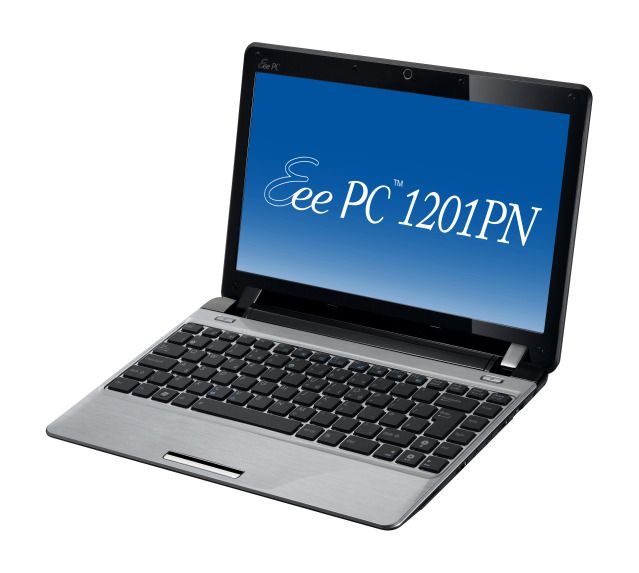 It was only a matter of time, but Asus will launch a Pine Trail update to its popular dual-core ION Eee PC 1201N netbook. The Asus Eee PC 1201PN has been spotted at CeBIT but will not be a dual core machine, it will sport a 1.66GHz N450 Atom processor and come with next generation Nvidia ION graphics.
Design wise, the Eee PC 1201N looks exactly the same as all of the other Eee PC 1201 ranges from Asus (1201HA, 1201N, 1201T, 1201 and 1201NL). It is from the Seashell range and comes with a 12.1-inch (1366 x 768) display, chiclet keyboard and dimpled touchpad. Read more