For those wondering just how quick Asus' ExpressGate instant-on operating system is compared to traditional Windows, you're in the right place. Sammy Production did a video benchmark comparing boot times side-by-side on two Asus Eee PC T101MT netbooks.
Asus ExpressGate is basically a rebranded version of Splashtop that took around 20 seconds to boot. For those wondering why it wasn't faster, it is because there are two versions of Splashtop. The one normally found on notebooks and desktops uses 512MB of Flash memory and takes around 5 seconds to boot. The other uses the hard disk partition (as in the netbook) that means it's slower. Check out the video after the jump. Read more
March 26, 2010 at 8:02 am
The Asus Eee PC T101MT convertible netbook is finally getting closer to a release date. Asus UK has not confirmed pricing but it is listed on several retailer sites for around the £325 mark with a launch on April 12. This particular model will get you a 1.66GHz N450 Atom CPU, 2GB RAM, 320GB HDD, W7HP and a 6.5 hour battery.
The same model will be hitting mainland Europe for €499 according to EeePC.it, somewhat higher than the direct conversion of the above price. The US version will also be landing in early April for $499 according to Liliputing, although it's unclear what specs this will come with. It is believed this model may only come with 1GB RAM, 160GB HDD and W7 Starter.
March 15, 2010 at 8:05 pm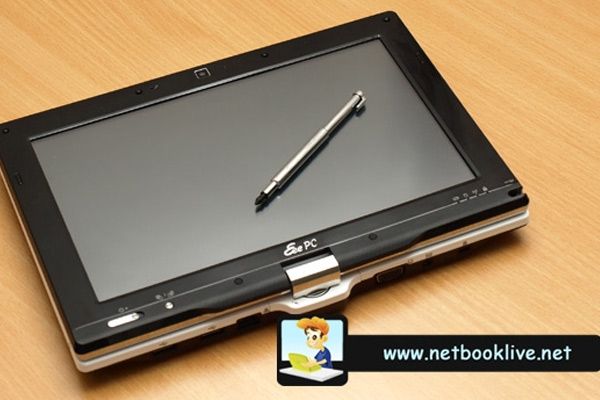 We've already seen the Asus Eee PC T101MT convertible tablet being handled by Mike over at NetbookLive recently, but that was a pre-production model. He has since been lucky enough to get hold of final hardware and there has been some improvements.
Performance is still sluggish, however the touchscreen accuracy appears to be much better both with stylus and finger use. You can check out the comprehensive video review after the cut. Read more
February 25, 2010 at 10:26 pm
The 10-inch Asus PC T101MT convertible netbook is not even officially released yet, but the folks at NetbookLive have already got hold of one and documented their initial impressions as well as treating us to some unboxing pics. The version they are playing with comes with a 1.66GHz N450 Atom processor, 2GB RAM and a 320GB HDD. First thoughts on the resistive multitouch display is that the response is slightly poor, however further testing is needed. A full review is expected in the next few days.
AllTouchTablet also has some initial impressions on the Eee PC T101MT. Build quality seems strong and the chiclet keyboard has little flex. They also talked of a lack of precision on the touchscreen, mainly at the edges. Performance was also found to be sluggish. Check out a couple of hands on videos from them after the jump. Read more
February 13, 2010 at 1:28 pm
Slowly, but surely it looks like the 10-inch Asus Eee PC T101MT convertible netbook is edging to closer to a retail release. Over the last week, Asus revealed a video showing off the user interface and then we saw pre-orders open in Germany. Now Asus has revealed the official product page.
We're treated to the full specifications of the device as well as a load of official photos. The Asus Eee PC T101MT will come with a 10.1-inch resistive multi-touch panel with 1024 x 600 resolution. It will be powered by the 1.66GHz N450 Atom Pineview processor and will come in two versions (one with Windows 7 Starter and the other with Home Premium). Read more
February 11, 2010 at 5:37 pm
The 10-inch Asus Eee PC T101MT convertible netbook may getting ever closer to its release. We recently saw a video overview of the user interface direct from Asus itself and now Amazon Germany has the device up for pre-order.
Some of the specs are incorrect (i.e. 12.1-inch display) and there's no release date, but the listing points to the fact that it can't be too far away. The rest of the specs appear to be right and includes a 1.66GHz N450 Atom, 2GB RAM, a 320GB HDD and W7 Home Premium. Amazon.de has it listed for €499.00. Read more
February 9, 2010 at 1:43 pm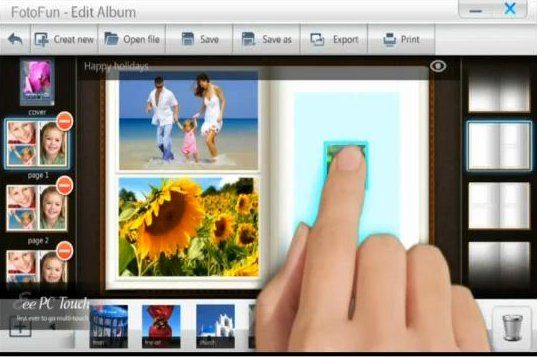 The 10-inch Asus Eee PC T101MT is a mysterious machine, it first made an appearance at CES in 2009 but it still hasn't been released. Recently, it passed through the FCC and even made an appearance once again at CES 2010 but we're still no closer to getting any official launch details.
It may not to be too long to wait, however, as Asus has released a video tutorial of the user interface. It shows off some of the software applications including touching up photos, creating photo albums and leaving handwritten desktop memos. I didn't notice any real differences to that used in the 8.9-inch T91MT. Whilst we continue to wait for the T101MT to show up you can check out the video after the jump. Read more
January 9, 2010 at 8:01 pm
The Asus Eee PC T101MT convertible netbook was first spotted passing through the FCC a few weeks back, and it was again on show at CES. The 10-inch version of the 8.9" Eee PC T91MT has been due to launch for the best part of the year, but its appearance hopefully means we will see it hit retail shelves in 2010.
The MT stands for multi-touch, although strangely Asus has opted for a 10.1-inch (1024 x 600) resistive panel, rather than capacitive. This means you need to exert a little pressure on the screen to get pinching to work. Asus has bundled a stylus and handwriting software into the package to make the most of its tablet features. Read more
December 22, 2009 at 6:04 pm
Asus' 10-inch convertible netbook has been on the cards for a while now and it looks like they may finally be getting around to launch it. The Asus Eee PC T101MT convertible tablet has passed through the FCC, pointing to the fact that it will launch with a multi-touch display (much like the 8.9-inch Eee PC T91MT).
The FCC filings do not reveal too much information apart from the product label and a picture of the back. Click through for these pictures. Hopefully we'll hear more at CES 2010 in January. Read more