February 27, 2010 at 12:21 pm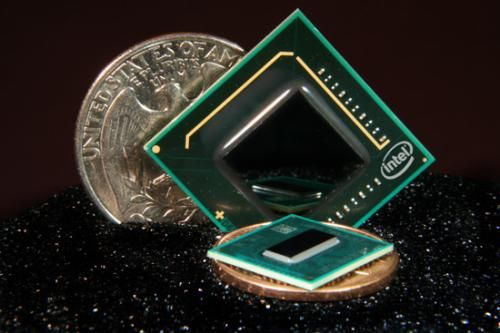 The existence of the faster 1.83GHz Intel N470 Atom Pine Trail processor has not exactly been a secret, however Intel has never made an official announcement on the Pineview CPU. In what appears to be an early leak from Intel, the processor has been formally announced over on Intel's Chip Shots press release page.
There's very little information and nothing we didn't already know. The single core Atom processor runs at 1.83GHz, with 512k of L2 cache and DDR2-667 support. The release is dated March 1 2010 and says that several systems sporting the new processor will be released "over the coming months". Expect to see quite a few of these at CeBIT next week. The (short) press release is attached after the break. Read more
January 18, 2010 at 8:13 pm
Intel hasn't officially announced any details regarding its 1.83GHz N470 Pineview Atom processor, however at least one netbook is now on sale sporting the new CPU. The Lenovo Ideapad S10-3t convertible tablet is on sale in the US (with N470 Atom) for $649 and is shipping in 9 business days. It comes with a 10-inch multitouch display.
This puts it at $100 more than the N450 Atom-based S10-3t. However the more expensive SKU does get you Windows 7 Home Premium, 2GB RAM and a 250GB HDD as standard. The cheaper version comes with W7 Starter, 1GB RAM and a 160GB HDD. This could mean other netbooks sporting the faster Pineview processor are likely to be available soon.
Via Netbooked.
January 10, 2010 at 12:07 pm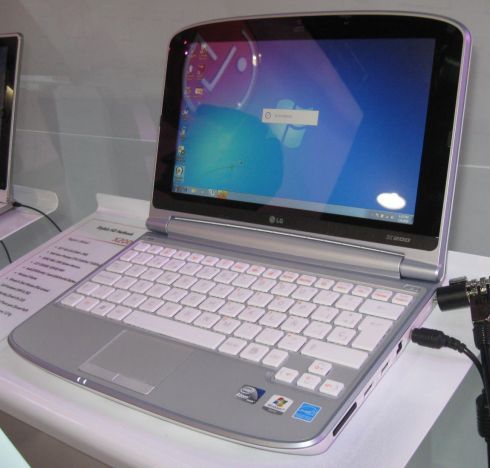 As well as the super-slim LG X300 11.6-inch ultrathin, LG will be launching the 10.1-inch X200 netbook. The LG X200 has a high resolution (1366 x 768) display and is powered by either a 1.66GHz N450 or 1.83GHz N470 Pineview Atom processor.
Other features include up to 2GB RAM, a 250/320GB HDD, Windows 7 Starter, Wi-Fi, SmartOn 2.0 instant-on OS and optional 3G. Battery options include a 4-cell 2000mAh battery or 6-cell 2600 mAh battery. There are no pricing details but it is expected to launch in February 2010. Click through for a video of the netbook in action courtesy of MobileHub. Read more
January 3, 2010 at 12:46 pm
We have been informed that Lenovo is indeed set to announce the Ideapad S10-3t and S10-3 netbooks at CES next week. That's not too surprising given the leaks we have already seen, but we also have in our possession first details on technical specifications, pricing and availability.
Lenovo's third generation of netbooks will be headlined by the Ideapad S10-3t. This convertible tablet/netbook will boast a 10.1-inch multitouch capacitive display. As with other convertible tablets, the display can swivel by 180 degrees to form a touch tablet. Lenovo claims it is built with its NaturalTouch fingertip touch screen technology, versus pressure touch technology. But surely this is how all capacitive displays work? The picture below is the first of the Ideapad S10-3t. Read more
December 28, 2009 at 8:43 pm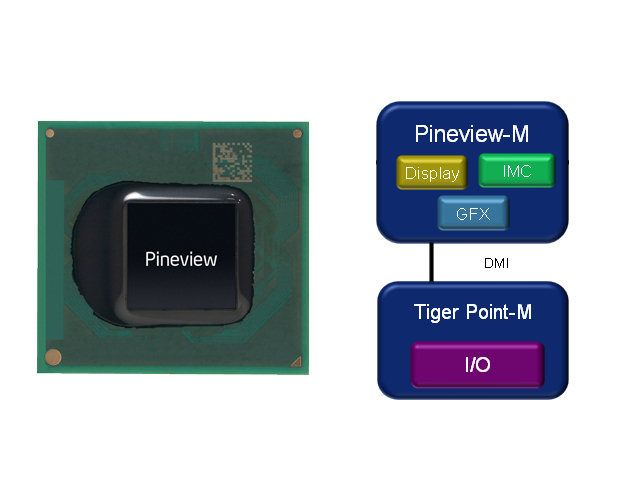 Intel has released the technical documents surrounding the N400-series of Pineview Atom processors. The 1.66GHz N450 Atom will be the main processor used in netbooks in Q1 2010, however a faster 1.83GHz N470 Atom is planned for release shortly after.
The new N400 Pine Trail Atom is a two-chip platform that combines the GPU and CPU on the same die. Intel kept news on the IGP (GMA 3150) of the N450 Atom to a minimum when it officially announced the platform. However, judging by the docs it looks like there is no hardware decoding of H.264 or WMV files, you'll only get hardware decoding of MPEG-2. Somewhat a backwards step from the GMA 500 chip. Read more
December 4, 2009 at 8:41 am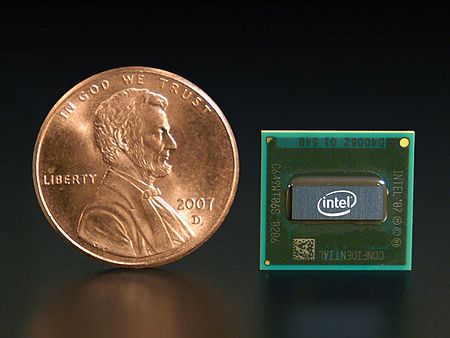 Netbooks launching with the next-generation Atom Pineview processors are set to launch on 11th January 2010 according to Digitimes. Manufacturers such as Acer, Asus, Lenovo and MSI are complying with Intel's embargo, prohibiting any release until after 10th January.
The initial netbooks using the Pine Trail platform will launch using the 1.66Ghz N450 Atom Pineview processor, whilst the 1.83GHz N470 processor is set to hit the market in March. Pineview netbooks are expected to run on three main platforms: Windows 7 Starter , Moblin and Windows XP with Windows 7 expected to the most popular but also most costly.
Manufacturers are cautious on the launch of these new netbooks, worrying that they may not take off as expected. This could end up leaving an inventory stockpile as was seen in early 2009.
November 6, 2009 at 5:31 pm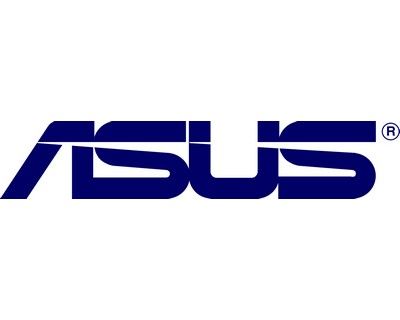 Asus will be showing off a number new of devices come next January's Consumer Electronics Show (CES) in Las Vegas. We will get the first glimpse of the company's 1.66GHz Intel N450 Atom-powered netbooks, the 10-inch Eee PC T101 convertible tablet, as well as several smartbooks and ultra-thin devices.
It will also be showing its first entry into the e-book reader space with a 9-inch model along with several Google Android-powered smartphones (only the Acer Liquid has been announced right now). Asus' 1.83GHz N470 Atom netbooks will not be presented until CeBIT 2010 in March.
Via Digitimes.
October 26, 2009 at 3:04 pm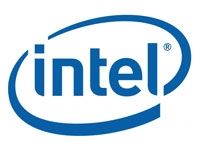 The main reason why we have seen such a large number of 'cookie-cutter' netbooks is due to hardware restrictions in place from both Intel and Microsoft. Both companies do not want this 'value' segment eating into profitable margins from their premium offerings.
The advent of Windows 7 has seen storage restrictions upped from 160GB to 250GB, although most of these W7 Starter models still only come with 1GB RAM. This will change, however, with the upcoming 1.83GHz N470 Atom (Pineview) processors. Fudzilla is reporting that Intel will be lifting the RAM restrictions on netbooks using this CPU.
This relaxation will come into place after March 2010 but only for the N470 Atom and not for the slower 1.66GHz N450 Atom. The N470 Atom will come with a NM10 southbridge as well as integrated graphics. Intel has guided to a price range of $299-$349 for these models, although I'm sure they will be pricier than that. It has also guided to storage of 160GB HDD or SSDs between 20-32GB. Somewhat cheekily it even recommends using Moblin Linux as the operating system of choice (Moblin was developed by Intel).
October 16, 2009 at 1:50 pm
Up until now, the 1.66GHz N450 Atom processor has been the only Pineview processor for netbooks that has been leaked. Many of you were disappointed that Intel didn't up the clock speeds on the next-generation Atoms.
Well according to Fudzilla, a 1.86GHz N470 Atom is also on the pipeline and is expected to launch in March next year (the N450 is rumoured to launch in January). The N470 Atom will cost $75, placing it $11 more expensive than the N450 at $64. It will be interesting to see the take-up of both of these new chips given that the N270 is selling for just $44.
September 10, 2009 at 8:23 pm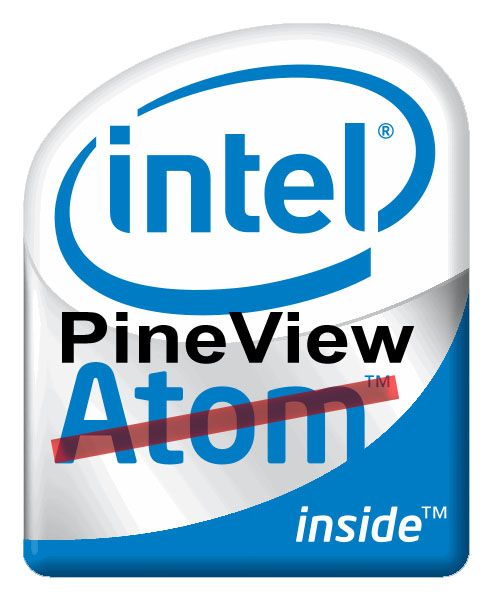 Intel is set to launch official details on its next-generation Pineview Atom processors at the Intel Developer Forum on September 22nd. This should include the full family of chips targeted for netbook/mobile devices as well as pricing.
Fudzilla has pre-empted the pricing announcement, claiming to have details on the price of both the 1.66GHz N450 Atom and 1.83GHz N470 Atom processor. Whilst, it's not surprising to learn that the faster N470 will cost $75, I did expect the N450 to a bit cheaper than the quoted price of $64.
This compares to the current most popular CPU for netbooks, the 1.6GHz N270 Atom, costing just $44. This means that newer netbooks will be tangibly more expensive than current netbooks based on the inclusion of Windows 7 and the newer Intel Pine Trail chips.
September 8, 2009 at 5:56 pm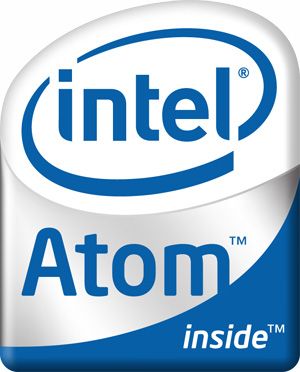 Up until now, only one next-gen Pineview processor has been revealed – the 1.66GHz N450 Atom. However, Fudzilla is reporting that this will be accompanied with a faster N470 processor that has a 1.83GHz clock speed. The N470 Atom is expected to hit select netbooks during the first quarter of next year.
As with the N450, the N470 is a single core processor that supports hyper-threading. The Pine Trail chipset has a TDP of 6.5W, whilst this is more than double that of the N270, you have to remember that Pine Trail includes an integrated IGP on the same silicon. Hopefully, we'll have more details at Intel's Developer Forum (IDF) from 22-24 September.