March 20, 2010 at 9:46 am
The Averatec N1200 10.1-inch netbook has pretty standard specifications (N450 Atom, 1GB RAM, 160GB HDD and Windows 7 Starter) but comes in an attractive chassis less than an inch thick weighing around 1kg (2.2lbs).
Laptop Mag has put the N1200 netbook through its paces and came back with mixed impressions. The design of the Averatec N1200 is one of the "best-looking netbooks yet" according to the reviewer, with its stylish aluminium lid. It also has a lightweight chassis and large touchpad that wins it brownie points. Read more
February 28, 2010 at 10:30 pm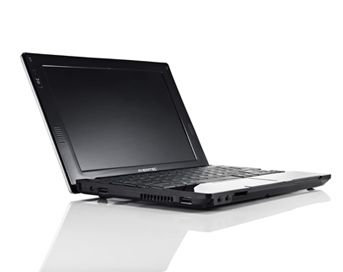 The Averatec N1200 doesn't break the mould when it comes to specifications. It is a 10-inch (1024 x 600) netbook that comes with a 1.66GHz N450 Atom processor, 1GB RAM, a 160GB HDD and Windows 7. However, it does have good looks on its side (well compared to previous Averatec efforts).
Other features include two USB ports, webcam, card reader and 2-cell 3200mAh battery. Its chunky 2.5-inches thickness belies the fact that the netbook weighs just 995g. No details on pricing or availability right now.
Via NetbookNews.de.