November 3, 2009 at 6:17 pm
Right on schedule, Celio has released drivers that allows its Redfly 'netbook' (or smartphone terminal would be more apt) to work with Blackberry devices. The Redfly has an 8-inch screen, 8-inch keyboard and an 8-hour battery life, but no CPU and no operating system. It is used as a conduit for your smartphone to make it easier to browse or type on.
You won't get support for every Blackberry out there, only the Bold 9000, Curve 8900 and Tour 9630 models are supported. The driver is available to download here for both C8N and C7 Redfly models.
Via Slashgear.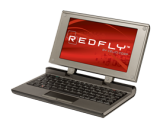 For those that have not heard of Celio's Redfly device, think of it as a terminal for your smartphone. The Redfly looks like a netbook, it has an 8-inch screen, 8-inch keyboard and an 8-hour battery life. However, it has no CPU and no operating system. Reminiscent of the Palm Foleo, the Redfly is designed to communicate with your Windows Mobile smartphone.
Once connected via USB or Bluetooth, you can see the phone's home screen on the Redfly at which point you can write emails/texts or browse the internet. The netbook is purely a conduit and apart from the screen and keyboard, the only other parts it has internally are a motherboard and graphics chip. At the back of the Redfly you'll also find two USB slots and a VGA port.
The device has been on sale for a while now and hasn't really taken off. However, it has recently being showing proof of concepts running Android and hopes for RIM support by the end of the year. Blackberry support may the catalyst to kick-start sales. The Redfly is on sale now, the 8-inch version costs $299 whilst the 7-inch version costs just $199.
Via EE Times.