October 29, 2009 at 9:40 pm
If the name sounds familiar then that's because the Compaq Mini 311c is essentially the European version of the ION-equipped HP Mini 311. The differences appear to be mainly cosmetic, with the Compaq having a 'Q' logo on its matte lid. Pierre from Blogeee has given his thoughts on the device as well as a video unboxing.
The Mini 311c comes with an 11.6-inch (1366 x 768) display and is armed with an 1.6GHz N270 Atom processor, ION LE, 1GB RAM and a 160GB HDD. Other features include Wi-Fi (b/g), Bluetooth, a 6-cell battery, 5-in-1 card reader and XP Home.
It is a very keenly priced netbook, expected to hit the UK for £319.99
according to the Amazon.co.uk pre-order page. This is much cheaper than the other ION netbook, the Samsung N510 that currently retails for around £400
. However, the N510 does offer a slightly faster 1.66GHz N280 Atom processor and wireless draft-N. Either way, it looks like Compaq is on to a winner with the Mini 311c. Check out the (French) video unboxing after the jump. Read more
October 29, 2009 at 11:30 am

It always seemed a bit strange that Nvidia would release an entry level ION chipset targeted exclusively to Windows XP netbooks. The ION platform combines an Intel processor and a GeForce 9400M graphics based MCP79 chipset. The cost of producing two chipsets seemed prohibitive, especially as we're likely to see fewer and fewer netbooks sporting XP as time goes on.
However, it appears that the ION and ION LE chipsets are physically the same after all. The only difference is that ION LE has had DX10 disabled according to some investigative work by MyHPMini member runawayprisoner. He basically added the device id of ION LE into the INF for the full ION HP drivers. The end result gives you DX10 support for the ION LE. Read more
October 11, 2009 at 8:48 pm
Microsoft's Windows 7 operating system will be released in a matter of weeks now. Some manufacturers are planning to re-release existing netbooks with Windows 7 and as the hardware limits are different to that of XP, it looks like most will get revised specs too.
The ION LE-powered HP Mini 311 (or Compaq Mini 311c if you're in Europe) is also to get a Windows 7 SKU and myHPMini managed to get hold of the revised spec list.
This includes full ION (rather than ION LE), different storage options (including 80GB SSD or 250GB/320GB HDD) and a maximum of 3GB RAM. It will also run on either Windows 7 Starter, Home Premium or Professional (32-bit) operating systems. It will be interesting to see how these options push up the price on release though.
Via Netbooked.
September 15, 2009 at 7:39 am
No surprises on this announcement since most details have been leaked over the last few weeks, but this morning HP has announced an 11.6-inch netbook using the ION platform. The HP Mini 311 sports a high resolution (1366 x 768) display and is powered by a 1.6GHz N270 Atom CPU. It also has 1GB RAM and a 160GB HDD.
The press release confirms that it will come with Nvidia ION LE (entry level) and runs on Windows XP. I'm surprised that HP didn't choose to go for a full-sized keyboard, you get a 92-percent sized keyboard that is standard on most 10-inch netbooks. Other features include three USB ports, a couple of audio jacks and a 5-in-1 card reader.
The Mini 311 will hit the US on September 23rd for $399. Another SKU with Windows 7 will launch on October 22nd. Laptop Mag has a hands-on video that is worth checking out. The HP Mini 311 will be branded as the Compaq Mini 311 in Europe, Pocket Lint has a number of photos of this model. The Compaq Mini 311 will hit the UK for £349. Read more
September 9, 2009 at 8:51 pm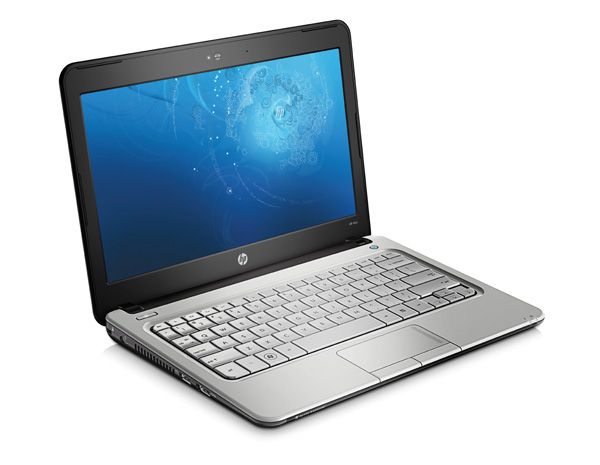 The HP Mini 311 (Compaq Mini 311c in Europe) is expected to hit the market with an 11.6-inch (1366 x 768) display and ION LE platform. Whilst the model hasn't been officially announced, it is believed to be powered by a 1.6GHz N270 Atom processor, 1GB RAM and a 160GB HDD.
Other features include Wi-Fi (B/g), Bluetooth, HDMI out, three USB ports, webcam and 5-in-1 card reader. It will come with a 92 percent keyboard and a 6-cell battery. Notebook Italia stumbled on some official press images of the Mini 311 that show it will come in two colours, black and white, both with patterned lids. Availability is pricing is still unknown, however we'll bring you further details as soon as we have it. We have a few pictures of the Mini 311 after the break. Read more
September 7, 2009 at 11:01 am
It appears that HP may be looking to launch two more netbooks to its portfolio. Some members of the Notebook Review forums came across a list of notebook model numbers that included the "HP Mini 311/Compaq Mini 311" and "HP Mini 210/Compaq Mini 210" netbooks. HP normally releases its netbooks under the Compaq brand in Europe, which is why there are two listings per model.
Whilst there was no additional details on these models, NetbookNews.de did a little digging and came across a retail listing for the HP Compaq Mini 311c. It seems that this model will sport an 11.6-inch display, powered by the Nvidia ION LE platform and 1.6GHz N270 Atom processor. Read more