Whilst the smartbook category is still very new, that hasn't stopped Freescale Semiconductors to team up with the Savannah College of Art and Design (SCAD) to come with some real 'out-of-the-box' ideas on what the future smartbook concepts may look like.
Smartbooks are based on ARM chips and have been introduced to fill a gap between smartphone and notebook products. Typically, they will be an always connected device via 3G, have instant-on functionality and have much longer battery life than your typical netbook. Freescale has its own ARM-designed chip in the form of the i.MX515.
"This initiative has given Freescale valuable insight into how end-users prefer to interact with smartbooks, and this knowledge will be fed back into our chip design processes, ultimately resulting in future i.MX processors that enable compelling consumer experiences and entirely new classes of consumer devices," said Glen Burchers, Consumer Segment marketing director for Freescale.
A number of designs were shown including a modular smartbook as well as ones that feature sliding keypads, vertical displays and also one with leather-based casing. See all of the prototypes after the break. Read more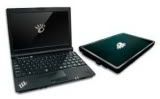 Manli Technology, which normally specialises in the manufacture of graphics cards and motherboards, unveiled a new series of netbooks at Computex called the iii series, (pronounced 'I'). The series has been divided into five different models named the M1, M3, M5, M7 and, you guessed it, the M9. These models are available in a number of different colours and each come with their own design.
These 10.2-inch models come with 1024 x 600 resolution and are powered by a 1.6GHz N270 Atom CPU. They weigh around 1kg and, somewhat uniquely, come with a fingerprint scanner. Other specs include a 3-in-1 card reader, Wi-FI (b/g only), a 160GB HDD, a 1.3MP webcam as well as 3G capability.
NetbookNews went hands-on with the Manli M3, which also had an Expresscard slot in addition to the above. The touchpad seemed quite small for a 10-inch netbook, but it was nice to see a matte display being used. It will also come with an optional TV-Tuner and a number of unique case designs. It will be priced somewhere around the $300 mark on release, although availability is unknown right now. Check out the video after the jump. Read more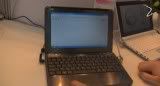 Lengda is not a manufacturer I have come across before, however they introduced a couple of interesting netbooks at Computex this week. This includes the 10.2-inch stainless steel Lengda X10K and the 11.1-inch CULV-based M11A netbook.
The X10K is the first ever stainless steel netbook (which weighs 1.37kg), but for those of you worrying about the extra weight this may add, Lengda is also planning an aluminium version soon. Additional options include a pull-out 3G and TV-Tuner.
The Lengda M11A has an 11.1-inch screen, the first netbook that I've seen with that sized display. It is powered by a Celeron ULV processor and weighs just 1.3kg with a 4-cell Lithium Polymer battery. There are three USB 2.0 ports, VGA output and memory card reader, but there's also an integrated TV tuner. There is no detail on technical specs, pricing or availability but we'll be keeping a close eye for further news. Check out a couple of hands-on videos after the break courtesy of NetbookNews. Read more
Asus is planning on releasing a 3G enabled version of the Eee PC 1005HA, under the model name of 1005HGO. This follows the naming convention used with other 3G enabled Eee PC's including the 1003HGO and recently announced 1101HGO.
The specifications of the 10.1-inch 1005HGO relates to the higher-end SKU (1005HA-H) which comes with a 1.66GHz N280 Atom CPU, Bluetooth and a longer battery life over the 1005HA-M SKU. It will come with the HUAWEI EM770 3G modem. Pricing and availability is unknown right now.
Via Eee-PC.de.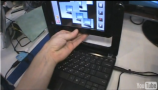 Taiwan's Institute for Information Industry (III) showed off a very intriguing device at Computex this week. In a form factor that reminded me of Always Innovating's Touch Book, the Mtube II is a netbook that has a detachable keyboard, which means it can also be used as a tablet device. However, by taking this concept one step-further, the Mtube II runs two different operating systems – Windows XP in netbook mode and switching to Android when in tablet mode.
It seems that the device has two processors, the old 1.6GHz VIA C7-M CPU for netbook mode and a 533MHz Samsung ARM processor when running Android in tablet mode. Thankfully the model has a matte display, which should hopefully mean less fingerprint marks. The tablet connects to the netbook by VNC (remote control) so video performance probably won't be up to scratch. Battery life in tablet mode is around two hours.
This model is only a prototype and a final retail version is unlikely to be out until next year and as you can imagine there's no idea on price right now. We're very much looking forward to seeing more devices sporting this form-factor in the future. Check out three videos of this device in action after the break. Read more
VIA demonstrated a number of netbook and smartbook devices at the Computex show in Taiwan. It appears that they had quite a big stand, with a wall of netbooks showcasing their processors and chipsets. Unfortunately, most of them are not destined to appear outside of Asia.
NetbookNews.de were on hand to see that VIA were displaying netbooks ranging in size from 8.9 to 11.6-inches. Most were either running VIA Nano or C7-M processors. Some were combined with the VX855 chipset that can handle 1080p video with CPU usage at around 20 percent. JKK Mobile was also at the booth and was shown some ARM-based designs from VIA, including the Firstview PC-706 smartbook. Click through for these VIA netbook and smartbook demonstrations.
Update: Another video below shows the Flybook 11.6-inch mini-notebook. This is powered by VIA's VX855 chipset, supporting 1080p HD video playback. This unit comes with an 11.6-inch (1366 x 768) display, VIA U1700 Nano CPU and Chrome9 graphics. Other features include 1GB RAM, a 4-in-1 card reader and three USB ports (no HDMI-out I'm afraid). It should be out in the next few months for around the $400 mark. Read more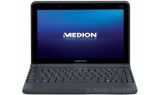 Medion had a few mini-notebooks on display at Computex this past week. It was showing off three 11.6-inch models that were powered by the AMD Sempron CPU. Medion introduced the Medion Akoya E1311, E1312 and 3G-equipped E1315. These mini-notebooks are powered by a 1.5GHz AMD Sempron 210U, M690E chipset and ATI Radeon Xpress 1250 graphics. Other specs include 1GB RAM, 160GB HDD, Bluetooth, 1.3MP webcam, Wi-Fi (draft-N), HDMI out and a 2200mAh battery.
I'm not too sure what the difference between the low-end E1311 and E1312 models are. My guess would be that the E1312 also comes with an Expresscard slot, which I don't think exists on the E1311. Both come with a keyboard with flat keys and a glossy display. The models aren't that light, weighing 1.5kg with the price estimated to be around the €400 mark (for the cheapest model) when it releases in Europe shortly. Check out a couple of videos of the E1312 after the break, courtesy of NetbookNews. Read more
Pegatron first showed off this very thin and lightweight smartbook back at CES in January. This particular model reappeared at Computex and NetbookNews.de managed to get hands-on with the unit. The 10-inch netbook was running on a Freescale IMX51 800MHz ARM-based CPU and Xandros Linux. The most notable aspects appear to be a very lightweight, fanless glossy model with 8 hours of battery life.
Storage is catered for by a 4GB SSD meaning that the weight doesn't creep above 800g. The Pegatron netbook includes a 4-in-1 card reader, USB 2.0 ports and a VGA out. As you would expect with an ARM-based chip, wireless connectivity includes 3G, GPS, Bluetooth and Wi-Fi.
Build quality was found to be good, despite some flex in the palm rest area. The keyboard had good feedback but only had a small right shift key. Interestingly, a second model (with the same hardware) was shown running the Movial OS, which I've not heard of before. It was similar to Asus' Easy Mode OS. There is no idea on cost right now, but hopefully it won't be too far off the Wistron N900z's predicted $200 price tag. Check out the video after the jump. Read more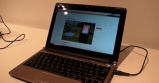 The smartbook moniker has only been created very recently, but judging by this year's Computex show, it is set to become a firm part of the portable gadget landscape. This time around it is ODM (Original Design Manufacturer) Compal's turn. They have demonstrated a smartbook device that is powered by a Qualcomm Snapdragon chip and running Google Android.
Asus has also shown an Eee PC running Android and powered by a Snapdragon chip, however it looks like they weren't ready to showcase this model themselves (the reveal was on the Qualcomm stand at the Computex show).
Compal has optimised the start-up interface and apparently further tweaks are on the way. The video shows just how quickly the internet browser loads pages. This smartbook is expected by the end of the year. Check out videos from TechVideoBlog and JKKMobile after the jump. Read more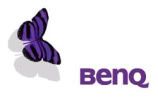 BenQ has confirmed that it will launch a smartphone and netbook running the Google Android operating system in 2010, according to Peter Chen, General Manager of BenQ's Technology Product Centre.
This move would follow a number of companies pushing Linux-based operating systems, including Acer who plans to launch their own Android netbook in the next quarter (albeit with a dual-boot Windows option). BenQ already sells netbooks under its Joybook Lite brand running Windows XP. It also recently revealed the 11.6-inch Joybook Lite U121 Eco.
There are no details about availability, or pricing right now. This is not surprising given that its overall makeup is still on the drawing board. With a vague '2010' release date, I imagine that by the time it is released, there will already be a number of manufacturers offering netbooks with Android and other OSes like Moblin or Jolicloud. It will be interesting to see what new stuff BenQ can bring to the table.
Via Digitimes.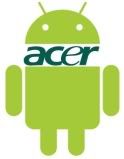 Acer is looking to play it safe with its planned Android netbook, due for release in the third quarter this year. The netbook will ship as a dual-boot system with both Android and Windows according to Acer Chairman, JT Wang.
Acer is looking to go down this route given that there are still questions marks about the Android platform on a netbook type device. From our point of view, it's a bit worrying that we haven't seen a proper netbook customised version of Android. The only demos shown up until now are ports of the smartphone version (typically v1.5). Read more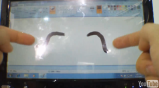 The 8.9-inch Asus Eee PC T91 is one of our most eagerly anticipated netbooks. However, if there was one feature we wish it had, was a multi-touch screen. With Windows 7 launching in just over four month's time, a multi-touch screen in any netbook device right now would be a forward-looking inclusion.
It may seem that Asus is thinking along the same lines. Eee-PC.de found an Eee PC T91 display unit running Windows 7 software that had a multi-touch panel (see the video after the break).
I find it hard to believe that the T91 that will start to ship this month will come with a multi-touch panel. The specs listed on the official product page, specifically talks of a resistive rather than capacitive display. Asus may have a premium T91 SKU planned with multi-touch capability to tie in with the launch Windows 7. The only thing I can think of is that Asus has enabled multi-touch on a resistive panel, which is possibility.
Update: JKKMobile also has a video demonstrating the multi-touch features of the Eee PC T91. Apparently, he has confirmation that only the Windows 7 SKU will ship with a multi-touch panel. See this video also after the break. Read more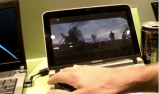 Nvidia has really come out in force at the Computex show in Taiwan. It has shown off ION on 21 new devices as well as educating the world about its Tegra platform. Tegra marries an ARM-based processor with an Nvidia GeForce GPU (ION pairs an Intel Atom CPU with Nvidia 9400M graphics).
Nvidia claims Tegra to be one of the most powerful SOCs (system on chips) – able to handle 1080p video, HD Flash, GPS, Wi-Fi, 3G and a huge battery life. The video below (courtesy of NetbookNews) shows the trailer for the new Star Trek film running at a bitrate of 12-14Mbits. It also shows that the chip can run older games (like Quake) at 46fps. All of this at a maximum power consumption rate of just 1W. Read more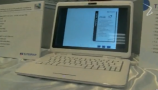 As expected, ECS has announced three new netbooks at Computex this week. This includes an 11.6-inch model (T20IL) and two 10-inch models (T10IL & TV10IL). While I could not find a press release on the ECS website, NetbookNews.de was on hand to give us the lowdown on each of these new netbooks.
The ECS T20IL comes with an 11.6-inch (1366 x 768) display powered by Intel's Celeron 723 ULV platform and GS40 Intel chipset. It is very thin at just 25mm and weighs 1.4kg with the 4-cell battery (a 6-cell option will also be available). It will run on Vista Home Premium.
The ECS T10IL is similarly thin and comes with a very good keyboard. It weighs less than 1kg and uses 1.8-inch storage, Bluetooth, Webcam (1.3/2.0MP) and an HSUPA modem. The cheaper ECS V10IL is powered by a 1.6GHz N270 Atom CPU and 945GSE chipset. It has a 2.5-inch 160GB HDD, a 1.3MP webcam, an HSUPA modem and optional Bluetooth. Check out three videos of these ECS netbooks after the jump. Read more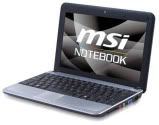 As things stand, there aren't too many netbooks that have hybrid storage systems. The most notable one is MSI's 10-inch Wind U115 Hybrid that uses both a 8GB SSD and 160GB HDD. One of the benefits of such a system, is that battery life can be prolonged by disabling the HDD when not in use.
However, it appears that we won't be getting too many more netbooks that employ similar systems if Microsoft gets its way. According to bit-tech, Microsoft is banning netbook manufacturers from producing hybrid storage netbooks, when using Windows XP Home. Read more