December 8, 2009 at 2:40 pm
The JooJoo web tablet (formerly known as the CrunchPad) was christened its new name just yesterday, but with no accompanying media. However, it looks like Fusion Garage's Chandra Rathakrishnan has been doing the rounds, as video hands-on impressions from both Cnet and Engadget have surfaced.
The JooJoo uses a number of multi-touch gestures including two finger swipes to move backwards/forwards. Cnet feels that the virtual keyboard is "poorly positioned", although you can always use a Bluetooth/USB keyboard (kind of defeats the purpose though). Cnet were impressed with the 12.1-inch (1366 x 768) capacitive display, describing it as "pleasing to hold" and "gorgeous". However, the $499 price point is likely to be a sticking point for many saying that it's great "if you have money to burn."
The hardware has a dedicated GPU powerful enough to run 1080p YouTube content. Engadget managed to experience this first-hand, describing the 1080p Avatar trailer as "crisp and lag-free." Performance will be dependent on wireless bandwidth though. Engadget's main gripe was that the "touch sensitivity is pretty bad" with the keyboard being "painful" to use. A pretty big problem for a tablet. Check out both hands-on videos below.
Update: Gizmodo and Wired have also posted their hands-on impressions. Read more
December 7, 2009 at 10:05 pm
Following on from the very public falling out between TechCrunch founder Michael Arrington and hardware partners Fusion Garage, the CrunchPad now has a new name. The 12.1-inch tablet will now be known as the JooJoo. Fusion Garage's founder, Chandra Rathakrishnan, also went on the record to say that the device was already being worked on before Arrington approached them. He also claims that there was no contract between them.
The specs are mostly what we already know, it has a 12.1" capacitive touchscreen display and includes a 4GB SSD. It boots straight into the browser and runs a UNIX-based operating system. It includes Wi-Fi but no sim-slot for 3G. Battery life is quoted to last for around 5 hours. Pre-orders start from December 11th and will cost $499. Initial deliveries will begin in 8-10 weeks. Demos of the JooJoo are expected later this week.
November 30, 2009 at 7:08 pm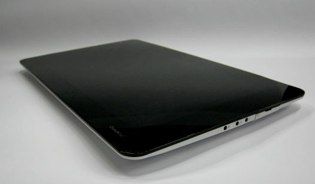 The CrunchPad project from TechCrunch founder, Michael Arrington has been sensationally axed today following what Arrington describes as "greed, jealousy and miscommunication." This is a sharp turnaround, following positive momentum and an imminent launch.
The 12-inch touchscreen internet tablet was being manufactured by Fusion Garage, According to Arrington's side of the story, it seems that Fusion Garage was looking to cut ties and push ahead with the CrunchPad without full ownership of the intellectual property.
Obviously Arrington is not happy about this. "We will almost certainly be filing multiple lawsuits against Fusion Garage, and possibly Chandra [Founder of Fusion Garage] and his shareholders as individuals, shortly. The legal system will work it all out over time," he said. Disappointing news indeed. Click through for one of the key excerpts from Arrington's post. Read more
November 16, 2009 at 1:50 pm
Mike Arrington's CrunchPad tablet project is still underway and on schedule despite rumours to the contrary. Speaking on the Gillmor Gang video, he reaffirmed that the "CrunchPad is steamrolling" and that "costs keep coming down". In terms of the price tag, Arrington expects the cost to sit somewhere between $300 and $400.
Interestingly, he expects the device to be supported by "soft revenue" from "sponsorships". Further news is expected very soon according to Arrington, who hopefully will give further detail on how adverts will be implemented. This may involve preloaded links or adverts, however Arrington has promised that they will be used "without impacting the user experience". You can check out the video after the break, with the CrunchPad action starting at around the 39 minute mark. Read more
July 31, 2009 at 10:16 am
The CrunchPad touchscreen internet tablet will launch by November, just in time for the Christmas buying rush, according to Chandraseka Rathakrishnan founder of Fusion Garage. The company has teamed up with Michael Arrington, founder of TechCrunch, to help get the product out of the door.
Some new specs for the device were unearthed by The Straits Times and include an USB port, Wi-Fi and 3G connectivity and an unconfirmed price around the $399 mark. The CrunchPad has a 12-inch display that is flush with the aluminium case, weighs 1.2kg and comes in different colours. It will be just 16mm in thickness and be powered by a 1.6GHz Intel Atom processor and support Adobe Flash. The device has a custom built OS and no storage space, it will purely be an internet consumption device.
Whilst rumours of a touchscreen Apple tablet continue to circulate, Rathakrishnan is not too worried about its release. "It's two different market segments. The Apple tablet will likely be applications-driven. Ours will be Web-driven."
Via Engadget.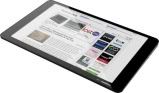 Michael Arrington, founder of TechCrunch, has been beavering away on "an Internet consumption device," dubbed the CrunchPad. We have already seen a number of prototype pictures and now it looks like we are gearing up for a full retail release. He told the NY Times Bits Blog, that an event would be held at the end of July or early August to make a big CrunchPad announcement. He also confirmed that the device would cost less than $300 and be on sale "as soon as possible."
This news follows a report from the San Francisco Business Times that said Arrington had set up a separate company called CrunchPad Inc. The company, based in Singapore, will employ a total of 14 employees according to the report. The CrunchPad has been dubbed "Mike's science project," of which he has spent two-thirds of his time working on it over the last six months. The device will have a 12-inch display that is flush with the aluminium case and come in different colours. It will be just 16mm in thickness and be powered by an unspecified Intel Atom processor and support Adobe Flash.
June 14, 2009 at 10:42 pm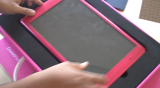 The CrunchPad is a 12-inch tablet device being designed by TechCrunch founder Michael Arrington. Unlike other types of tablet devices, the sole purpose of the CrunchPad is to be an internet device. It comes with no physical keyboard or hard drive and boots directly into a browser.
A prototype version has been caught on video with a very short unboxing. This is the older design that is seen, the newer version comes with a flush display and appears to be much thinner. The unit wasn't switched on unfortunately, with the host claiming that there wasn't a network connection.
The near-final packaging is showcased and it looks like the colour of the packaging will match the actual colour of the CrunchPad you buy, pink in this particular case. The device will be out this year according to the host and I was a bit perplexed to see a huge Bing sticker on the back of the CrunchPad. Check out the video after the jump. Read more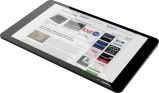 TechCrunch founder Michael Arrington is on a mission to create a thin and light internet tablet computer. Pictures of the 'CrunchPad' were revealed to the world a couple of months back, however TechCrunch has now revealed a near-final design that is looking like an incredibly sexy device.
Whilst only conceptual drawings have been revealed, working prototypes using this design are expected in a matter of weeks. This new 'launch prototype' differs from the previous version in a number of ways. First off, the 12-inch screen now sits flush with the case and the thickness is visibly reduced to just 18mm. This has been achieved by using aluminium, compared to plastic before, which will likely put the price up a bit. Read more
April 10, 2009 at 1:18 pm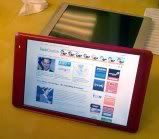 TechCrunch supremo, Michael Arrington, set upon a challenge last July when he outlined a plan to create a very thin and light touch screen computer, minus a physical keyboard and hard drive that boots directly to a browser to surf the web. The main use for such a device would be for internet consumption and be priced at around the $300 mark. The device, called the CrunchPad, has since been under wraps with TechCrunch working with a number of hardware partners to turn the idea into a reality. However, last night some pictures of the CrunchPad leaked. Read more