June 16, 2010 at 11:00 am
DisplaySearch has released its latest forecast report on netbook/notebook unit volumes and ASPs (average selling prices). Interestingly, selling prices in the netbook category increased due to new models with Atom Pine Trail processors and more features.
Unsurprisingly, the report goes on to say that a momentum shift is underway from tablets to netbooks. In Q1 2010, Apple shipped 700k iPads (6.5 percent of all netbook/slates). In Q2 2010 this number is expected to increase to +2 million iPads shipped. With more tablets expected to launch from H2 2010, netbooks will continue to lose share says the report. Read more
December 24, 2009 at 11:51 pm
Netbook shipments are forecast to have grown by 103 percent year-on-year in 2009 according to a latest DisplaySearch report. Netbook revenues over the same period were up by 72 percent. This strong growth has meant that netbooks were 19.6 percent of total portable PC shipments and sales were 10.4 percent of the total. The low sales number is due to the lower average selling prices (ASPs) of netbooks.
Netbook average selling prices are estimated to have decreased by 15 percent in 2009 and DisplaySearch expect them to fall by a similar amount next year. Netbooks are expected to see strong growth once again in 2010, although there is expected to be a surge in ultra-thin 11.6-inch and 12.0-inch CULV-based devices. Read more
October 9, 2009 at 8:38 am
Netbook growth is continuing unabated according to a new report from research specialists DisplaySearch. During the second quarter of 2009, netbook revenue grew by 264 percent year-on-year (y-o-y) and an impressive 37 percent quarter-on-quarter (q-o-q).
The netbook segment is becoming a ever-growing segment of portable PC shipments and revenues. During Q209, netbooks accounted for 22.2 percent of shipments and 11.7 percent of revenues. DisplaySearch is expecting these trends to continue into 2010 albeit at slightly lower market shares. It expects netbooks to account for 21.5 percent of portable PC shipment volume and 10.9% of total revenue. Read more
As an indication as to how fast the netbook segment is growing, research firm DisplaySearch is reporting that netbook shipments are expected to double year-on-year to 33 million units in 2009. This appears to be at the expense of notebooks (classified as those with display sizes larger than 12.1-inches) whose shipments are expected to flatten for the first time. Netbooks will account for 20 percent of the total worldwide notebook market by the end of the year.
The strong take-up of netbooks is dominated from the EMEA region (although I guess Europe is the main driver), with 45 percent of all netbooks shipped in this region during 2008. This amount is expected to drop marginally to 40 percent this year, but still shows how big a market EMEA is for netbook vendors. Read more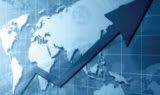 Amidst the global recession, many people are trading down on discretionary spend to save money where they can. Whether this involves people eating in McDonald's rather than the fancy restaurant in town, the trends are plain to see. One of the big beneficiaries of this trend in the technology world is the netbook, which has seen stellar growth since its introduction in 2007.
It doesn't take a genius to work out, that notebook growth has waned since its introduction. Now Displaysearch has a report out which puts some numbers on where these trends are expected to be 2009. The difference is quite stark, netbooks are expected to grow by 66-percent in 2009 compared to just 3-percent for notebooks. It is worth mentioning though that the expected 2009 netbook shipments of 27 million units still dwarf that expected for notebooks at 133 million units.
"With the lone exception of Apple, all of the top 15 PC brands have entered the mini-note market, initially as a response to competitive threats posed by Acer and Asus, but also to satisfy demand for low-priced, entry-level PCs," said John F. Jacobs, Director of Notebook Market Research.
Netbooks sales are seeing their strongest growth in China and the Pacific Rim states, with the exception of Japan, where demand is very low. North America is also expected to be a low growth area. Netbooks won't have its own way forever though as DisplaySearch expects consumers to return to more higher-priced notebooks when the economic crisis is over. Personally, I think there is an element of cannibalisation that will continue to exist even once the global recession is over. Click through for a table on growth forecast by region between 2008-2012. Read more