August 5, 2009 at 6:21 pm
A big smartbook push is expected by a number of manufacturers towards the end of the year. This includes netbook heavyweights such as Asustek and Acer. However, another heavyweight in the industry, Micro-Star International (MSI) will not be following suit according to Digitimes.
The report says that both MSI and Elitegroup Computer Systems (ECS) will watch the launch round from the sidelines, to determine exactly what the market response will be for these new devices. ECS was planning on entering the smartbook segment, through orders from Chinese vendors. However, these orders were cancelled and now ECS will wait until early next year before making another move in this new area.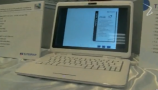 As expected, ECS has announced three new netbooks at Computex this week. This includes an 11.6-inch model (T20IL) and two 10-inch models (T10IL & TV10IL). While I could not find a press release on the ECS website, NetbookNews.de was on hand to give us the lowdown on each of these new netbooks.
The ECS T20IL comes with an 11.6-inch (1366 x 768) display powered by Intel's Celeron 723 ULV platform and GS40 Intel chipset. It is very thin at just 25mm and weighs 1.4kg with the 4-cell battery (a 6-cell option will also be available). It will run on Vista Home Premium.
The ECS T10IL is similarly thin and comes with a very good keyboard. It weighs less than 1kg and uses 1.8-inch storage, Bluetooth, Webcam (1.3/2.0MP) and an HSUPA modem. The cheaper ECS V10IL is powered by a 1.6GHz N270 Atom CPU and 945GSE chipset. It has a 2.5-inch 160GB HDD, a 1.3MP webcam, an HSUPA modem and optional Bluetooth. Check out three videos of these ECS netbooks after the jump. Read more
We knew that ECS was planning to launch three netbooks during Computex, however one that we didn't hear about is the T800. The ECS T800 bears more than a resemblance to the Vaio P in design terms, although the similarities stop there. The T800 has an 8.1-inch screen and comes with a 800MHz OMAP3 3440 or 1GHz OMAP3 3450 processor. It also runs on Google Android.
Sascha from NetbookNews managed to go hands-on with a (non-functioning) prototype and it certainly looks the business. It's very slim-line, measuring just 20mm in thickness (dimensions: 246 x 121 x 20-mm) and weighing just 800g (1.76lbs). In terms of specifications, it comes with 512MB of RAM, 2.5-inch storage (HDD/SSD), a pair of internal Mini-PCIe slots for WWAN cards, two USB ports, card reader and audio jacks.
The ECS will be released in the fourth quarter of this year and priced under $500. I imagine if some wireless carriers get in on the act, then there'll be a significant discount albeit with a tied contract. Check out the hands-on video after the break. Read more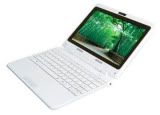 ECS has three new netbooks that will make a first appearance at Computex Taipei on Monday. It has two 10-inch netbooks and one 11.6-inch netbook. Full details of each netbook will be announced next week, but we do know a few details of each model already.
The ECS T20IL is the 11.6-inch model and comes with a high resolution of 1366 x 768 pixels. This is based on Intel's CULV platform rather than Atom and comes with 1.8-inch storage. In terms of the 10-inch models, the more expensive ECS T10IL will have an Intel Atom processor, weigh less than 1kg, use 1.8-inch storage, Bluetooth, Webcam (1.3/2.0MP) and an HSUPA modem. The cheaper ECS V10IL will use 2.5-inch 160GB HDD, a 1.3MP webcam, an HSUPA modem and optional Bluetooth. More information to come in the next few days.
Via NetbookNews.de.