The ExoPC Slate should be making an appearance at Computex Taipei in the next couple of weeks, however Blogue de Geek managed to get some hands-on time with a prototype. Overall impressions were positive with a quick boot-up and smooth video playback thanks to the Broadcom chip.
The 8.9-inch (1024 x 600) tablet features a 1.6GHz N270 Atom processor, 2GB RAM and Windows 7. It is expected to launch in early September with four configuration options (32GB WiFi, 32GB WiFi + 3G / GPS, 64GB WiFi and 64GB WiFi + 3G / GPS). Check out the video after the break. Read more
February 9, 2010 at 9:33 am
The ExoPC Slate is an 8.9-inch tablet that comes with Windows 7 HP and a 32GB SSD for $599. We touched on the rest of the specs in our previous post, but we now we get to see the ExoPC Slate in action. Viewing angles appear to be good and the resistive touchscreen seems reasonably responsive. Check out a video of the Slate after the break. Read more
January 31, 2010 at 9:13 pm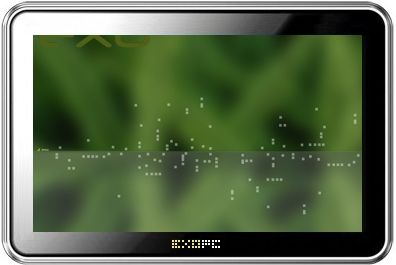 ExoPC will soon launch its 8.9-inch ExoPC Slate tablet that will be powered by a 1.6GHz N270 Atom processor (no Pineview love here), 2GB RAM, a 32GB SSD and Windows 7.
The 8.9-inch (1024 x 600) display will support multi-touch input and have a four hour battery life. Other features include three USB ports, a 1.3MP webcam, Wi-Fi (b/g), Bluetooth, VGA and Ethernet.
The ExoPC Slate will launch in March for $599, the same price as the 32GB Apple iPad. It's not as thin as the iPad at 2.1cm in thickness but at least appears to more fully featured.
Via Engadget.