For those wondering just how quick Asus' ExpressGate instant-on operating system is compared to traditional Windows, you're in the right place. Sammy Production did a video benchmark comparing boot times side-by-side on two Asus Eee PC T101MT netbooks.
Asus ExpressGate is basically a rebranded version of Splashtop that took around 20 seconds to boot. For those wondering why it wasn't faster, it is because there are two versions of Splashtop. The one normally found on notebooks and desktops uses 512MB of Flash memory and takes around 5 seconds to boot. The other uses the hard disk partition (as in the netbook) that means it's slower. Check out the video after the jump. Read more
March 20, 2010 at 10:13 am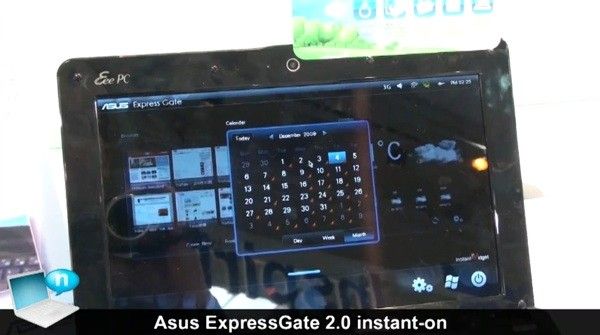 Asus' ExpressGate instant-on operating system will be getting a replacement that was being shown off at CeBIT earlier this month. Notebook Italia has a video hands-on overview of ExpressGate 2.0 that is based on the SplashTop OS.
The interface has seen a complete overhaul and is a big improvement over the original. Hopefully it should be available to download soon from the Asus Support site. Check out the video after the jump. Read more
November 30, 2009 at 6:56 pm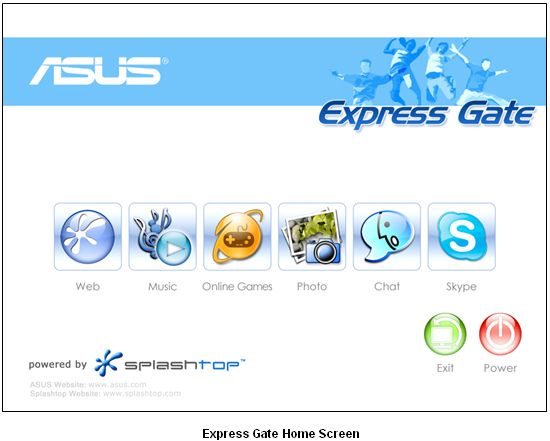 The Asus Eee PC 1008P already made an appearance though the FCC, but it appears that Asus will also be launching the Eee PC 1005P, powered by the next-generation Intel Pine Trail chipset. The model number was spotted on the Asus support site, which means it'll probably be a matter of time before it makes an appearance.
Also, according to the BIOS drivers it will also come with the instant-on OS from Asus called ExpressGate, which utilizes Splashtop. The instant-on operating systems haven't really become a must-have feature in netbooks, but it looks like manufacturers are still trying to push them. Hopefully, we'll hear more on the 1005P and 1008P netbooks at CES in January.
Via Netbook Italia.