February 10, 2010 at 5:45 pm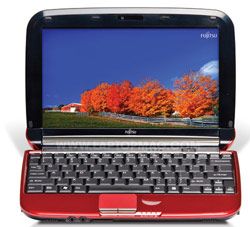 The Fujitsu LifeBook MH380 is quite unique amongst Intel Pine Trail netbooks. First of all it has a high resolution 10.1-inch (1366 x 768) display and secondly it also comes with a scroll pad next to its touchpad that is used to navigate lengthy web pages and the like.
Laptop Mag has its review of the device and whilst overall it only scored three stars out of five, there are some definite positives for the Fujitsu netbook. It is a much better effort than its predecessor, it has a bright HD display, comfortable keyboard, loud speakers and good battery life. The scroll pad also works surprisingly well. Read more
January 7, 2010 at 6:22 pm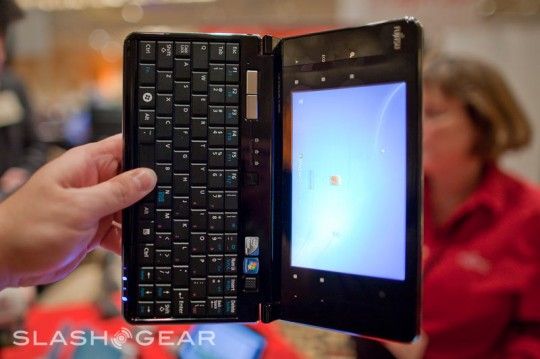 Fujitsu has unleashed a number of products at CES, but the two relevant here are the 5.6-inch UH900 UMPC and 10-inch MH380 netbook. The champagne-coloured UH900 weighs just 1.1lbs and supports a 5.6-inch multi-touch display as well as Windows 7. The UH900 is powered by a 1.6GHz Z530 Atom, 2GB Ram and a 64GB SSD. It also comes with a Garmin app, allowing you to use it for GPS, other features include two USB ports, card reader and mini VGA. It doesn't come cheap though at $1,000.
The $449 MH380 netbook has a 10-inch display and comes with a glossy red finish and flat black keyboard. Apart from a high-resolution screen (1366 x 768) the rest of the features are the same as most other recently released Pine Trail netbooks. This includes a 1.66GHz N450 Atom processor, 1GB Ram, 250GB HDD and Windows 7 Starter. You also get Wi-Fi (b/g/n), Bluetooth and webcam thrown into the mix too. However, the MH380 has a circular scrolling pad, the first time we've seen something like it in a netbook. Check out videos of both devices in action after the break. Read more
December 21, 2009 at 4:18 pm
Fujitsu has announced its first Intel Pine Trail powered netbook in the form of the LifeBook MH380. It is powered by a 1.66GHz N450 Pineview Atom processor and comes with a 10.1-inch HD (1366 x 768) display. The MH380 also supports up to 2GB RAM and comes with a 250GB HDD.
Other features include Wi-Fi (b/g/n), Bluetooth 2.1, card reader, a 1.3MP webcam and 6-cell battery. The LifeBook MH380 also has USB sharing software that allows the MH380 to act as a large USB storage unit to share files with another PC. Read more
November 24, 2009 at 5:58 pm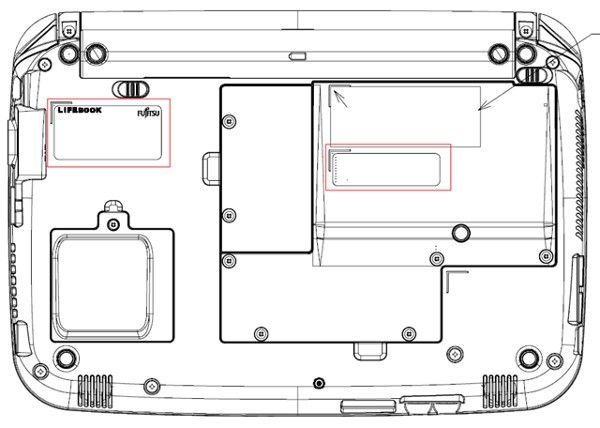 Fujitsu looks set to release a 10.1-inch netbook with the upcoming Intel Pineview processor. The MH380 / M380 LifeBook models have appeared going via the FCC and there is little known about the models at this stage.
What we do know is that it will come with a 10.1-inch high-resolution (1366 x 768) display, 1.66GHz N450 Atom processor, Atheros Wi-Fi (Draft-N) and an Ethernet port. The schematics show that it will have easy access to upgrade components and a removable battery. As we approach CES, I suspect we will see plenty more Pineview-powered models coming through the FCC.
Via Netbook Reviews.