March 7, 2010 at 10:21 am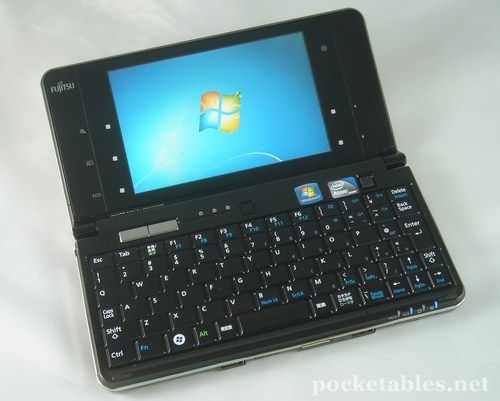 The Fujitsu LifeBook UH900 is one of the more powerful 5.6-inch UMPCs on the market that comes with options for a 2.0GHz Intel Atom processor, Windows 7, 2GB RAM and a SSD. Jenn from Pocketables has been reviewing one for the last few weeks and found the UH900 to be a joy to use overall.
Getting the negative points out of the way first, the UH900 had quite poor battery life (2.0 to 2.5 hours of web browsing over Wi-Fi) from its 2-cell 1800mAh battery. Build quality also felt 'toy like' and the multitouch felt more to be a gimmick than of any real use. Read more
February 24, 2010 at 12:28 pm
The Fujitsu Lifebook UH900 is a 5.6-inch handheld PC with multi-touch display. The UH900 is powered by either a 1.6GHz or 2.0GHz Z-series Atom processor, 2GB RAM, a 64GB SSD and Windows 7. It also features two USB ports, card reader, mini VGA and weighs just 1.1lbs.
Jenn over at Pocketables has received her 2.0GHz unit and promptly shot some unboxing photos for us to enjoy as well as some comparison pics. The packaging isn't inspiring and she lamented the absence of a case. Read more
January 7, 2010 at 6:22 pm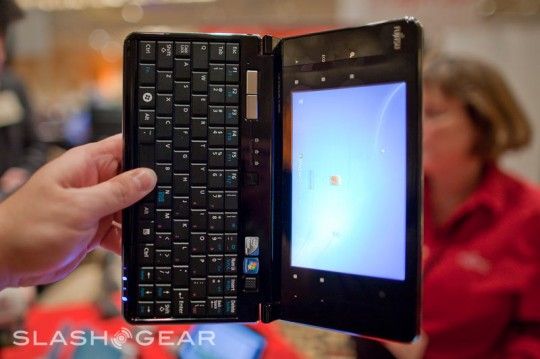 Fujitsu has unleashed a number of products at CES, but the two relevant here are the 5.6-inch UH900 UMPC and 10-inch MH380 netbook. The champagne-coloured UH900 weighs just 1.1lbs and supports a 5.6-inch multi-touch display as well as Windows 7. The UH900 is powered by a 1.6GHz Z530 Atom, 2GB Ram and a 64GB SSD. It also comes with a Garmin app, allowing you to use it for GPS, other features include two USB ports, card reader and mini VGA. It doesn't come cheap though at $1,000.
The $449 MH380 netbook has a 10-inch display and comes with a glossy red finish and flat black keyboard. Apart from a high-resolution screen (1366 x 768) the rest of the features are the same as most other recently released Pine Trail netbooks. This includes a 1.66GHz N450 Atom processor, 1GB Ram, 250GB HDD and Windows 7 Starter. You also get Wi-Fi (b/g/n), Bluetooth and webcam thrown into the mix too. However, the MH380 has a circular scrolling pad, the first time we've seen something like it in a netbook. Check out videos of both devices in action after the break. Read more
December 3, 2009 at 4:18 pm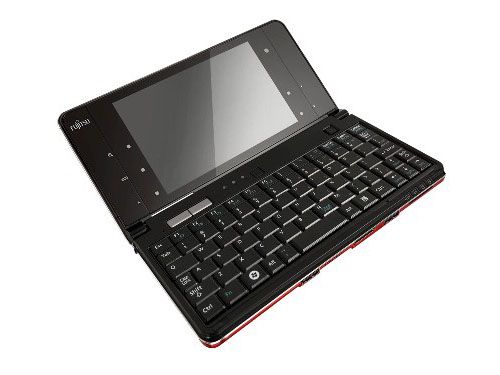 Fujitsu has announced the Lifebook UH900, a 5.6-inch UMPC that sports a multi-touch display and Windows 7 compatibility. It is powered by a 1.6GHz Z530 Atom processor and includes features such as a webcam and stereo mic. It comes with the full range of wireless connectivity (Wi-Fi, Bluetooth) including 3.5G.
The Lifebook UH900 has a small form-factor, measuring 20.4cm x 10.65cm x 2.38cm and weighs a super-light 500g. Just how legible that tiny 5.6-inch display is likely to be key. The display has WXGA resolution and goes up to 300nits brightness. The company claims that the UH900 supports flash animation and full-width web pages. As well as two finger touch output the LifeBook UH900 also comes bundled with a pen. Read more