Fujitsu has announced two new 11.6-inch ultrathin notebooks. The LifeBook PH520 is powered by AMD´s 1.7GHz single-core Athlon Neo K125 processor. It has a 1366 x 768 resolution display and ATI Radeon HD 4225 graphics.
Other features include HDMI, Bluetooth 2.1, 1.3MP webcam and three USB ports. The Lifebook PH540 is powered by an Intel Celeron SU2300 processor and comes with a slightly larger keyboard and touchpad.
Via Netbooked.
April 12, 2010 at 8:50 am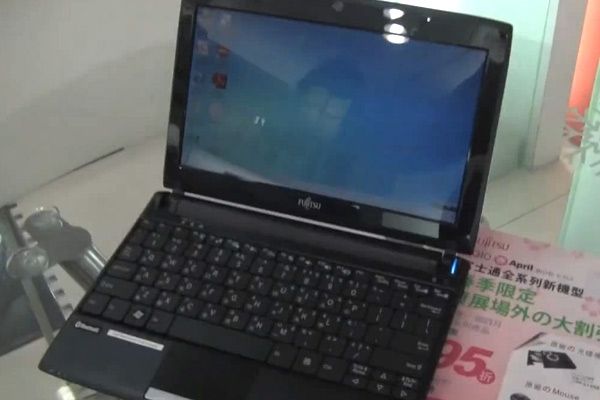 The Fujitsu LifeBook MH330 netbook was announced at the beginning of the month. It is the company's entry level netbook that sports basic specs (10"display, N450 Atom, 1GB RAM, 250GB HDD and Windows 7 Starter) but comes in a 1-inch thick chassis weighing 1.1kg.
NetbookNews managed some hands-on time with the netbook that has a nice matte finish on the lid. It only comes with a 3-cell 2200mAh battery which is a downer, but it does have a large access panel to change your HDD, RAM and Wi-Fi. Check out the video after the break. Read more
Fujitsu is set to launch a budget 10.1-inch Pine Trail with typical specs but with a lightweight chassis weighing 1.1kg measuring an inch (24.5mm) in thickness. The MH330 has a 10.1-inch (1024 x 600) display powered by a 1.66GHz N450 Atom processor, 250GB HDD and comes with the latest wireless standards including Wi-Fi (b/g/n) and Bluetooth 2.1.
Other features include a spill resistant keyboard, 5-in-1 card slot and a webcam. Battery life probably won't be great given the inclusion of a three-cell battery. The netbook will cost S$699 (US$499.68) when it hits Asia in April.
Via Crave Asia.
March 7, 2010 at 10:21 am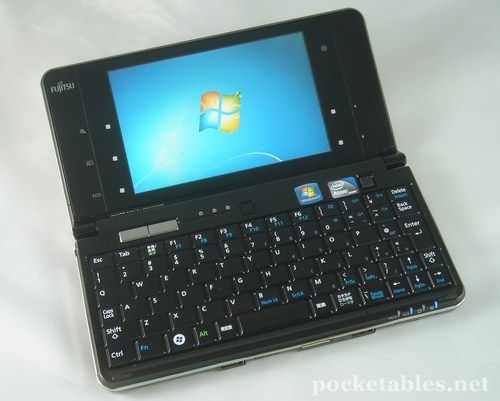 The Fujitsu LifeBook UH900 is one of the more powerful 5.6-inch UMPCs on the market that comes with options for a 2.0GHz Intel Atom processor, Windows 7, 2GB RAM and a SSD. Jenn from Pocketables has been reviewing one for the last few weeks and found the UH900 to be a joy to use overall.
Getting the negative points out of the way first, the UH900 had quite poor battery life (2.0 to 2.5 hours of web browsing over Wi-Fi) from its 2-cell 1800mAh battery. Build quality also felt 'toy like' and the multitouch felt more to be a gimmick than of any real use. Read more
February 24, 2010 at 12:28 pm
The Fujitsu Lifebook UH900 is a 5.6-inch handheld PC with multi-touch display. The UH900 is powered by either a 1.6GHz or 2.0GHz Z-series Atom processor, 2GB RAM, a 64GB SSD and Windows 7. It also features two USB ports, card reader, mini VGA and weighs just 1.1lbs.
Jenn over at Pocketables has received her 2.0GHz unit and promptly shot some unboxing photos for us to enjoy as well as some comparison pics. The packaging isn't inspiring and she lamented the absence of a case. Read more
February 10, 2010 at 5:45 pm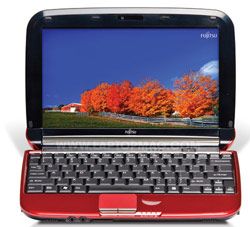 The Fujitsu LifeBook MH380 is quite unique amongst Intel Pine Trail netbooks. First of all it has a high resolution 10.1-inch (1366 x 768) display and secondly it also comes with a scroll pad next to its touchpad that is used to navigate lengthy web pages and the like.
Laptop Mag has its review of the device and whilst overall it only scored three stars out of five, there are some definite positives for the Fujitsu netbook. It is a much better effort than its predecessor, it has a bright HD display, comfortable keyboard, loud speakers and good battery life. The scroll pad also works surprisingly well. Read more
January 7, 2010 at 6:22 pm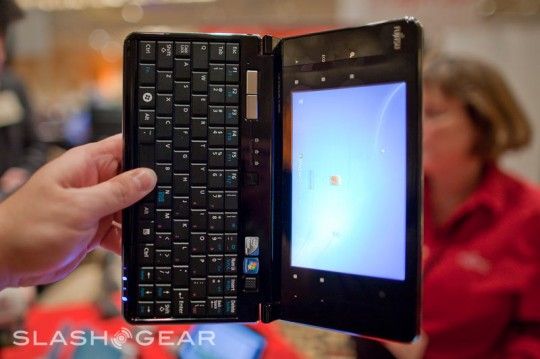 Fujitsu has unleashed a number of products at CES, but the two relevant here are the 5.6-inch UH900 UMPC and 10-inch MH380 netbook. The champagne-coloured UH900 weighs just 1.1lbs and supports a 5.6-inch multi-touch display as well as Windows 7. The UH900 is powered by a 1.6GHz Z530 Atom, 2GB Ram and a 64GB SSD. It also comes with a Garmin app, allowing you to use it for GPS, other features include two USB ports, card reader and mini VGA. It doesn't come cheap though at $1,000.
The $449 MH380 netbook has a 10-inch display and comes with a glossy red finish and flat black keyboard. Apart from a high-resolution screen (1366 x 768) the rest of the features are the same as most other recently released Pine Trail netbooks. This includes a 1.66GHz N450 Atom processor, 1GB Ram, 250GB HDD and Windows 7 Starter. You also get Wi-Fi (b/g/n), Bluetooth and webcam thrown into the mix too. However, the MH380 has a circular scrolling pad, the first time we've seen something like it in a netbook. Check out videos of both devices in action after the break. Read more
December 21, 2009 at 4:18 pm
Fujitsu has announced its first Intel Pine Trail powered netbook in the form of the LifeBook MH380. It is powered by a 1.66GHz N450 Pineview Atom processor and comes with a 10.1-inch HD (1366 x 768) display. The MH380 also supports up to 2GB RAM and comes with a 250GB HDD.
Other features include Wi-Fi (b/g/n), Bluetooth 2.1, card reader, a 1.3MP webcam and 6-cell battery. The LifeBook MH380 also has USB sharing software that allows the MH380 to act as a large USB storage unit to share files with another PC. Read more
December 3, 2009 at 4:18 pm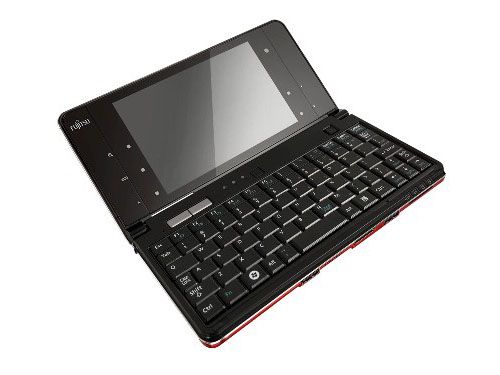 Fujitsu has announced the Lifebook UH900, a 5.6-inch UMPC that sports a multi-touch display and Windows 7 compatibility. It is powered by a 1.6GHz Z530 Atom processor and includes features such as a webcam and stereo mic. It comes with the full range of wireless connectivity (Wi-Fi, Bluetooth) including 3.5G.
The Lifebook UH900 has a small form-factor, measuring 20.4cm x 10.65cm x 2.38cm and weighs a super-light 500g. Just how legible that tiny 5.6-inch display is likely to be key. The display has WXGA resolution and goes up to 300nits brightness. The company claims that the UH900 supports flash animation and full-width web pages. As well as two finger touch output the LifeBook UH900 also comes bundled with a pen. Read more
November 24, 2009 at 5:58 pm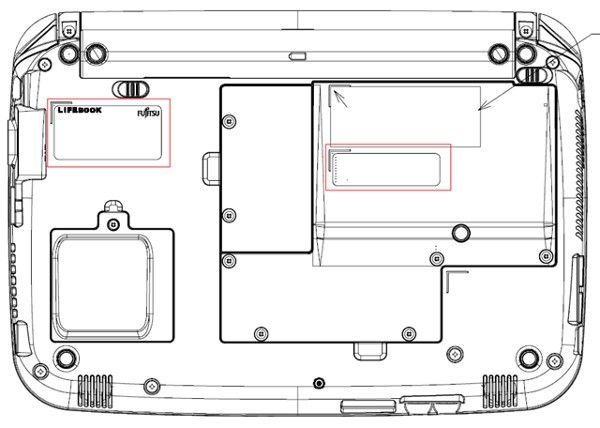 Fujitsu looks set to release a 10.1-inch netbook with the upcoming Intel Pineview processor. The MH380 / M380 LifeBook models have appeared going via the FCC and there is little known about the models at this stage.
What we do know is that it will come with a 10.1-inch high-resolution (1366 x 768) display, 1.66GHz N450 Atom processor, Atheros Wi-Fi (Draft-N) and an Ethernet port. The schematics show that it will have easy access to upgrade components and a removable battery. As we approach CES, I suspect we will see plenty more Pineview-powered models coming through the FCC.
Via Netbook Reviews.
October 17, 2009 at 11:05 am
Fujitsu has announced two new notebooks under its Fujitsu LifeBook P Series. The two 11.6-inch mini-notebooks, the Intel-powered Lifebook P3110 and AMD-powered Lifebook 3010 will come with Windows 7 and weigh 1.6kg.
The Lifebook 3110 is powered by Intel's 1.3GHz SU4100 ULV processor, whilst the P3010 comes with the 1.6GHz AMD Neo processor. Both models have an 11.6-inch (1366 x 768) LED backlit display, Bluetooth 2.1 and a 1.3MP webcam. Battery life should be good for 6.7 hours, but by activating the power-saving ECO feature, battery life can be extended to 7.2 hours.
The models come with a spill-resistant full-sized keyboard and multi-touch touchpads support gestures. It also comes with a DVD Sharing application that allows you to wirelessly use the optical drive of a main PC. The LifeBook P3110 will be available in three colours (Glossy Black, Glossy Silver and Glossy Ruby Red), while the LifeBook P3010 will be available in two (Glossy Black and Glossy Ruby Red). There's no word on a release date or pricing for now.
Via Engadget.
October 13, 2009 at 8:06 pm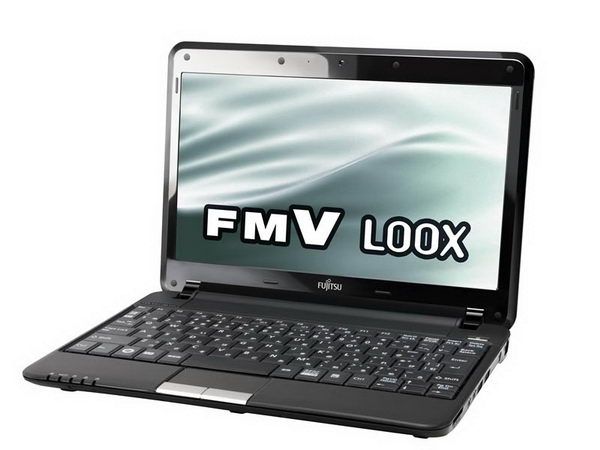 Another manufacturer has jumped onto the CULV-powered ultra-thin segment. Fujitsu has announced the 11.6-inch FMV LOOX C that is powered by either a dual-core 1.2GHz Intel SU2300 or 1.4GHz Intel SU9400 processor. This comes with the Intel GS45 chipset and GMA 4500MHD graphics.
As with all other netbooks/ultra-thins with 11.6-inch displays, the LOOX C will have a 1366 x 768 resolution screen. In terms of battery, the entry level FMV LOOX C/E50 battery should last 6.2 hours, whilst the FMV LOOX C/E70 is quoted at 9.2 hours.
Other features include 2GB RAM, 320GB HDD, Bluetooth 2.1, Wi-Fi (Draft-N), card reader and three USB ports. No HDMI out I'm afraid. The C/E50 will launch in Japan on October 27th for 80,000 Yen (£561, $892, €601), with the C/E70 hitting retail two days later for 100,000 Yen (£702, $1115, €751). Certainly not cheap then, there's no word on whether these models will be launching outside Japan for now.
Via Akihabara News.
April 30, 2009 at 10:15 pm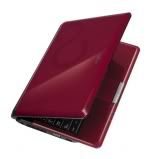 Fujitsu Siemens introduced a new 10.1-inch netbook to the Japanese market last week called the LOOX M. Judging from a press release by Fujitsu Asia Pacific, the same netbook will be marketed under the M2010 name across other regions. This would make sense as their previous netbook was known as the M1010 in most markets.
The M2010 specifications seem identical to the LOOX M, and it even sports the same infinity motif on the lid. The M2010 comes with a 10.1-inch LED-backlit display with a resolution of 1024 x 576 pixels. It will be powered by a 1.6GHz N270 Atom CPU (a 1.66GHz N280 Atom option will be available from June) and Intel 945GSE chipset. It will also come with 1GB RAM (2GB max) and a 160GB hard-disk drive. Other features include Bluetooth 2.1, a 1.3MP webcam, three USB slots and a 4-in-1 card reader. Read more
March 21, 2009 at 1:48 pm
Fujitsu is planning to release the M2010 netbook in July this year according to UMPC Fever. All that has been revealed is a rather amateurish hand-drawn picture of the new model and therefore there is very limited information. The only reason this rumour has any kind of credibility is due to the fact that it was revealed by a forum member of the site, Codyyuen, who is a staff member of a Fujitsu distributor in Hong Kong.
The picture for the M2010 shows a rather standard (10-inch?) netbook design. So maybe Fujitsu is just following the herd. The original Fujitsu M1010 had rather average specifications with an 8.9-inch (1024 x 600) widescreen display powered by a 1.6GHZ N270 Intel Atom CPU and 1GB of RAM. It also came with a 60GB hard-disk drive, Bluetooth 2.1, 1.3MP webcam, 4-in-1 SD card reader and WiFi.
Via Portable Monkey.