Gigabyte is set to launch an 11.6-inch convertible ultrathin at Computex. The M1125 will be powered by Intel's new Calpella series (Core i3, i5, i7) of processors. The actual processor used is unknown but we'll find out more details next week. The M1125 will also come with USB 3.0 connectivity.
Other specs aren't known right now although it will come with an optional docking station that includes an optical disk drive. What we can tell from the only picture we've found is that it comes with a chiclet keyboard, VGA and Ethernet port. More details are expected next week at Computex, including the type of touch panel used. Click through for a larger picture after the break. Read more
March 5, 2010 at 10:10 am
We have already heard that Gigabyte is launching a Pine Trail update to its Booktop M1022 netbook called the M1000. We are receiving word on the different models under the M1000 series, the flagship of which will be the M1000N that comes with a flush glass display with 1366 x 768 resolution.
This particular model will also come with next-generation ION graphics, most likely the 8-core version since it is a 10-inch netbook. As it is a Booktop model, it will include a docking station that has a HDMI port and DVD drive. It will also come with a 6-cell battery with a price point estimated at €450 – €500. Read more
Gigabyte is set to announce a number of new netbooks at CeBIT that officially begins tomorrow. The T1000P already made an appearance on Gigabyte's official website last week, so there's not too much we don't already know. It is the Pine Trail update to the 10-inch T1028 TouchNote that also sports a chiclet keyboard.
Two versions are due, the T1000X has a 4-cell 4500mAh battery and weighs 1.3kg (2.9lbs). The more expensive T1000P will have a N470 Atom CPU, multi-touch display, 6-cell 7650mAh battery and weighs 1.48kg (3.3lbs). JKKMobile has a hands-on video of the T1000P that we've attached below. Read more
February 26, 2010 at 10:50 pm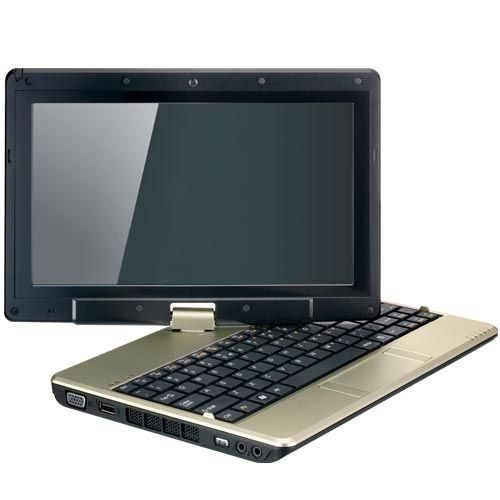 Gigabyte will soon be launching a Pine Trail update to its 10-inch TouchNote T1028 convertible tablet. The Gigabyte T1000 made a brief appearance on the company's official site with a full list of specs, which has since been pulled.
The T1000 looks very similar to the T1028 but will come with a 1.66GHz N450 Atom or 1.83GHz N470 Atom processor. It also sports a chiclet keyboard, the original came with a normal keyboard.
Two SKUs are due, the T1000X has a 4-cell 4500mAh battery and weighs 1.3kg (2.9lbs). The more expensive T1000P will have a multi-touch display, 6-cell 7650mAh battery and weighs 1.48kg (3.3lbs). You can check out a full spec list after the break. Read more
October 20, 2009 at 4:36 pm

Gigabyte is the latest company to announce its Windows 7 refreshes for its current range of netbooks. Both the 10.1-inch T1028X TouchNote convertible netbook and M1022X Booktop will be launched with Windows 7 Starter Edition.
The T1028X TouchNote has a 10.1-inch (1366 x 768) touchscreen display and is powered by a 1.66GHz N280 Atom CPU, 1GB RAM, 160GB HDD, 1.3MP webcam and 6-cell (7650mAh) battery. The specifications remain unchanged apart from the OS.
The M1022X Booktop does have revised hardware. It also now has a HD display (10.1-inch display with resolution of 1366 x 768 pixels). It also comes with a high capacity 6-cell (7800mAH) battery that should last for 8 hours.
The Windows 7 T1028X will ship for 72,800 Yen (£488, $800, €537) and the M1022X will cost 66,800 Yen (£447, $735, €492). Both models should hit other regions soon enough.
Via Netbooked.
August 16, 2009 at 3:34 pm
The Gigabyte S1024 Myou netbook (or recently known as the ThinNote) has now started to ship in Hong Kong. The Myou is the 'thin and light' part of the recent trio of netbooks released by Gigabyte, which includes the T1028 TouchNote and M1022 Booktop.
The Myou has a 10.2-inch (1024 x 576) LED backlit display and is powered by a 1.6GHz N270 Atom CPU and 945 GSE chipset. Other features include 1GB RAM, 60GB/80GB PATA HDD (4200RPM), Wi-Fi (b/g), Bluetooth 2.1 and optional 3G. It also comes with a 6-cell Li-Ion battery rated at 3600mAh. It is currently selling for HK$3,580 (£280, €323, $462). We'll bring you news of a wider release as soon as it comes.
Via Engadget China [Via Netbooked].
August 11, 2009 at 10:33 am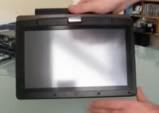 The Gigabyte T1028X TouchNote has only just become available for sale and already we have the first unboxing video from Brad over at Liliputing. The T1028X is the higher-end model in the T1028 series and offers a slightly faster 1.66GHz N280 Atom processor, high-resolution (1366 x 768) display and a 6-cell 7650mAh battery that should last for around six and a half hours.
The keyboard looks nice and large along with a wide multi-touch supported touchpad. However, to account for that large keyboard, the mouse buttons are placed either side of the touchpad. There are several access panels on the bottom for the RAM, HDD and a Mini PCI-E slot. Behind the battery, you'll also find a sim-card slot. The T1028X is also compared to the 10-inch Lenovo S10-2 and Asus Eee PC 1000H. Check out the unboxing and first impression videos below. Read more
August 10, 2009 at 4:57 pm
Gigabyte has released a more powerful 10-inch convertible netbook in its T1028 range. The T1028X follows on from the T1028M by including a slightly faster 1.66GHz N280 Atom processor, high-resolution (1366 x 768) display and a 6-cell 7650mAh battery that should last for around six and a half hours.
Other specs remain the same and include 1GB RAM, 160GB HDD, Wi-Fi (b/g), Bluetooth and an Expresscard/34 slot. It is currently available in Europe from Moblix.hu for a recession-busting €622. Certainly not cheap, but it seems to be one of the few convertible netbooks with 10-inch swivel touchscreen on the market today.
Via UMPC Portal.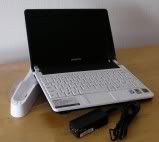 The Gigabyte Booktop M1022 is a 10-inch netbook with a twist. It comes with a docking station that allows you to connect a keyboard and monitor. The idea being that you can use it as a desktop at home and then take it out of its dock when on the move. Slashgear has posted the first proper review we've seen of the Booktop and their impressions were favourable.
They questioned whether you would want to use a system based on the N270 Atom processor as a desktop, but for light use it probably would be fine, with the added bonus of using full-sized peripherals. Whilst the Booktop does come at a premium to its peers, they found that the build quality and battery life were one step above its rivals. Read more
Two Gigabyte netbooks have now seen their release in the United States. The Gigabyte TouchNote T1028 and Booktop M1022 have both gone on sale for $599.00
and $449.00
respectively. This leaves only the Gigabyte ThinNote S1024 to make its way at some point.
The TouchNote T1028 is a convertible netbook similar to the Asus Eee PC T91, so that it can be used in a tablet mode. However, the T1028 has a 10-inch screen compared to the 8.9-inch screen found in the Eee PC T91.
The Gigabyte M1022 has a docking station that can be connected to monitor/keyboard/mouse and be used as a desktop system when at home. It also has a 6-cell battery that should be good for 8 hours of battery life. Both models are powered by a 1.66GHz N280 Atom CPU and come with 1GB RAM and a 160GB HDD. So far there is no sight of these Gigabyte netbooks in the UK.
Via Portable Monkey.
Reports are surfacing that Asus' is trying to avoid competition from its partners in the netbook space by squeezing them out. The manufacturer is being accused of holding onto its netbook printed circuit boards (PCBs) rather than shipping it through to system integrators. "Sorry, these boards will not be available to our customers. You can buy the machines from us already built, but the mainboards will not be for sale". This was Asus' reply when a major UK system integrator enquired about buying its next-generation mainboards. A close source to The Inq said that Asus is trying to "choke the life out of the channel in order to survive the economic storm more or less in tact." MSI and Gigabyte are apparently waiting on the wings to pick up the pieces.
Hands-on videos of Gigabyte's Touch Note M1028 have started to hit the net following its official unveiling on Tuesday at CeBIT. Gigabyte's convertible tablet does look very enticing, much like the Asus T91GO. Jkkmobile have posted their hands-on video and liked what they saw, if not blown away. It seems to be a solid netbook offering a soft touchscreen, fingernails not needed here, and a sturdy hinge mechanism (imperative for a net tablet). The keyboard was noted to be similar to the MSI Wind and the bottom panel had access to not only the battery but RAM and hard-disk drive too. Looking good so far (video after the jump).
Following on from Gigabyte's reveal of its TouchNote M1028 range of convertible tablets at CeBIT, Gigabyte also unveiled the ThinNote M1024. As the name suggests this netbook is targeted to those that value a thin and sleek form-factor. Gigabyte seem to have succeeded on this front delivering a netbook that weighs just 890 grams (just under two pounds). However, it seems that Asus may have won on the styling front, having announced the super-slim Seashell 1008HA yesterday. Obviously it all comes down to price between the two and as of yet we still do now know exactly which regions Gigabyte plan to market to.
The ThinNote M1024 sports a 10.1-inch (1024 x 600) LED backlit screen and is powered by a 1.6GHz Intel Atom N270 CPU and Intel 945GSE chipset. Given the size, the M1024 is limited to 1GB RAM and a 60GB/80GB hard-disk drive. It also supports Wifi and Blutooth 2.1 and has optional 3.5G modem support. It comes with two USB ports, a memory card slot and a six-cell 3,400mAh battery as standard. As with the M1028, there is no word on pricing or indeed which regions the M1024 will be available in. We'll update with further information as we have it.
UPDATED (17.01): We've included a video after the jump, from the guys over at jkkmobile who went hands-on with the M1024.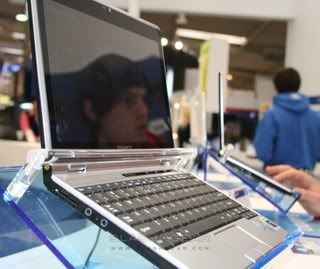 Via Slashgear
Gigabyte has offically unveiled its latest 'net-tablet' called the TouchNote M1028, which debuted at CeBIT today. The TouchNote M1028 has a 10.1-inch swivelling touchscreen display and is powered by a 1.66GHz Intel Atom N280 CPU. The M1028 will have a a 160GB hard-drive, 1GB of DDR2 memory (2GB maximum) and the Intel 945GSE graphics chipset. It will run on Windows XP.
Somewhat confusingly, four versions of the M1028 were announced. The 'M' and 'G' versions will come with a 1024 x 600 resolution display and the 'X' and 'P' versions will come with a 1366 x 768 display. Each model will come with WiFi a/b/g and Bluetooth but only the 'G' model will support 3G. No word on pricing or indeed which regions these will be available in for now.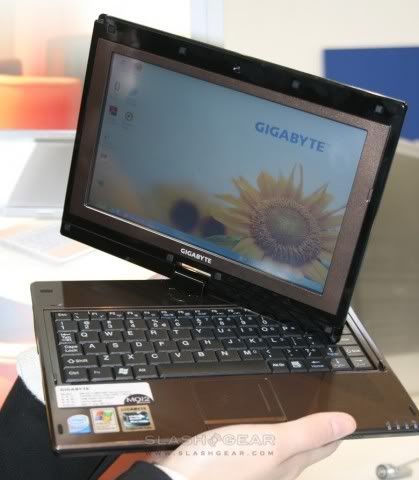 Via Slashgear