December 25, 2009 at 12:10 am
Laptop Mag has pitted the four current ION netbooks on the market against each other. This includes the dual-core Asus Eee PC 1201N, HP Mini 311, Lenovo S12 ION and Samsung N510. They compared each of the four across a number of categories including battery life, value for money, design as well as video and gaming performance.
It's probably not surprising to hear that the Asus Eee PC 1201N won most of the performance tests, whilst the HP Mini 311 won best design and value for money. The Samsung N510 came out on top in terms of battery life. Choosing a winner seems a bit subjective as people will value different features more strongly than others. Click through to find out who the overall winner was.
Update: Engadget also has a good write-up of the above four ION netbooks head-to-head.
December 9, 2009 at 9:07 am
Whilst the 12.1-inch Lenovo Ideapad S12 has been around for many months, the ION version was only recently released. Lenovo waited for the launch of Windows 7 before release, which some feel took some of the steam out of its early momentum. Especially as the S12 was the first announced ION netbook, however in the end the HP Mini 311 and Samsung's N510 launched ahead of it (at least in Europe).
A couple of sites have reviewed the Lenovo S12 ION. Laptop Mag found the graphics performance to be good and the S12 offered a spacious keyboard, bright colourful display and loud speakers. However, it was let down by poor battery life and felt that the HP Mini 311 offered better value for money, as it is both cheaper and lasts for two hours longer. The S12 ION lasted for three hours and forty-five minutes in terms of battery. Read more
October 22, 2009 at 12:51 pm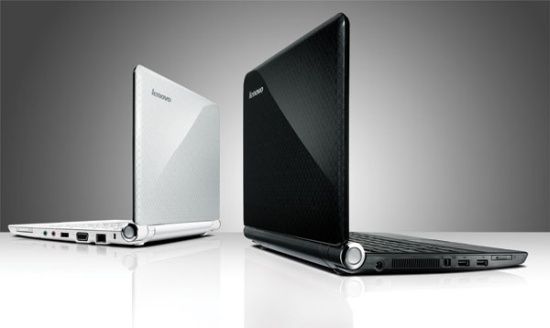 The Lenovo Ideapad S12 ION went on sale in Japan yesterday and now the configuration option has popped up on the Lenovo US website. It is available to order right now for $599 and ships in 11 business days.
The specs are exactly the same as the Japanese version. The Ideapad S12 ION has a 12.1-inch (1280 x 800) display powered by a 1.6GHz N270 Atom CPU. It comes with Windows 7 Home Premium (32-bit), 250GB HDD & 2GB RAM as standard. Other features include Bluetooth, Wi-Fi (b/g), 1.3MP webcam, three USB ports, 4-in-1 card reader, HDMI-out and a 6-cell battery good for 6 hours.
Via Netbooked.
October 19, 2009 at 9:20 am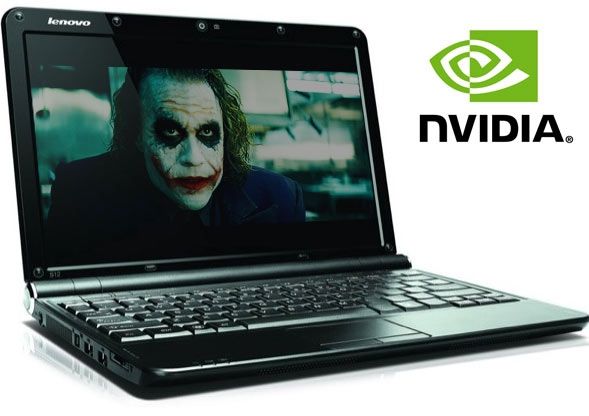 Lenovo is finally set to launch its ION-powered Ideapad S12 netbook this week, well at least in Japan anyway. The 12.1-inch (1280 x 800) netbook was initially announced in late May in various forms (Intel, VIA and ION). The first two SKUS are already out whilst the ION version was delayed until the launch of Windows 7.
As promised, Lenovo Japan is set to launch the Ideapad S12 ION with Windows 7 Home Premium on October 22nd (Windows 7 launch day) for 68,800 Yen. Availability in other regions is expected shortly.
The Ideapad S12 ION partners a 1.6GHz N270 Atom CPU with the Nvidia 9400M GPU. The model includes 2GB RAM, 250GB HDD, Bluetooth, Wi-Fi (b/g), 1.3MP webcam, three USB ports, 4-in-1 card reader, HDMI-out and a 6-cell battery good for 6 hours.
Via Netbooked.
August 20, 2009 at 11:30 pm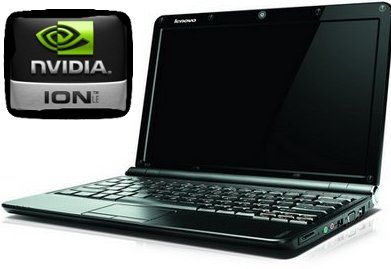 The Lenovo Ideapad S12 ION netbook was one of the first netbooks to be announced with Nvidia's ION wizardry. However, since its announcement back in May, we've not heard too much about the ION version (the Atom and VIA SKUs are already out). Indeed, the Samsung N510 has stolen much of the ION momentum away from the S12 ION.
Gizmodo now has word that the S12 ION will not ship until Windows 7 has launched i.e. it will launch after October 22nd. This means it will be able to use the newer OS that should deliver better performance than the Vista version it was planning to ship with. No firm date was given, but it is expected to retail for $550, around $50 more expensive than the standard Atom SKU.
They were also told that a HP ION netbook is also due in the coming weeks. Looks like everyone wants to jump on the ION bandwagon.
The Lenovo Ideapad S12 is the company's 12-inch entry into its Ideapad range of netbooks. Whilst much of the hype surrounds the ION-based S12, due later this year, the model also comes with versions powered with the Intel Atom and VIA Nano processor. Laptop Mag has the review of the Intel Atom version and overall seemed to like what they saw.
Putting it head-to-head against the current 12-inch netbook, the Samsung NC20, they found that the Samsung felt a bit sturdier and had a better design. However, they thought the Ideapad S12 benefits from its Quick Start instant-on operating system and had better audio. Regardless of the comparison, they found the S12 to have a very comfortable keyboard and a battery that was good for six hours. All of this combined, earned the Ideapad S12 an Editor's Choice award. Check out the key review points after the jump. Read more
A number of US sites recently went hands-on with the 12-inch Lenovo Ideapad S12 netbook. Before you ask, they were all sent the S12 powered by the Intel Atom platform, rather than the S12 ION that is due to launch later this year.
The specs of this machine included a 1.6GHz N270 Atom processor, 1GB RAM and a 160GB HDD. As you can probably guess, with these specs, performance was pretty much like any other netbook out there. It does come with a 6-cell battery though that's good for up to six hours, although it does protrude from the back.
GottabeMobile has some pictures of how the Ideapad S12 compares against to its 10-inch little brother, the Ideapad S10-2. Whilst the S12 is (obviously) bigger, it benefits from a bigger keyboard and touchpad and a high-resolution (1280 x 800) display. JkOnTheRun also received the Ideapad S12 and S10-2 and have a video tour up on the site. Liliputing also received both netbooks and posted a video unboxing. You can check out both videos after the break. Read more
June 28, 2009 at 11:42 am
A few days back, Lenovo started to ship its 12.1-inch (1280 x 800) Ideapad S12 'netbook'. As was originally announced, several SKUs of the S12 were planned based on different processor/chipsets. The SKU currently shipping is the Intel Atom based model for $499. Now the VIA Nano powered model has also started to ship for $50 cheaper at $449.
This VIA model uses the Nano ULV 2250 processor that has a clock speed of 1.3GHz. It also uses VIA Chrome9 HC3 graphics. This compares to the 1.6GHz N270 Atom model including the 945GSE chipset and GMA950 graphics. All the other specifications remain the same.
Lenovo's third SKU, is the one everyone is waiting for, the ION-powered S12. It is believed that this particular model has been moved back to the end of the year, maybe to coincide with the Windows 7 launch in late October.
Via Portable Monkey.
June 26, 2009 at 12:04 am
The Lenovo Ideapad S12 netbook, in its vanilla Intel Atom form, was open to pre-orders just yesterday. The much anticipated ION version was not expected to hit stores until August or September, but Laptop Mag is now reporting that the release date has been put back until Fall. It is believed that the launch may have been put back to coincide with the release of Windows 7.
The ION version combines the Intel Atom N270 processor with Nvidia's 9400M GPU. Laptop Mag had a chance to play around with the ION S12 and came back with positive impressions. They were able to play a 1080p trailer of the Dark Knight with very few dropped frames, all of this whilst transcoding another video clip in the background.
Interestingly, they claim that the ION version will cost $495, which is the same price that the Atom version is selling for now. Maybe, this means that the current SKU will fall in price by the time the S12 ION is released.
June 24, 2009 at 11:45 pm
The Lenovo Ideapad S12 is now available directly from the Lenovo Store for $499.00. Before some of you get too excited, this is the Intel Atom version, rather than the ION SKU that has been creating all the waves. Disappointingly, it looks like Lenovo has upped the price from the initial announcement. The Atom SKU was meant to be $449, whilst the ION version was going to cost $50 more. This is likely to mean that the ION SKU will cost $549 when it gets released in August/September.
The Lenovo IdeaPad S12 sports a 12.1-inch (1280 x 800) display and is powered by a 1.6GHz N270 Atom CPU plus 945GSE chipset and GSM950 graphics. It comes with 1GB RAM and various HDD options (160/250/320GB). Other features include Wi-Fi, Bluetooth, three USB ports, card reader, ExpressCard slot, 6-cell battery and VGA out. The ION version will also come with a HDMI out. The Lenovo Store says that the S12 should ship in four weeks.
Via Engadget.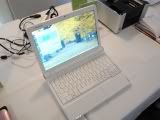 Lenovo's upcoming ION-powered Ideapad S12 netbook is one of our most anticipated netbooks. It's still unclear whether or not the S12 ION will arrive in Europe, but either way, it is likely to be a landmark launch for Nvidia's chipset.
PC Pro has managed to get a first look at the S12 ION and they were left were positive impressions. The Ideapad S12 ION partners a 1.6GHz N270 Atom CPU with the Nvidia 9400M GPU. This boosts its performance over the normal Intel integrated chipset used (945GSE). The results speak for themselves. Encoding a 1080p movie trailer took just four minutes with the S12 compared to an equivalent Atom netbook that took 15 minutes.
Specs-wise, the 12-inch (1280 x 800) S12 includes 2GB RAM, rather than the 1GB normally bundled with netbooks. It also has a 320GB HDD and the version that PC Pro played with also came with HSDPA. The case felt very sturdy with the palm rest showing no flex. The display was also not prone to bending. The keyboard was comfortable to use and the touchpad was responsive. Hopefully, we look forward to more benchmark results on the S12 ION soon.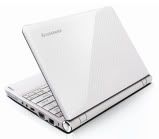 We had previously reported that Lenovo's Ideapad S12 will not see the ION version coming to Europe. However, it looks like Lenovo may have reversed that decision. Notebook Italia has had confirmation from Lenovo Italy that both the Atom and ION versions will be available at launch next month. The Atom version will start at €379, as we previously reported, but there is no price for the ION version for now. Let's hope this arrives in the UK too, as it's one of the models I'm most excited about.
In related news, for those wondering how ION performs on a Linux system, click over to phoronix who have a detailed performance test on an ION-powered ZaReason nettop.
In our last bit of ION news, JKKMobile got a chance to get hands-on with some ION-powered netbooks at Computex last week. He attempted to put Call of Duty IV through its paces, although he is not really a gamer so couldn't give us an idea of resolution, settings, frame rate etc. However, from looking at the video you can tell it plays quite smoothly at what look like quite low settings. Check out the video below. Read more
Nvidia has announced 21 new ION-based products at the Computex Taipei show, including netbooks, nettops, desktop PCs and motherboards. From what we can tell, there seem to be very few netbooks being shown off incorporating the ION platform.
Ion is capable of not only 1080p video but 7.1 surround sound audio, DirectX 10 graphics and video acceleration and transcoding with NVIDIA's own CUDA technology.
Apart from the previously announced Lenovo Ideapad S12, there is the Telecast TL-1000N and Weibu N10A. The latter two are ODM names that will likely be branded by some more familiar names, if they decide to sell these. However, Fudzilla found the build quality of these netbooks to be of "budget quality" and said they would be surprised if they turned up outside of Asia. You can check out a short video of these ION-powered netbooks after the break. Read more
Okay, I know this is the fourth post today regarding the Lenovo Ideapad S12, but I see this launch as quite important given that it will be the first netbook to come with the ION-platform. However, I have some very disappointing news for us Europeans. The ION-based Ideapad S12 SKU will NOT be coming to Europe.
This has been confirmed to us by Adrian Horne, who deals with Lenovo's media relations across the EMEA region. I find this news quite perplexing. A lot of the buzz today has surrounded the emergence of ION inside a netbook and the (hopefully) genuine improvement we'll see over the typical Intel Atom platform. I'm sure there are a number of people that are genuinely excited by this release and will associate the S12 as the 'ION netbook'. When it does launch here it may cause a lot of confusion with people expecting ION under the hood. Read more
A few publications have already managed to preview the Ideapad S12 netbook that was announced today. We have attached some hands-on videos of the S12 below from Laptop Mag and GottaBeMobile (GBM). Some of the new things we learnt while watching the videos is that it will come with a glossy display which may put off some. Given the size of the chassis, it will come with some physical buttons that you don't normally see on netbooks. This includes a wireless on/off switch, as well as a quick-start button for Splashtop (instant-on OS) and a one-touch button for backups.
The 100 percent keyboard was found to be very comfortable and the touchpad will come with multi-touch gestures. Upgradeability will also be no problem as there are separate access panels for both the HDD and RAM. We have also included a couple of extra videos from GBM which shows the ION versus Atom when it comes to HD video content and a comparison as to how Call of Duty IV fares too. Check out the videos after the break. Read more