Jolicloud v1.0 is set to bring with it full touchscreen support, just in time for the mass number of tablets and convertible netbooks that are due to hit the market. There's no release date for the latest version, but we've attached a video after the break that shows a demonstration of the touch-enabled Jolicloud OS running on a Samsung NB30 netbook with touchscreen display. Read more
March 26, 2010 at 5:02 pm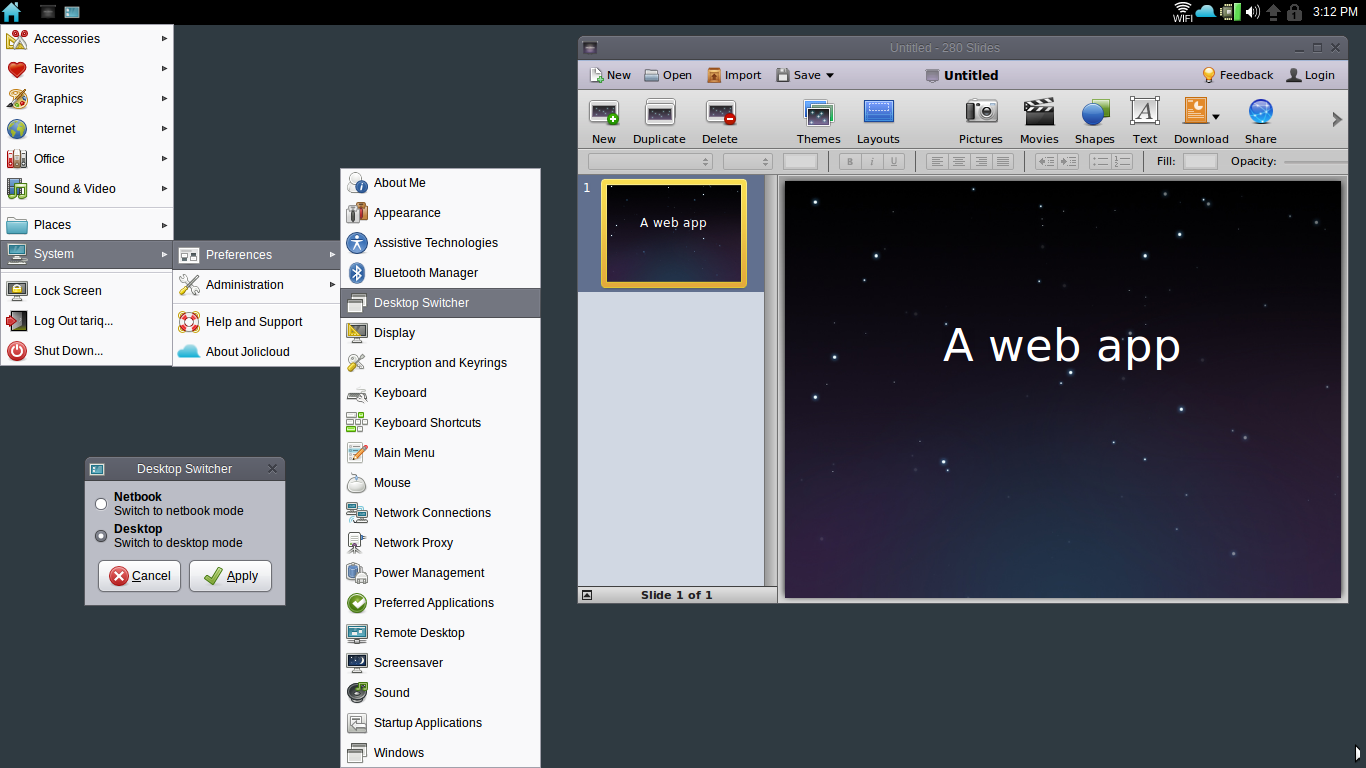 Jolicloud is now rolling out its desktop mode switcher that allows you to view the OS more suited to a desktop environment. If the screen is bigger than 11-inches, the desktop mode will be enabled by default.
Apps can now be organised just how you want in this new mode. To upgrade to the new version just hit "Update All" from the Preferences menu.
March 23, 2010 at 8:02 pm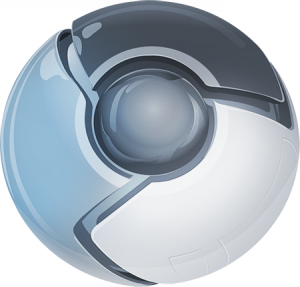 Jolicloud has released its new web application platform today that is based on Google Chrome rather than the Mozilla Prism of old. Current users need simply to update the system for the new platform to be installed. The new system should be faster with a smaller memory footprint and enables HTML5-ready browsing.
Jolicloud has named its customised Chromium (open-source version of Chrome) web app platform Nickel and even released the source code. Jolicloud says that Nickel is the "Chromium for fullscreen web apps". The company says that over 600 apps are available in its App Center.
March 5, 2010 at 11:00 am
Jolicloud has announced that its final 'Robby' build will be released to the public by the end of the month. It has also announced that it will be automatically switching its web application platform to Google Chrome from Mozilla Prism that it has been using currently.
The move is said to bring a faster browsing experience, more efficient use of memory, better performance on ARM smartbooks/tablets, HTML5 as well as Chrome extensions support. Despite the switch, Firefox will still be the default browser used. It claims that Firefox on Jolicloud is 10 percent faster than on other Linux distributions due to optimisations carried out. Read more
February 17, 2010 at 12:47 pm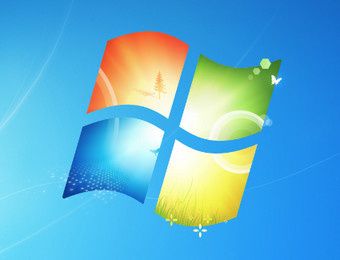 There are so many operating system choices when you've bought your new netbook. You have the usual desktop stalwarts such as Windows, OS X and Ubuntu, but there is a growing number of Linux alternatives catered to the netbook experience such as Jolicloud, Moblin and the upcoming Chrome OS.
Lifehacker has been conducting a poll over the last week, asking its readers what is the best netbook operating system. First of all they asked their readers to flag their favourite, they then rounded up the five most popular OSes and conducted a poll to find a winner. Read more
February 11, 2010 at 10:25 pm
The latest Jolicloud kernel is now supporting the latest netbooks based on the Intel Pine Trail platform. To perform the update you need to go to My Jolicloud and click the 'Update All' button. Having a look through the list, there doesn't seem to be any major Pine trail netbook that has been excluded. Check out the list for yourself after the break. Read more
February 1, 2010 at 10:39 pm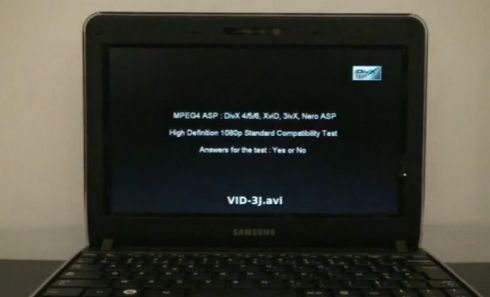 Jolicloud has already demonstrated 1080p HD video on netbooks running on Intel's Diamondville processors (N270 & N280), but now it has also announced 1080p support of Intel's new Pine Trail processors (N450 Atom). No external decoder (like the Broadcom Crystal HD) is needed and most codecs should work. Liliputing says that only 1080p H.264 content will not work.
This new update is expected to go live in the next couple of weeks and will also bring with it support for Nvidia ION, Intel GMA 500 graphics as well as the VIA C7-M. Until then, check out a demo of 1080p video content playing through Jolicloud on a Samsung N210 netbook. Read more
January 5, 2010 at 10:08 pm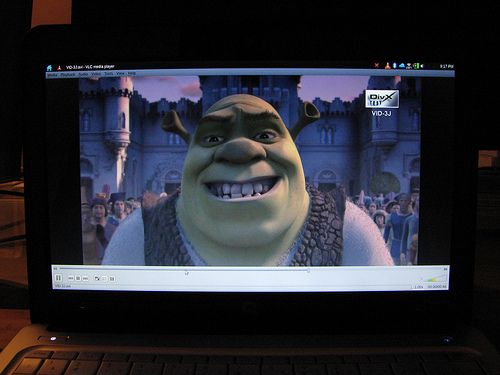 Jolicloud will be getting Nvidia ION netbook support in the very near future. This means the ability to play back 1080p high definition video content out of the box, certainly a very nice addition. There's no word on exactly when it will be released but it can't be too long now. Check out a video demonstration of this in action after the break. Read more
December 10, 2009 at 9:18 pm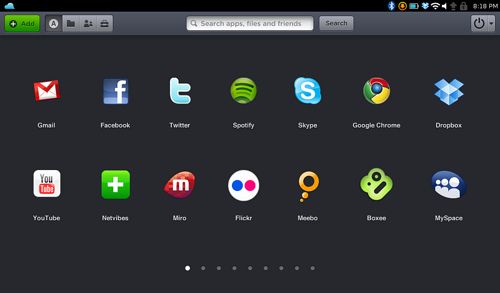 The Pre-Beta of Jolicloud is now available to download for all, no need to request an invitation. This comes with Jolicloud Express that enables you to install the OS within Windows, without deleting your current Windows install. This means you can always switch back to Windows whenever you want.
The new Jolicloud HTML5 launcher is also part of the release and a screenie is attached after the break. As part of this release, it appears that the Jolicloud website has been revamped and it certainly looks much more professional now. You can download the 600MB exe file from here. Read more
November 24, 2009 at 6:15 pm
Jolicloud has started to release invitations for the Pre-Beta release. This release will bring with it GMA500 support, giving the OS 98 percent compatibility with all netbooks in the market. A few netbooks running VIA C7M or AMD GEODE are the lonely few that don't have support right now.
The Pre-Beta release includes the new Window installer called Jolicloud Express. This allows you to install the OS within windows, much like you would a new browser. This keeps Windows as a separate entity with data untouched. The old ways (ISO / USB) of installation remain for those running Linux. Read more
September 9, 2009 at 9:12 pm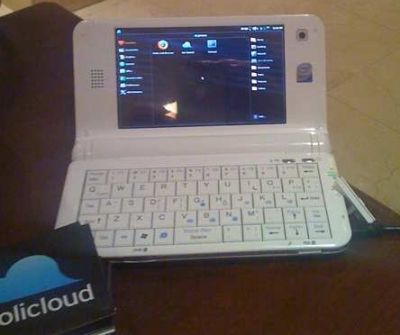 Up until now, Jolicloud has not been able to run on netbooks that come with Intel's Poulsbo (US15W) chipset. This chipset includes GMA500 graphics that doesn't have the best driver support. However, Jolicloud has confirmed that the next version will have support for GMA500. The picture to the right shows it working on an UMID M1 MBook.
This opens up Jolicloud, the Linux-based operating system, to netbook users of the Dell Mini 10, Asus Eee PC 1101HA & T91 and Acer Aspire 751. They have also announced the next round of supported apps. One of these that will be important to us Europeans is a one-click install of Spotify.
Via Netbooked.
August 6, 2009 at 6:26 pm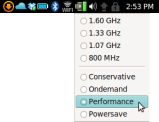 Jolicloud has released the latest version (Alpha 2c) of its operating system. Improvements to this version include the latest stable version of the Linux kernel, which should result in faster operation and system boots. It also includes quite a number of bug fixes for various netbooks that you can find here.
The new release also includes a new applet that allows you to manage battery life along with CPU performance (pictured above). A Firefox patch is also included to improve browser performance.
The next major release from the Jolicloud team will be the "Atom super optimized Linux kernel". As the name suggests the release will look to optimise performance for netbooks powered by Intel Atom processors (i.e. the majority of netbooks out there). This means better battery life, faster boot times and better graphic support.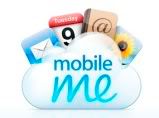 Jolicloud has added a whole host of new applications to its netbook-targeted operating system. This includes MobileMe, the popular Apple service that allows you to sync your iPhone, Mac and PC as well as pushing new emails and calendar events. To show that Jolicloud is staying contemporary, it also now supports Almost.at, which allows you to follow events in real time.
In recent weeks, Jolicloud has also added access to Google Chrome, Picasa, Vimeo and OpenOffice Impress. Many more applications are promised over the coming weeks. For those that are interested in testing out the Private Alpha 'Robby' release, then you'll be pleased to hear that Jolicloud is about to send out a new batch of invitations shortly. You can register for an invitation here.
Via Portable Monkey.
Jolicloud is already looking like an accomplished netbook OS, even in this early Alpha stage. The OS has been built with the netbook in mind from the ground up, taking note of the smaller screen sizes and also utilising cloud computing. Netbook Italia has also shown how well the OS works via a touchscreen, just in time for a wave of touchscreen netbooks expected to arrive in the second half of the year.
They do this on an 8.9-inch Acer Aspire One A150 netbook that has been modded with a touchscreen display. The video below shows this in action on the alpha 'Robby' release and you can see them using both finger and pen stylus input. TechCrunch also has a hands-on review of Jolicloud that is worth checking out. Read more
The Jolicloud website is now live. There's not too much on there right now, you'll find a new Blog page where you'll find continuous updates along with Jolicloud's twitter feed. There is also a list of supported hardware, it's only an initial list and will be added to as time goes on. I found the most useful part the 'First Look' section, which gives you a number of screenshots which are annotated to give you an idea of what to expect.
It all looks very user friendly and invites for the Alpha will start to be sent out in the next couple of days. Due to some bug-squashing and server issues it may take some time before invites start to arrive though. On the site you'll also find the Jolicloud Manifesto which lays out the ideas behind the operating system. Read more