Those of you worried that the Lenovo U1 Hybrid and Skylight ultraportable devices have been canned then fear not. The guys over at TabletPCReview sat down with some Lenovo reps who told them about new Android builds on both devices implying that they will see an eventual release.
Whilst the hardware is largely in tact, the custom Linux OS for the Skylight has been ditched in favour of Android. This has given them more confidence, especially since Lenovo has worked on Android with its smartphone in China. Release timelines still remain a mystery but fingers crossed it will be out in 2010.
Via Slashgear.
Lenovo has indefinitely delayed the release of two of its most anticipated products, the Skylight smartbook and Ideapad U1 Hybrid. The latter was interesting in that it was a tablet and CULV ultrathin in one form-factor. Both concepts are now back on the drawing board to prepare for a relaunch using Android OS instead of the custom Linux OS they were planning on using.
There is currently no idea when they will hit the market again and we don't know if we'll see them in their current forms again. Lenovo released a statement highlighting that it had shelved "plans to release the initial version of the Skylight smartbook." This could mean it will come back to the market in another guise. There are also rumours that Lenovo are expected to launch other Android devices by the end of the year, although what form these will take is unknown.
One of the most exciting smartbooks announced thus far, the Lenovo Skylight, is seeing its launch pushed back by three months to July 2010. It is a shame as it's one the most attractive models to be announced this year in our opinion.
The delay has been caused by the need for further tweaking. Here's what Lenovo sources told LaptopMag: "With any new product that we introduce, we owe it to our customers to get it right and we would rather take the little extra time that sometimes takes to finalize a product."
Lenovo confirmed that its interesting tablet/ultrathin, the U1 Hybrid, is still on track. Despite the delay, the Skylight is still set to launch in China in May and will show up in other markets in June.
Update: Digitimes reports that the Skylight's UI and browsing is not as smooth as the Apple iPad, hence why Lenovo has pushed back the release.
March 25, 2010 at 10:26 am
It has been almost two months since we last saw any news on the Lenovo Skylight. The smartbook was announced at CES in early January and comes with an unusual clamshell design boasting a super-slim chassis, 10.1-inch HD display and 1GHZ Snapdragon processor.
Darryl Kang from DK.sg has had a few days of playtime with a pre-production Skylight. He was impressed that the keyboard and touchpad had not been compromised in terms of size, with the keyboard proving comfortable to type on. The touchpad has integrated left/right buttons that don't appear to everyone's taste. Read more
February 12, 2010 at 2:32 pm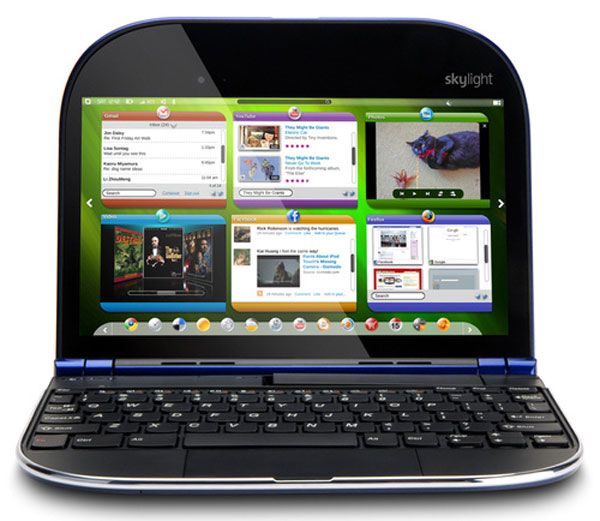 The 'smartbook' name dispute continues with the news that a Germany court has ordered Lenovo to stop using the 'smartbook' term to describe devices such as the Lenovo Skylight in Germany. Smartbook AG claims that it owns the trademark and says that Lenovo could be liable to a €250,000 penalty every time the term is used.
"Without approval by Smartbook AG, Lenovo must refrain from using the character sequence 'Smartbook' in all writing systems in association with mobile computers — such as laptops (notebooks) — as part of commercial correspondence in the Federal Republic of Germany," Smartbook AG said in a statement. Read more
January 6, 2010 at 8:54 pm
The Lenovo Skylight is one of the first smartbooks from one of the big notebook manufacturers to be announced. As a flag-bearer for the smartbook category it has a lot of pressure on it, but according to the first impressions coming out of CES, it looks like it's a mighty fine device. The Skylight runs the 1GHz Snapdragon processor and has a 10.1-inch HD display (click here for the rest of the specs).
Judging by the videos and write-ups I've seen, the Skylight looks like a very sexy piece of kit. It's one of the thinnest 10-inch devices I've seen and the display, keyboard and large touchpad all look of the highest quality. I especially like the slot just above the keyboard where you can store a USB flash drive.
One of the biggest negatives is nothing to do with the hardware itself, but that $499 price point. This will obviously be lower when subsidised through AT&T, but some people are miffed given the promise of $200 smartbooks. Click through for a video hands-on from Engadget, Laptop Mag and JKKMobile.
Update: We've also included videos from Liliputing (run through of the custom UI) and NetbookNews. Read more
January 5, 2010 at 9:17 am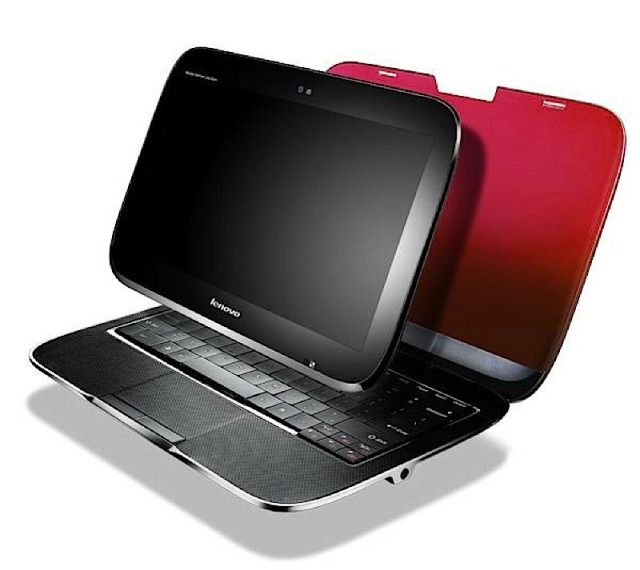 Lenovo has announced an interesting new form-factor that bears a similarity to Always Innovating's TouchBook. The Ideapad U1 Hybrid is effectively an 11.6-inch (1366 x 768) multi-touch tablet device that docks into a traditional laptop design. When paired the U1 runs off the Intel CULV processor and when in tablet mode, it is powered by a Qualcomm Snapdragon chipset.
The U1 Hybrid comes with 4GB RAM (512MB in tablet mode) and can support a 128GB SSD (16GB is used for the tablet). Other features include two USB ports, eSATA, VGA, HDMI, 4-in-1 card reader, and a 1.3MP webcam. The operating system is catered for by Windows 7 when using as a laptop and Lenovo's custom Linux OS in tablet mode (probably the same that will be used in the Lenovo Skylight smartbook). Read more
January 3, 2010 at 1:33 pm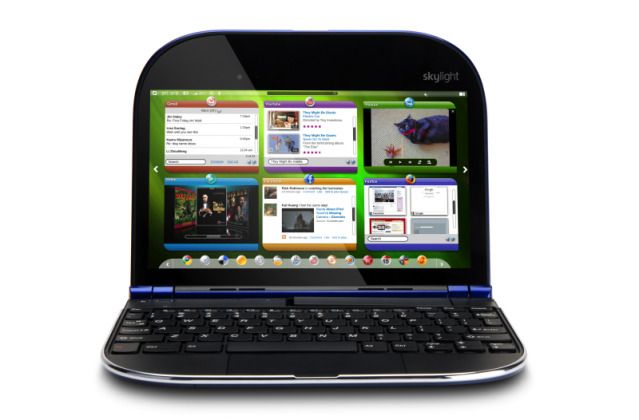 Lenovo is set to announce the Skylight smartbook at CES next week. The tipster who gave us a heads-up on the Ideapad S10-3t has given us the first details of the new smartbook.
The Lenovo Skylight is the company's first smartbook, powered by the ARM-based Qualcomm Snapdragon chipset. It will launch in the US in April, where one will be able to purchase the Skylight on a standalone basis through Lenovo.com for $499 or on a two-year AT&T 3G data contract. The Skylight will then be available in Europe and China later in 2010. Read more