April 30, 2009 at 10:15 pm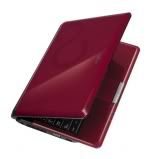 Fujitsu Siemens introduced a new 10.1-inch netbook to the Japanese market last week called the LOOX M. Judging from a press release by Fujitsu Asia Pacific, the same netbook will be marketed under the M2010 name across other regions. This would make sense as their previous netbook was known as the M1010 in most markets.
The M2010 specifications seem identical to the LOOX M, and it even sports the same infinity motif on the lid. The M2010 comes with a 10.1-inch LED-backlit display with a resolution of 1024 x 576 pixels. It will be powered by a 1.6GHz N270 Atom CPU (a 1.66GHz N280 Atom option will be available from June) and Intel 945GSE chipset. It will also come with 1GB RAM (2GB max) and a 160GB hard-disk drive. Other features include Bluetooth 2.1, a 1.3MP webcam, three USB slots and a 4-in-1 card reader. Read more
March 21, 2009 at 1:48 pm
Fujitsu is planning to release the M2010 netbook in July this year according to UMPC Fever. All that has been revealed is a rather amateurish hand-drawn picture of the new model and therefore there is very limited information. The only reason this rumour has any kind of credibility is due to the fact that it was revealed by a forum member of the site, Codyyuen, who is a staff member of a Fujitsu distributor in Hong Kong.
The picture for the M2010 shows a rather standard (10-inch?) netbook design. So maybe Fujitsu is just following the herd. The original Fujitsu M1010 had rather average specifications with an 8.9-inch (1024 x 600) widescreen display powered by a 1.6GHZ N270 Intel Atom CPU and 1GB of RAM. It also came with a 60GB hard-disk drive, Bluetooth 2.1, 1.3MP webcam, 4-in-1 SD card reader and WiFi.
Via Portable Monkey.