March 10, 2009 at 2:43 pm
Gigabyte's upcoming net tablet, the Touch Note M1028, has passed through the FCC. This highlights a strong possibility of the M1028 being sold in the US as the FCC is normally a pre-cursor before a device goes on sale there. Interestingly all of the FCC documentation refers to the M1028 as the 'CafeBook' rather than the 'TouchNote' nickname with which it was paraded about last week at CeBIT. Also, it looks like Windows Vista will be offered as an option as well as an optional high resolution 8.9-inch screen at 1280 x 768.
Apart from that there is little new information, although an English manual was found on the FCC listing page. This page also shows a number of photos of the M1028's internals and where all of the ports are to be located. The TouchNote M1028 has a 10.1-inch swivelling touchscreen display and is powered by a 1.66GHz Intel Atom N280 CPU. The M1028 will have a 160GB hard-drive, 1GB of DDR2 memory (2GB maximum) and the Intel 945GSE graphics chipset.
Via Netbook3G.
Hands-on videos of Gigabyte's Touch Note M1028 have started to hit the net following its official unveiling on Tuesday at CeBIT. Gigabyte's convertible tablet does look very enticing, much like the Asus T91GO. Jkkmobile have posted their hands-on video and liked what they saw, if not blown away. It seems to be a solid netbook offering a soft touchscreen, fingernails not needed here, and a sturdy hinge mechanism (imperative for a net tablet). The keyboard was noted to be similar to the MSI Wind and the bottom panel had access to not only the battery but RAM and hard-disk drive too. Looking good so far (video after the jump).

EETI (Egalax_empia Technology), the Taiwan-based touch-panel supplier, will start shipping 7 and 12-inch capacitive touch panels in the second half of this year, according to its company president Mei Tsai. We are already starting to see a number of netbooks using touchscreen panels including the Asus Eee PC T91GO, the Touch Book from Always Innovating and Gigabyte's TouchNote M1028 which was unveiled yesterday. However, the touch-panel technology currently used is resistive. The move to capacitive panels will allow multitouch gestures (such as 'pinching').
My guess is that we're unlikely to start to see any netbooks with capacitive screens until the end of the year, maybe tied in with the launch of Windows 7. Microsoft has spoken of multitouch, being one of the unique selling points of Windows 7. It is likely to be the more premium netbooks that sport these panels at first, but what better way than to tie in with the Windows 7 launch. We'll keep you posted.
Following on from Gigabyte's reveal of its TouchNote M1028 range of convertible tablets at CeBIT, Gigabyte also unveiled the ThinNote M1024. As the name suggests this netbook is targeted to those that value a thin and sleek form-factor. Gigabyte seem to have succeeded on this front delivering a netbook that weighs just 890 grams (just under two pounds). However, it seems that Asus may have won on the styling front, having announced the super-slim Seashell 1008HA yesterday. Obviously it all comes down to price between the two and as of yet we still do now know exactly which regions Gigabyte plan to market to.
The ThinNote M1024 sports a 10.1-inch (1024 x 600) LED backlit screen and is powered by a 1.6GHz Intel Atom N270 CPU and Intel 945GSE chipset. Given the size, the M1024 is limited to 1GB RAM and a 60GB/80GB hard-disk drive. It also supports Wifi and Blutooth 2.1 and has optional 3.5G modem support. It comes with two USB ports, a memory card slot and a six-cell 3,400mAh battery as standard. As with the M1028, there is no word on pricing or indeed which regions the M1024 will be available in. We'll update with further information as we have it.
UPDATED (17.01): We've included a video after the jump, from the guys over at jkkmobile who went hands-on with the M1024.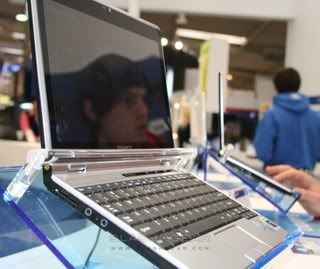 Via Slashgear
Gigabyte has offically unveiled its latest 'net-tablet' called the TouchNote M1028, which debuted at CeBIT today. The TouchNote M1028 has a 10.1-inch swivelling touchscreen display and is powered by a 1.66GHz Intel Atom N280 CPU. The M1028 will have a a 160GB hard-drive, 1GB of DDR2 memory (2GB maximum) and the Intel 945GSE graphics chipset. It will run on Windows XP.
Somewhat confusingly, four versions of the M1028 were announced. The 'M' and 'G' versions will come with a 1024 x 600 resolution display and the 'X' and 'P' versions will come with a 1366 x 768 display. Each model will come with WiFi a/b/g and Bluetooth but only the 'G' model will support 3G. No word on pricing or indeed which regions these will be available in for now.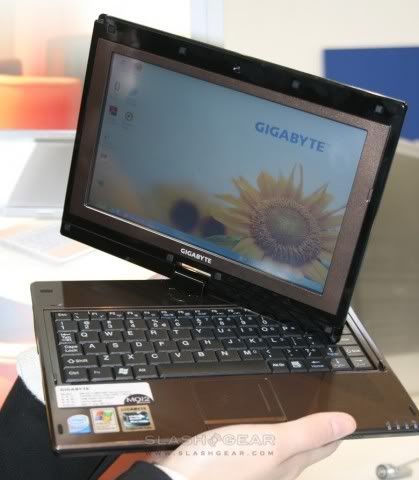 Via Slashgear