April 13, 2010 at 11:31 am

MeeGo, the lovechild between Intel's Moblin and Nokia's Maemo operating systems, is getting a lot of support from the industry. The Linux Foundation has released a list of all those showing public support for the new OS including a mix of hardware and software developers.
Included in the list are netbook heavyweights Acer and Asus and highlights that we may see dedicated MeeGo netbooks at some point in the future. Acer's Jim Wong, senior corporate vice president and president of IT Products Global Operations said: "Acer was an enthusiastic adopter of Moblin and we're excited about Moblin's evolution into the MeeGo software platform. We're looking forward to ecosystem innovation that will be enabled by the open nature of MeeGo." Read more
March 31, 2010 at 10:52 pm
Meego, Intel and Nokia's merged OS via the melding of Moblin and Meego, has now received its first pre-release build. Those of you with Atom netbooks (pretty much most of the market), along with the Atom-powered Moorestown MIDs and the Nokia N900 can now download the release here. The first proper release is still expected in May.
February 15, 2010 at 12:37 pm

Intel and Nokia have merged their respective Moblin and Maemo mobile Linux operating systems to form MeeGo. This is huge news. MeeGo will be backed by two of the largest technology companies in the world and should create a mobile OS that will suit a wide range of devices from netbooks to smartphones.
Nokia recently delivered its first Maemo device the Nokia N900 smartphone and Intel's Moblin is a credible open-source software platform for netbooks as well as MIDs. The MeeGo project will be hosted by the Linux Foundation. There will be access to both the Nokia Ovi Store and the recently announced Intel AppUp Centre. Read more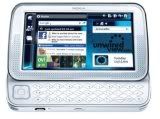 Following intense rumours and speculation this morning, Intel has now officially announced that it is to partner with Nokia to "define a new mobile platform beyond today's smartphones, notebooks and netbooks". Exactly what kind of gadgets these will be remains a mystery, although it may just be both companies trying to push the Mobile Internet Device (MID) segment which hasn't taken off as Intel hoped.
Intel talks of these devices having "ubiquitous Internet connectivity" in a "pocketable form factor". All of this sounds incredibly similar to the smartbook devices being pushed by ARM-based companies such as Qualcomm and Freescale. It even talks of low power computing. Read more