April 30, 2010 at 2:32 pm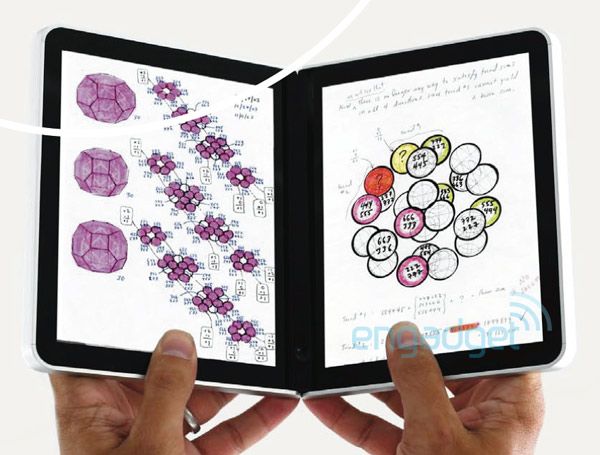 Two of the most talked-about portable gadgets of recent months have been shelved according to sources. Microsoft's rumoured dual-screen Courier project will not see the light of day according to Frank Shaw, Microsoft's VP of corporate communications.
"The "Courier" project is an example of this type of effort and its technologies will be evaluated for use in future Microsoft offerings, but we have no plans to build such a device at this time," said Shaw. Read more
March 24, 2010 at 12:24 pm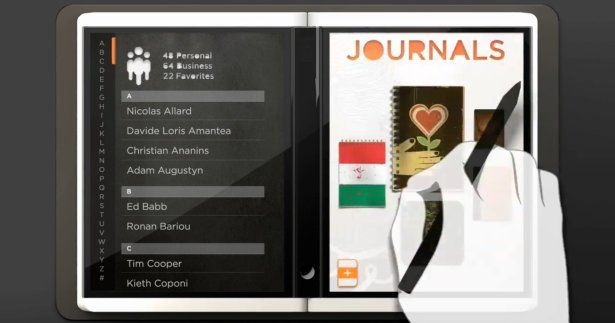 The Microsoft Courier is rumoured to be a dual-screen device powered by the Nvidia Tegra 2 chipset. Supposed pictures of the Courier were leaked at the beginning of the month, although Microsoft has stayed quiet on its existence.
However, in the first sign from Microsoft that this thing even exists appeared on the Microsoft Careers JobsBlog page. A post on the site about innovation inadvertently mentioned "the upcoming Courier digital journal" when talking about other MS tech including Natal, Windows phone 7 and IE9. The reference as since been deleted, but you can catch a screencap of the evidence after the cut. Read more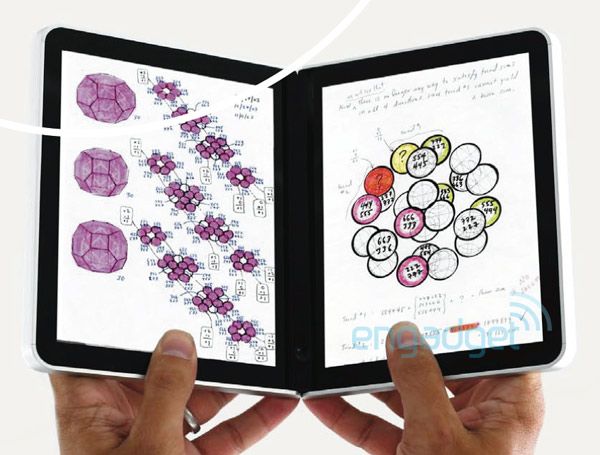 Details on Microsoft's Courier device has been under tight wraps since the first rumours started to appear. Now Engadget has managed to get a whole host of details from a trusted source. Apparently the dual-screen device will function as a "digital journal" and will be less than an inch thick and around the size of a 5×7" photo when closed.
The Courier will feature the Tegra 2 chipset and the same operating system as the recently announced Windows Mobile 7 series i.e. Windows CE 6. Other hardware features include a built-in camera and headphone jack. The UI will be pen-based and will focus on drawing and writing. There's no suggestion on pricing but the release date is said to be at some point in H2 2010.
February 19, 2010 at 3:57 pm
Hewlett Packard has released little detail on its Slate tablet device. Apparently this is for good reason. According to the WSJ, HP was waiting to see what Apple had in store with the iPad, before tweaking features and price-points. Its sources suggest that HP executives will be meeting in the US and Taiwan over the next few weeks to discuss these exact issues.
It sounds like 3G will be one of the Slate's features as the company is considering selling a version of the Slate that has a similar display size and features as the iPad (including a 3G connection) for a price less than Apple is charging ($629). Read more
November 13, 2009 at 10:16 am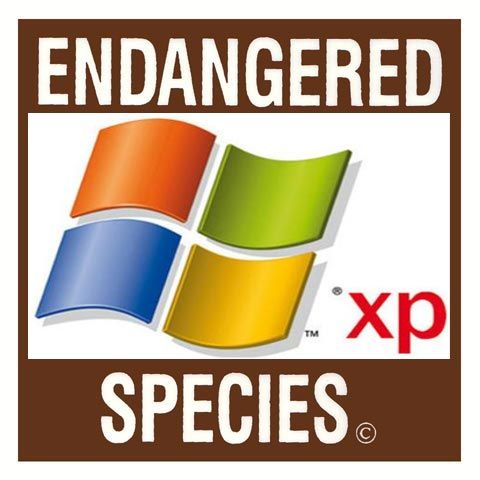 Microsoft has publicly committed to offer Windows XP for a year after the Windows 7 launch. However, the reality for Windows XP netbooks could be quite different. You may even start to see them disappear from shelves shortly after the New Year according to The Register.
Don Paterson, director of netbook PCs in Microsoft's Windows client group, said that: "We will continue to make Windows XP available for those devices [netbooks], but it doesn't make sense to put marketing effort behind those devices. As much as we make Windows XP available for a year, we won't see it last in the market that long. We will get through the holidays. My gut [feeling] is we will walk away from the holidays and see that it's not worth keeping it in market." Read more
October 22, 2009 at 8:50 pm
For the many of you with netbooks running Windows XP, some may be feeling envious given all the attention on Microsoft's new Windows 7. However, Microsoft feels your pain and will shortly be launching an upgrade tool that effectively allows you to create a bootable USB drive.
The process involves moving a downloaded copy of Windows 7 onto a USB stick. You will need to be comfortable going into your BIOS and change your boot priority to make sure the USB drive boots before the netbook's hard drive. If you do attempt this, make sure you have a USB stick with at least 4GB of storage capacity. The Microsoft Windows 7 for Netbooks page is here.
Via Cnet.
October 3, 2009 at 12:10 pm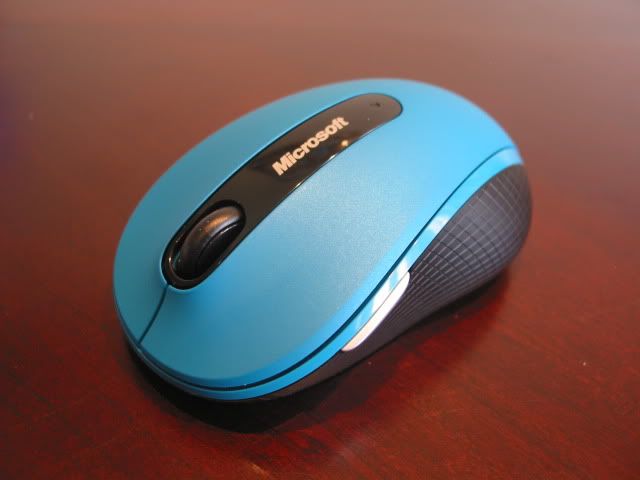 Whilst touchpads do an acceptable job of navigating around a netbook/laptop, there's no substitute for a mouse for pinpoint accuracy. There are a number of good mice to cater for those on the move, however there are not too many that use new mouse technology such as Microsoft BlueTrack or Logitech's Darkfield laser tracking tech.
These new technologies have been developed to allow you to use on the mouse on pretty much any surface, whether that be an airport bench to your living-room carpet. This is quite an attractive feature for portable mice as you no longer need to carry a mouse mat with you whilst travelling. Even in limited spaces, your lap could work with these new mice. We give you an overview of one of the latest portable mice using Microsoft Bluetrack called the Wireless Mobile Mouse 4000. Read more
August 11, 2009 at 11:46 am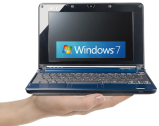 Microsoft's CEO Steve Ballmer has confirmed that Windows 7 Starter Edition will be limited to "super-small screen" and "certain processor" devices in an aim to try and boost revenues. Windows 7 SE is the cheapest version of windows and is predominantly expected to be found on netbooks. It will be sold to OEMs (original equipment manufacturers) only.
"Our license tells you what a netbook is. Our license says it's got to have a super-small screen, which means it probably has a super-small keyboard, and it has to have a certain processor and blah, blah, blah, blah, blah," said Ballmer at a Microsoft-hosted analyst conference. Read more
August 3, 2009 at 9:17 pm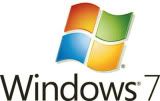 The Windows 7 upgrade pricing was released last week, we were finally given an indication how much netbook users would have to pay to upgrade from Windows 7 Starter Edition to more fully-featured editions such as Home Premium or Professional. The prices we saw were only US prices, although we've now seen the UK prices and it brings new meaning to the term "Rip-off Britain".
In the UK, the move from Starter Edition to Home Premium will cost netbook users £69.99 (US price: $79.99). To then move from Home Premium to Professional will cost £119.99 (US: $89.99) and to move from Home Premium to Ultimate will cost £124.99 (US: $139.99). Read more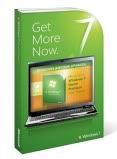 The launch of Windows 7 on October 22nd 2009 will herald a mass netbook uptake of the new OS. After that launch date, most new netbooks released will be running Windows 7 over XP. Of these, most will come with the lowest-specced 'Starter Edition' version.
For this who want to be able to personalise their desktop, use Aero Peek and Taskbar Previews then you may want to upgrade to Home Premium. Microsoft has been quiet about what it will be charging for that particular upgrade, until now.
Brandon LeBlanc, from the Windows Blog, has revealed that the move from Starter Edition to Home Premium will cost netbook users $79.99. This will be done under a program called Windows Anytime Upgrade (or WAU for short). To move from Home Premium to Professional will cost $89.99 and to move from Home Premium to Ultimate will cost $139.99. These will be available as retail upgrade packages in the US after October 22nd.
For those of you in Australia, Belgium, Canada, France, Germany, Italy, Japan, the Netherlands, Spain, Sweden, Switzerland, the UK or the US – you will also be able to purchase the upgrade directly from the Windows 7 operating system. There is no pricing for other countries right now.
April 24, 2009 at 3:57 pm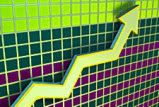 Microsoft posted its first ever year-on-year decline in revenues partly due to a decline in PC sales as well as the strong growth seen in netbooks. Microsoft's Q3 2009 revenue fell by 6 percent to $13.65 billion, whilst profits fell by 32 percent to $2.98 billion.
Revenue from OEMs fell 14 per cent as companies steered away from pricier versions of Windows Vista and shipped netbooks with cheap versions of Windows XP. Netbooks remained at 10 per cent of total PC shipments for the quarter, while sales of non-netbook PCs fell between 15 and 17 per cent. Read more
March 11, 2009 at 5:45 pm
There has been much talk from Microsoft of Windows 7 "running beautifully on netbooks". However, what has not been made clear is whether Microsoft is planning to release a netbook-specific SKU or whether it plans to focus OEMs/ODMs to the Windows 7 Starter package and then upsell to more expensive W7 versions. However , recent comments made by Microsoft CEO Steve Ballmer during an analyst meeting last Tuesday indicate that it is still thinking about a specific netbook edition. Read more

Following the explosive growth of netbooks last year, Microsoft is doing all it can to push Windows 7 as the netbook platform on launch. Microsoft was caught out last year when Vista turned out to be too complex to run on most netbooks and had to resort to selling the lower-margin Windows XP instead. Bill Veghte, Microsoft's senior vice president for Windows, said that "Windows 7 will run beautifully on netbooks," when asked the question by Computing.
In a sign, which shows how serious Microsoft is taking the netbook segment, Microsoft is looking at ways to customise its Office suite to cater for netbook users. Stephen Elop, president of Microsoft's business division said, "There are new ways to package and monetize SKUs that are unique to the netbook market. From the Office perspective if someone is spending just a few hundred dollars on a netbook, how much will they spend on productivity software?"
Given the free alternatives out there, including the excellent Openoffice.org, it seems that MS are asking the right questions. As we reported yesterday, Windows is now shipping on approximately 90% of all netbooks sold (well in the US anyway) and MS will need to price its specific SKU's carefully distinguishing the desktop market versus netbook-specific SKUs.
Via Network World.