June 16, 2009 at 10:58 pm
There have been some strong rumours for a while now that Dell is planning to launch its own range of ultrathin notebooks based on the Intel CULV platform. Both Acer and Asus have already announced the Timeline and U series models respectively that come with the new Intel chips.
Now Engadget is reporting that Phil Bryant and Michael Tatelman of Dell displayed an "entirely new model line" of thin and lightweight notebooks at an event in Paris. Judging by the size of the mini-notebook in question, it very much looks like it will be the rumoured Inspiron Mini 11, which will replace the Mini 12 with its 11.6-inch (1366 x 768) display.
This rumoured 11.6-inch model, codenamed 'Argos', will use Intel's Celeron ULV platform, have 2GB RAM and hard drive storage between 160GB and 250GB. The CULV-based ultraportable line-up is rumoured to be released in August and there's no information on pricing right now. We'll keep you posted with further developments.
April 15, 2009 at 4:26 pm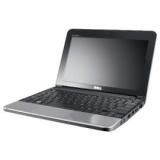 According to a leaked roadmap that appeared earlier this month, Dell is planning to launch the Inspiron Mini 11 during Q2/Q3 this year. Little is known in terms of specifications, however it is believed to have an 11.6-inch display with the option of a high-resolution screen.
There are now reports suggesting that Taiwanese ODM, Compal Communications, has landed an order from Dell to manufacture an ultra-thin notebook using Intel's CULV platform. The report suggests that this notebook will start to ship in August.
We already know that Dell is planning to release models based on the CULV platform with screen sizes from 11-inches to 13-inches. Putting two and two together, this model could very well be the rumoured Dell Mini 11. Compal is also in the frame to manufacture ultra-thin notebooks from both Toshiba and Lenovo according to the report.
April 5, 2009 at 11:13 am
Dell's netbook roadmap appears to have been leaked by a tipster to NetbookNews.de. A full range of presentation slides have been leaked for Dell's 2009-2010 mini-notebook/netbook roadmap. The roadmap highlights when we can expect to see some of potential upgrades for the Mini 10 as well as hints for a new model dubbed the Dell Mini 11 with an 11.6-inch display.
When the Dell Mini 10 was first announced a number of options were promised for the 10-inch netbook. We have already seen a higher-resolution (1366 x 766) display appear for it and judging from the roadmap a number of other options will appear on April 17th. This includes a 250GB hard-drive, a TV Tuner, a 6-cell battery, Ubuntu Linux and, potentially, even a 1.86GHz Atom CPU. On May 20th a model with 2GB RAM is also planned. It is difficult to know how set in stone this is as one of the slides says: "Do we need the 1.86GHz processor option? Performance increase is minimal but cost increase is high – approx $75". This clearly highlights that maybe this is still work in progress.
The slides also point to a new Mini 10 with 1.6GHz N270 Atom CPU, Ubuntu and XP options and 120/160GB HDD or 8/16GB SSD options. The Dell Mini 11 with an 11.6-inch high resolution display is muted for a Q2/Q3 release. An updated Mini 10 with Intel's new Pine Trail processor is also expected in Q3/Q4. The slides are not the easiest to follow and we also do not know when they are from and if anything has changed in the meantime. Check out the slides after the jump. Read more