June 23, 2010 at 10:28 am
HP has added a new model to its netbook roster, the HP Mini 100e Education Edition. This looks like a classmate PC in design and is targeted at schools rather than the wider market. The palm rest, base and lid can be customised with the school's logo.
The case and hinges are reinforced and it also comes with an integrated carry handle and spill-proof keyboard. The outer lid also comes with a LED network activity lid so teachers can spot which kids are surfing the net when they're meant to by working!
The Mini 100e comes with a 1.66-GHz Intel Atom N455 processor, up to 2GB of RAM, a matte 10.1-inch (1024 x 600-pixel) display, and a 5,400-rpm 160GB HDD. You'll also get two USB ports, VGA, Ethernet, and a modem port for developing countries. The HP Mini 100e Education Edition goes on sale in July with various pricing bundles.
Via Engadget.
HP has officially launched the Mini 210 Vivienne Tam Edition netbook that first made an appearance last September. The netbook is adorned with a butterfly design clearly appealing to the female consumer, along with a gold keyboard.
The specs are the same as the current vanilla Mini 210 netbook, including a 10-inch display, 2GB RAM, up to 320GB HDD, Windows 7 Home Premium and a 3-cell battery good for 5.5 hours of runtime. For those looking to make a fashion statement, the Mini 210 Vivienne Tam Edition will set you back $599 when it launches on March 19th.
Via Engadget.

Voting is currently open at Engadget to determine nominations for Netbook of the Year 2008. It's worth popping along to nominate which netbook you feel deserves the accolade. At the current comment count of 67, it looks like the Acer Aspire One is leading the charge along with the Dell Mini 9 with ten votes and nine votes respectively. Those just behind on six votes each are the Samsung NC10, MSI Wind U100 and the Lenovo S10. A solid list of nominees so far.
March 2, 2009 at 10:58 pm
Electronista has posted its early impressions of the Dell Mini 10 from an early review unit. Some of the main points coming through was the solid build construction, the multi-touch trackpad and an edge-to-edge keypad which proved comfortable to use. In fact, they feel that Apple may have to start eating their words regarding all Netbooks not really 'working' given their cramped keyboards.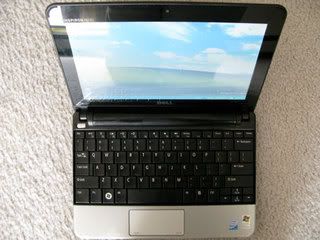 Some more pics after the jump.