November 4, 2009 at 11:44 pm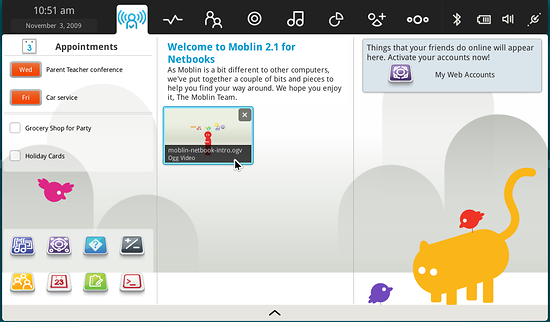 The project release for Moblin v2.1 is now available to download for Intel Atom-based netbooks (& nettops). The Linux Foundation must be working hard behind the scenes as it wasn't that long ago that they delivered v2.0.
This new release brings a number of significant improvements including 3G and Bluetooth (device discovery and pairing) support, enhanced browser functionality, UI enhancements, integrated Moblin Garage (online application store) as well as a number of performance and stability improvements.
We've listed the full Moblin v2.1 feature summary from the press release after the break. You can download Moblin 2.1 here or check out a number of screenshots of the new release here. Read more
September 24, 2009 at 6:34 pm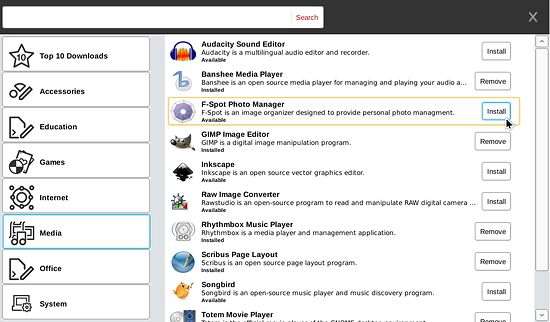 Moblin v2.0 has finally moved out of beta and is available to download now for those of you with Intel Atom-based netbooks (probably most of you). This version will be used by OEMs when shipping Moblin on netbooks. You can download Moblin v2.0 here.
The Linux Foundation has also announced Moblin Garage that appears to be an online application store containing free/open source software The Moblin Garage works in conjunction with the Moblin Application Installer to easily install new applications. The Moblin Application Installer is launched from the myzone panel and provides a list of applications from the Moblin Garage to install. You can find more detail on Moblin garage here.
The guys must have been busy, as Moblin v2.1 has also been announced. It is expected to be released during Q4 2009 and will include myzone improvements, IM improvements, better language support, updated kernel, Moblin Garage, Moblin Application Installer, 3G data support, and Bluetooth. It is still at the very early stages but can be downloaded here for those wanting an early preview.