April 13, 2010 at 11:31 am

MeeGo, the lovechild between Intel's Moblin and Nokia's Maemo operating systems, is getting a lot of support from the industry. The Linux Foundation has released a list of all those showing public support for the new OS including a mix of hardware and software developers.
Included in the list are netbook heavyweights Acer and Asus and highlights that we may see dedicated MeeGo netbooks at some point in the future. Acer's Jim Wong, senior corporate vice president and president of IT Products Global Operations said: "Acer was an enthusiastic adopter of Moblin and we're excited about Moblin's evolution into the MeeGo software platform. We're looking forward to ecosystem innovation that will be enabled by the open nature of MeeGo." Read more
March 31, 2010 at 10:52 pm
Meego, Intel and Nokia's merged OS via the melding of Moblin and Meego, has now received its first pre-release build. Those of you with Atom netbooks (pretty much most of the market), along with the Atom-powered Moorestown MIDs and the Nokia N900 can now download the release here. The first proper release is still expected in May.
February 17, 2010 at 3:04 pm
Back at CES in January, both MSI and Samsung announced that it was planning to release netbooks with the Moblin operating system installed. MSI were planning a Moblin Wind U135, whilst Samsung was prepping the N127 netbook that will primarily go on sale in India and Russia.
Now the MSI Wind U160 has been spotted running Moblin at MWC in Barcelona. The hardware remains the same: 10.1-inch (1024 x 600) display, N450 Atom processor, 1GB RAM, 250GB HDD and a 15 hour battery life. We don't know whether this was just a demonstration or whether MSI plans on making this a commercial reality. However, you can check out a video of the Moblin Wind U160 after the break. Read more
February 17, 2010 at 12:47 pm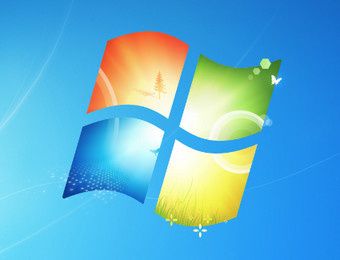 There are so many operating system choices when you've bought your new netbook. You have the usual desktop stalwarts such as Windows, OS X and Ubuntu, but there is a growing number of Linux alternatives catered to the netbook experience such as Jolicloud, Moblin and the upcoming Chrome OS.
Lifehacker has been conducting a poll over the last week, asking its readers what is the best netbook operating system. First of all they asked their readers to flag their favourite, they then rounded up the five most popular OSes and conducted a poll to find a winner. Read more
February 15, 2010 at 12:37 pm

Intel and Nokia have merged their respective Moblin and Maemo mobile Linux operating systems to form MeeGo. This is huge news. MeeGo will be backed by two of the largest technology companies in the world and should create a mobile OS that will suit a wide range of devices from netbooks to smartphones.
Nokia recently delivered its first Maemo device the Nokia N900 smartphone and Intel's Moblin is a credible open-source software platform for netbooks as well as MIDs. The MeeGo project will be hosted by the Linux Foundation. There will be access to both the Nokia Ovi Store and the recently announced Intel AppUp Centre. Read more
January 9, 2010 at 9:13 pm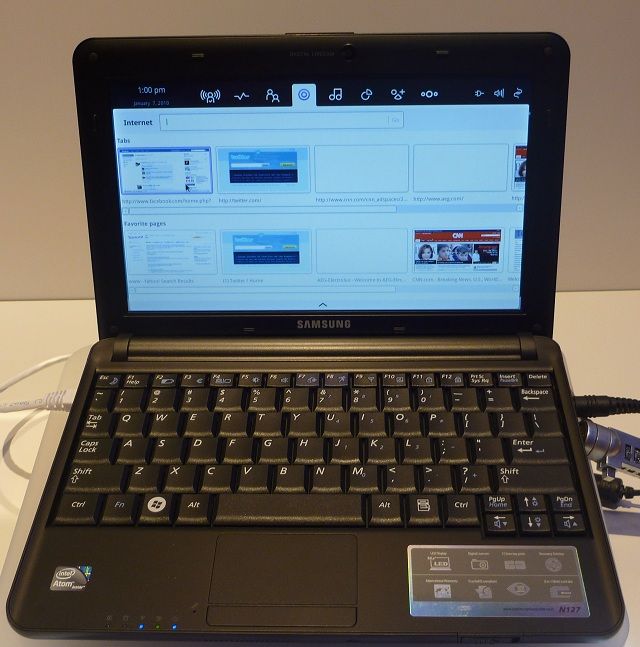 Samsung is prepping a 10.1-inch netbook with the Moblin operating system during Q1 2010. The Samsung N127 will first launch in India and Russia at an unknown price point. If the launch goes well, either this model or another Samsung Moblin netbook will launch in Q2 2010.
The Samsung N127 is powered by an Intel Atom Z-series processor, more than enough grunt to run Moblin adequately. Ars Technica got some hands-on time with the Samsung N127 and found that Moblin ran very snappily. As Moblin has been designed for small screens, the large icons and bright colours help with the user experience. Read more
November 24, 2009 at 12:18 pm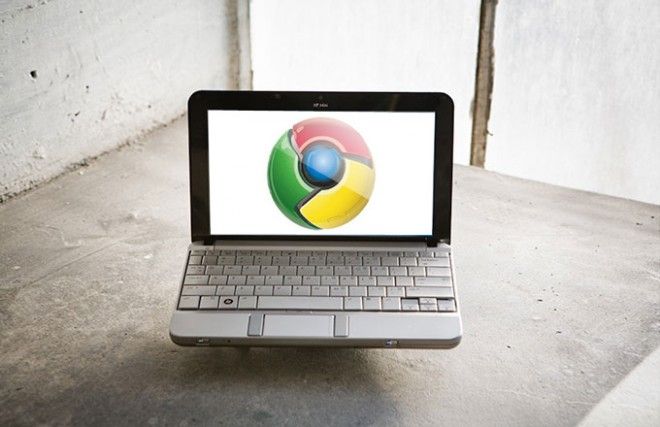 Even though Google's Chromium OS (Chrome OS) only launched last week, Phoronix wasted no time in comparing the latest development build to some of the most popular Linux operating systems. It conducted a number of tests, benchmarking Chromium OS against Moblin 2.1 and Ubuntu Netbook Remix 9.10. Desktop Linux distros Fedora 12 and openSUSE 11.2 were also included.
The benchmark tests covered everything from video playback performance to encoding to battery power consumption and CPU/memory usage tests. The test netbook used was the popular Samsung NC10 with 2GB RAM and a 32GB SSD.
Interestingly, Ubuntu Netbook Remix 9.10 came out on top, having the best battery life and lowest CPU/memory usage. The desktop distro OpenSUSE 11.2, was second, whilst Moblin 2.1 came third. Chromium OS was bottom of the pile, although considering very early source code has been released this is not entirely surprising. Check out the thorough tests at Phoronix.
Via Netbooked.
November 4, 2009 at 11:44 pm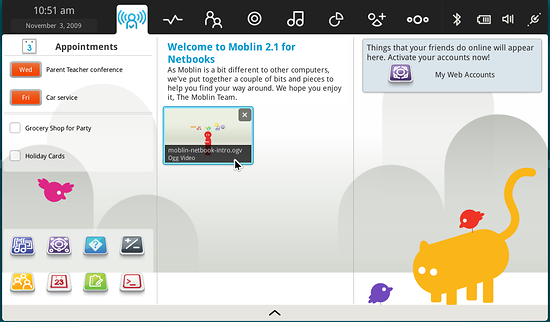 The project release for Moblin v2.1 is now available to download for Intel Atom-based netbooks (& nettops). The Linux Foundation must be working hard behind the scenes as it wasn't that long ago that they delivered v2.0.
This new release brings a number of significant improvements including 3G and Bluetooth (device discovery and pairing) support, enhanced browser functionality, UI enhancements, integrated Moblin Garage (online application store) as well as a number of performance and stability improvements.
We've listed the full Moblin v2.1 feature summary from the press release after the break. You can download Moblin 2.1 here or check out a number of screenshots of the new release here. Read more
September 24, 2009 at 6:34 pm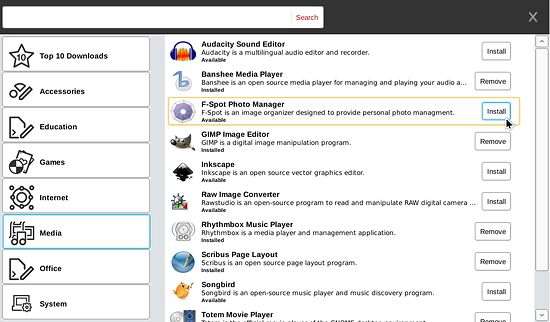 Moblin v2.0 has finally moved out of beta and is available to download now for those of you with Intel Atom-based netbooks (probably most of you). This version will be used by OEMs when shipping Moblin on netbooks. You can download Moblin v2.0 here.
The Linux Foundation has also announced Moblin Garage that appears to be an online application store containing free/open source software The Moblin Garage works in conjunction with the Moblin Application Installer to easily install new applications. The Moblin Application Installer is launched from the myzone panel and provides a list of applications from the Moblin Garage to install. You can find more detail on Moblin garage here.
The guys must have been busy, as Moblin v2.1 has also been announced. It is expected to be released during Q4 2009 and will include myzone improvements, IM improvements, better language support, updated kernel, Moblin Garage, Moblin Application Installer, 3G data support, and Bluetooth. It is still at the very early stages but can be downloaded here for those wanting an early preview.
September 24, 2009 at 3:51 pm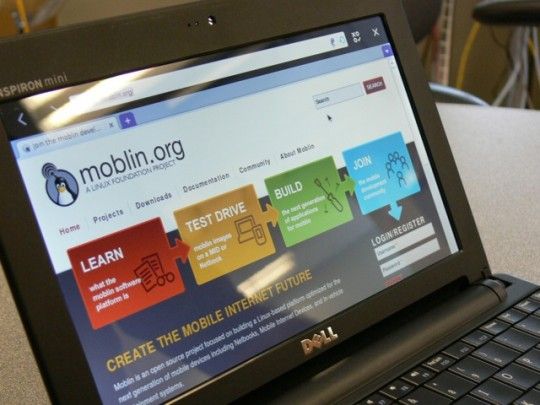 Dell is now shipping its Mini 10v netbook with the Ubuntu Moblin Remix Linux distribution. This particular version combines the interface & applications of Moblin 2.0 with the internals of Ubuntu 9.04. It is priced at $299 and comes with the typical Mini 10v's specifications (Atom N270 processor, 1GB of RAM, 160GB hard-drive).
This version has been labelled as the "Developer Edition" as it is still a work in progress. Despite this, Dell is shipping the Inspiron Mini 10v with it factory installed. If you already have the Mini 10v and just want to download the image click here. Check out a video demo after the break. Read more
August 7, 2009 at 3:11 pm
Asus is planning on releasing an Eee PC netbook that comes pre-installed with the Moblin operating system according to Sascha over at NetbookNews.de.
He confirmed that it will not be a new model and is likely to be found in the company's Seashell range of Eee PC netbooks. There's no confirmation of price or exactly which regions these new models will be availale in, but Sascha says that it should be out by October.
He also says that Asus is working very closely with the Google Chrome OS developer team in Taipei. He's planning on visiting them next week, so maybe we'll find out some more information about Google's plans then.
Dell is one of the few manufacturers that has embraced Linux on its 'Mini' range of netbooks. Its Mini 9 and Mini 10 devices had options with Ubuntu as well as Windows. The good news is that Dell looks like it is considering other Linux options for future netbooks too. Dell's Doug Anson has said that the company is "very interested" in Moblin and is currently evaluating Chrome OS.
He sees all of these different Linux-based operating systems leading to a "renaissance within the PC and small device industry". Anson went on to say, "these alternative operating environments are truly "different" from the traditional Windows platform – they don't attempt to simply "mimic" Windows".
Dell is working closely with key partners (Canonical and Intel) in developing potential offerings for Moblin, which it sees as "the next evolutionary step of the traditional Linux environment". Whilst anything tangible may be some time away, it is encouraging that Dell is encouraging the use of these alternative operating systems. Hopefully, Jolicloud will also be on that list soon too.
Moblin, the Linux-based netbook operating system, has partnered with Phoenix Technologies to incorporate its instant-on OS, HyperSpace, into the Moblin platform. Moblin, which is pushed heavily by Intel and is targeted to netbooks with Intel Atom processors, has had a good reception since it launched its v2.0 Beta a while back.
The announcement mainly relates to the promotion of this partnership to original equipment manufacturers (OEMs) and original design manufacturers (ODMs). This tag-team will mean that Moblin will take advantage of HyperSpace's instant-on OS, which means netbook users can access the web and other applications just one-second after turning on the device.
These other applications include HyperSpace Office, which is Microsoft compatible, Google Picasa and Adobe Photoshop. The dedicated netbook operating system segment is becoming a competitive playing field, what with Jolicloud and Ubuntu Netbook Remix already creating waves, not forgetting the juggernaut that is Google with its Chrome OS coming next year. This competition can only benefit consumers and provide some interesting innovations in the netbook space.
Via Laptop Mag.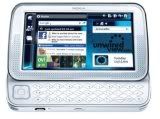 Following intense rumours and speculation this morning, Intel has now officially announced that it is to partner with Nokia to "define a new mobile platform beyond today's smartphones, notebooks and netbooks". Exactly what kind of gadgets these will be remains a mystery, although it may just be both companies trying to push the Mobile Internet Device (MID) segment which hasn't taken off as Intel hoped.
Intel talks of these devices having "ubiquitous Internet connectivity" in a "pocketable form factor". All of this sounds incredibly similar to the smartbook devices being pushed by ARM-based companies such as Qualcomm and Freescale. It even talks of low power computing. Read more
Despite Computex Taipei finishing last week, we are still hearing about a number of models that didn't share the limelight last week. Amongst them are two netbooks from ODMs that were spotted by NetbookNews at the Intel booth running Moblin v2.0 beta, the Compal KTV00 and FIC CW001.
The Compal KTV00 was a reasonably slim model with some similarities to Dell's Inspiron Mini 10 due to its huge touchpad and integrated mouse buttons within the touchpad itself. It comes with a 10-inch (1024 x 600) glossy display. The keyboard itself looked average, whilst it was powered by the N270 Atom CPU.
The 10-inch FIC CW001 looked quite average. It did have some dedicated buttons for 'Home', 'Email' and 'Pictures', although they didn't seem to work at the booth. Other notable points of interest included an Expresscard slot, which isn't found on too many netbooks. The keyboard an touchpad seemed a bit small, whilst VGA ports and a Kensington lock were fond at the rear. Check out both videos after the jump. Read more