March 15, 2010 at 9:08 am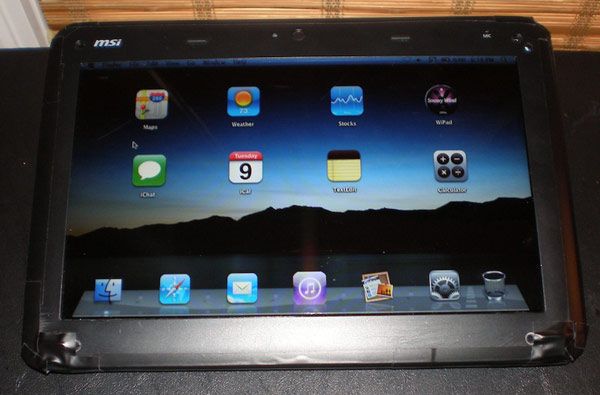 An intrepid modder has come up with an innovative mod that turns the MSI Wind U100 netbook into a tablet device complete with hackintosh OS X operating system and customised UI. The mod involves removing the keyboard and then mounting the LCD where the keyboard once was.
As the modder alexbates says, this mod enables you to "build an iPad with 10 times the storage, twice the speed, external video (VGA), webcam, USB ports, and built-in multi card reader, all for $350." Hopefully a video should be available in due course, in the meantime you can find all the details on this mod here.
Via Engadget.
December 9, 2009 at 8:16 pm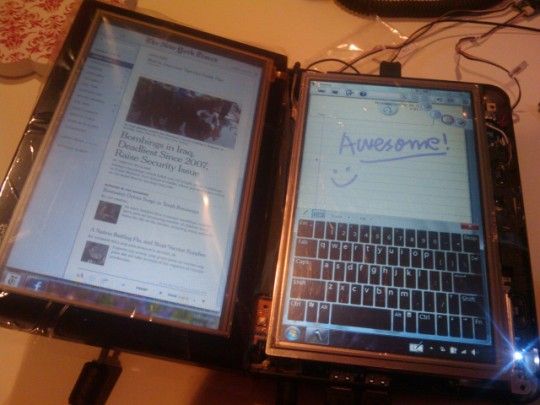 Now this is a mod we've not come across before. MyDellMini member pakkei decided to embark on the Harlequin project, which was to create something similar to the Microsoft Courier. For those that don't know, the fabled Microsoft Courier has dual-screen multi-touch panels and is designed for writing, flicking and drawing with a stylus, in addition to fingers.
The Harlequin is pakkei's take on the project, where he has modded his Dell Mini 9 netbook to form a slate and then added another 9-inch USB touchscreen. The left panel will be used for reading content and the right panel will be used for taking notes. The orientation of the displays can also be reversed to be used in a more normal netbook form-factor too.
As the device uses Windows 7 it features both handwriting and voice recognition. The Harlequin is mostly working although it does need a dual-hinged chassis. Seems like some good handy work from pakkei.
Via Netbooked.
October 12, 2009 at 8:23 pm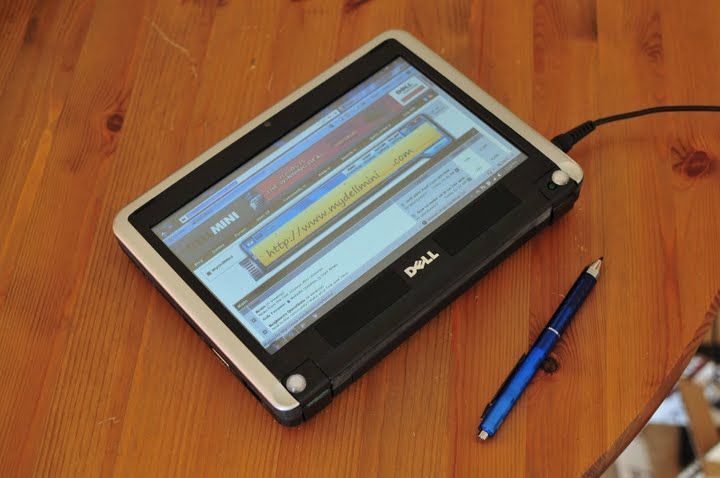 Windows 7 is expected to herald a new dawn for touchscreen PC devices, mainly due to its in-built touch functionality (as long as you're running Home Premium or higher). MyDellMini member Rob928 wanted to join in on the action and decided to mod his Dell Inspiron Mini 9 netbook to convert it into a touchscreen slate tablet.
This certainly looks like a complex mod involving removing the lid and trimming the hinges. A solder-less touchscreen kit was used for the finished result. Whilst the modder got the tablet to work with Windows 7, it is subject to heat build-up (40-50 degrees) as much of the heat is normally vented through the keyboard. Some pictures of his work in progress can be found here.
Via GadgetMix.
The last mod we came across for the Asus Eee PC netbook was one that we'd not come across before (Mighty Mouse trackball). Now here is another. JustBlair created a custom-built LED whose primary function is to alert you to new messages, whether it is via email or social networking. Specifically speaking, this LED notifier alerts you to new messages from your email, Twitter and Pidgin .
He modded an Asus Eee PC 901 by creating an extra LED to the top left of the device. He used an AtMel AtTiny45 microprocessor, a 5mm red/green/blue LED that would light a different colour depending on which service the message was from. Judging by the 'how-to' post, it's clearly quite a complicated but ingenious mod, which includes programming the chip. Luckily, he got it all to work first time. For the full details head over to his blog post here.
Via Liliputing.
We have seen a number of netbook mods here at NbC, but this is a first. One hacker, who was fed up with the scrolling on the touchpad of his Asus Eee PC 901, decided to stick an Apple Mighty Mouse trackball into its palm rest. Plasti-Bots has the complete tutorial on how you go about doing this for the enterprising modders out there.
It's certainly not one for the novices out there. The trackball wires had to be unsoldered from the mouse, and then soldered onto the motherboard. The finished result looks very professional and the video below shows how well it works. I wonder whether this is something manufacturers may intend on building into their netbooks in the future… Read more
June 19, 2009 at 10:35 am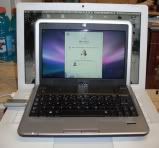 For the security conscious Dell Inspiron Mini 9 users out there, this is a mod you may want to pay attention to. MyDellMini user Rich2871 modded his Dell Mini 9 netbook with a fingerprint scanner embedded to the palm rest. Be warned though, Rich2871 is quite experienced when it comes to mods. His Mini 9 already includes a 64GB SSD, an internal 4-port USB hub, and OS X.
He ended up taking an external USB fingerprint scanner, taking out the main components and connecting it with the internal USB headers of the Dell Mini 9. That's even before you hack a hole in the case! Judging from the procedure it doesn't like a particularly easy mod, however the finished result certainly looks impressive.
Via Portable Monkey.
March 10, 2009 at 3:55 pm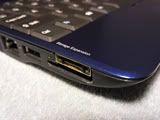 Normally when one is thinking of modding a netbook one thinks of upgrading the RAM or hard-disk drive. However, tnkgrl has gone one step further by modding her Acer Aspire One to add an eSATA port to the side. An eSATA port allows for a speedy external drive capable of 300 Mbps data transfer, nearly five times faster than using the integrated USB 2.0 ports of the AAO.
The guide is the last in a four-step series where she has already added Bluetooth, 3G, more RAM as well as swapping out her hard-drive. Budding enthusiasts beware though, this mod will void your warranty as it involves actually cutting into the casing! However, given the price of a cheap netbook over a laptop/notebook some people might want to take that risk.