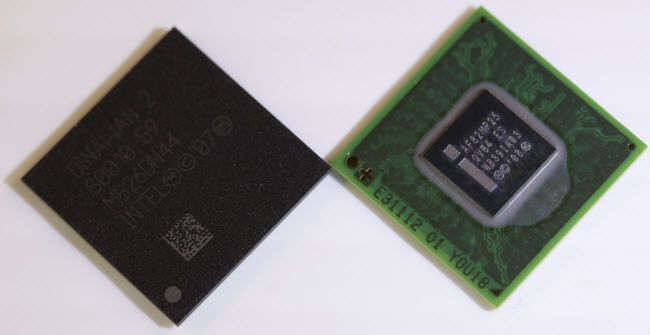 Intel has formally announced details on its Moorsetown platform in the form of Z6XX Atom mobile processors. The new 45nm chips have clock speeds ranging from 1.5GHz to 1.9GHz and will include Intel GMA600 3D graphics, display controllers and up to 2GB of memory onto a single SoC (system-on-chip).
These new chip use 50x less idle power, 20x less audio power, and 2-3x reductions in browsing and video playback power consumption compared to the older Z5XX Atom (Menlow) processors. In theory, this means smartphones, tablets and smartbooks running the new platform will be capable of 1080p video, desktop-style multi-tasking and long endurance times. Read more
February 18, 2010 at 9:38 pm
Intel may be set to launch a replacement of the Atom Z series of processors according to PC Watch. The Atom Z CPUs are found on a number of netbooks including the Sony Vaio P, MSI Wind U115 and Asus Eee PC T91MT. Intel had already announced Moorestown, the successor to Menlow that includes the Atom Z series, as part of its MID/smartphone platform.
Rumours suggest that Intel may be launching a new version of Menlow called "Menlow Plus" or "Menlow Refresh" with clock speeds faster than 2GHz. However, another rumour suggests that Intel is working on a Moorestown version for PCs dubbed Oak Trail. It's all rumours for now but we'll keep you posted with any developments.
Via NetbookNews.de.
Intel has officially released a 2.0GHz flagship CPU for the Atom series after rumours surfaced last month. The 2.0GHz Z550 CPU supports hyper-threading at under 3W of power. Intel also confirmed the 1.2GHz Z515 Atom CPU which uses Intel Burst Performance Technology for more power efficiency.
The company also demonstrated their next-gen Atom-based MID platform called Moorestown. One particular version shown had ten times more power efficiency when idle compared to current Atom chips. The platform uses a smaller 45nm manufacturing process, and includes both the graphics and memory controllers into the main core.
It will take advantage of a new version of Moblin, the open-source Linux-based platform Intel recently entrusted to the Linux Foundation, with new optimisation for internet access and mobile voice functionality. The platform is due to launch commercially by 2010.