March 29, 2010 at 9:48 am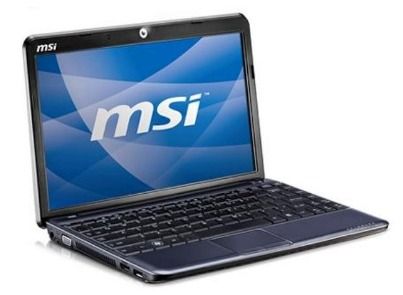 It looks like MSI will soon be launching the 12-inch Wind12 U250 netbook that follows the U210 and U230 AMD-powered devices. The Wind12 U250 was spotted on the ENERGY STAR website along with some unveiled specs.
The model will come with an unspecified dual-core 1.3GHz processor, up to 4GB RAM and a 320GB HDD. System power in idle is quoted as 10.61W suggesting it will be an AMD processor as it's higher than typical CULV power consumption. It will come with dedicated graphics (ATi Radeon 3200?) with 512MB memory. Hopefully some more definitive information will be released shortly. Read more
September 4, 2009 at 11:08 am
MSI's AMD-powered Wind U210 is now shipping in the US via Amazon.com. Only the white model is shipping at a cost of $429.99
, with the black
version still on pre-order.
The 12.1-inch Wind U210 is an AMD Neo MV-40-powered system with 2GB RAM and a 250GB HDD. It also has a 6-cell battery, HDMI out and comes with ATi Radeon X1250 graphics.
Via Netbooked.
August 25, 2009 at 6:37 pm
The MSI Wind U210, the AMD-powered version of the CULV-based Wind U200, was only unveiled last week, but Pierre over at Blogeee has already gone hands-on. The MSI Wind U210 is a 12.1-inch mini-notebook that comes with an AMD Neo processor.
The Wind U210 has a 12.1-inch (1366 x 768) LED backlit display and is powered by a 1.6GHZ MV40 processor & ATi Radeon X1250 graphics. It can support a maximum of 2GB RAM and is available in 160GB/250GB storage sizes. It also comes with a 6-cell battery and HDMI-out.
Pierre gives us a comprehensive look at the U210 and also compares it to a 10-inch Wind U100. He also managed to fit the U100 battery into the U210 with success. It does have a glossy lid, but is not as much of a fingerprint magnet as other models. Another positive note is that the bottom panel easily allows you to upgrade components. Check out the unboxing video after the jump. Read more
August 21, 2009 at 8:49 pm
Whilst the MSI Wind U200 12.1-inch netbook has already had a launch event back in May, the company has only just got around to officially announcing the device. The Wind U200 has a high-resolution (1366 x 768) LED backlit glossy display and is powered by Intel's Ultra Low Voltage (ULV) processor.
Two processors are listed, the 723 & SU3500, which means there are likely to be different SKUs. A maximum of 4GB RAM is allowed, it also comes with a 1.3MP webcam and three USB ports. The company claims that the 6-cell battery should last for 6.5 hours when running in ECO Turbo mode. This is a good time considering the size of the display. Read more
August 19, 2009 at 7:27 pm
MSI has already announced the 12.1-inch Wind U200 CULV-based netbook. However, it looks like MSI is releasing a companion netbook dubbed the Wind U210 that will be powered with an AMD Neo processor. The feature set looks to remain the same apart from the AMD internals.
Specifically, it will ship with an AMD Athlon X2 MV40 processor, 2GB RAM and a 250GB SATA HDD. It will also come with Windows Vista Home Premium. It will be available in both black and gray and cost €449 in mainland Europe. A cheaper SKU is also expected that will ship with Windows XP and have 1GB RAM and a 160GB HDD and cost €399. There's no word of a UK price or shipping date right now. Read more