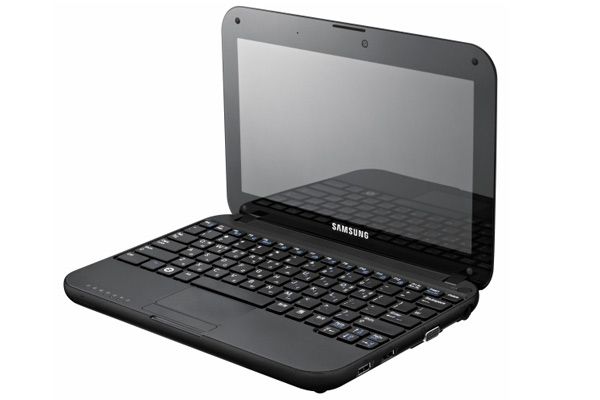 The Samsung Go N310 was one of the more striking netbook designs from Samsung with its bold coloured lid, large embossed Samsung logo, flush glossy display and chiclet keyboard. Samsung is set to launch a Pine Trail update with the Samsung Go N315 according to the official Samsung US site.
The Samsung Go N315 has a 10.1-inch (1024 x 600) matte display powered by a 1.66GHz N450 Atom Pineview processor, 1GB RAM, 250GB HDD and Windows 7 Starter. Other features include a 1.3MP webcam, Wi-Fi (b/g/n), three USB ports and a 4-cell battery good for 4.5 hours of runtime. It also comes with The New York Times newsreader application. Amazon
already has pre-orders up for $429. Check out the full list of specs after the jump. Read more
August 25, 2009 at 5:44 pm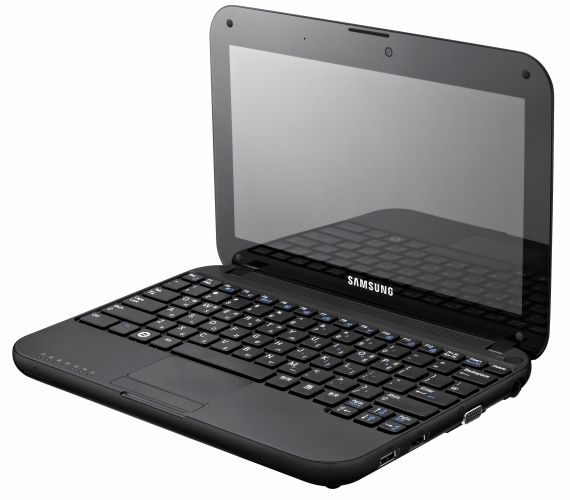 The Samsung N310 netbook is known for its fashionable design, chiclet keyboard and flush glass display. The UK version only comes with a 4-cell battery and we already know that the US version, the Samsung Go, comes with a 6-cell battery that should last for 8.5 hours.
It now looks like Singapore has an even improved SKU. The Samsung N310 is listed with a 1.66GHz N280 Atom processor and draft-n Wi-Fi, whereas the western versions come with a 1.6GHz N270 Atom and b/g Wi-Fi.
Via Netbooked [via Sammy Netbook].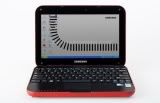 The Samsung N310 netbook has been rebranded the 'Samsung Go' in the United States. The Samsung Go is near enough identical to the N310 sold in the UK, however one (crucial) area in which it differs is the battery included.
The US version comes with a high capacity 6-cell (8850mAh) battery, which the company claims to last over 10 hours although it does not sit flush with the case. This replaces the 4-cell battery found in the UK version.
Laptop Mag has reviewed the Samsung Go and under their tests, it lasted for 8 hours and 23 minutes. They claim that the battery isn't too big either which is always a bonus. Considering that the relatively poor battery life in the European SKUs was one of the main areas of criticism (along with price), Samsung has done well in addressing this issue for the US market.
The Samsung N310 has been available for a while now on British shores, however it has just gone on sale in the US. Retailer TechDepot has all colours in stock (Black, Mint Blue, Navy Blue and Sunset). The Mint Blue and Sunset colours will cost you $455.95, whilst the Black and Navy Blue ones cost $464.95. Shipping costs an extra $15.29. All items are in stock now.
The Samsung N310 is due to be renamed Samsung GO, although there's no evidence of it thus far on the listing. The US version comes with a high capacity 6-cell (8800mAh) battery which is expected to last over 10 hours although it does not sit flush with the case. This replaces the 4-cell battery found in the UK version. Newegg is also expected to have stock later this week along with BestBuy and JR.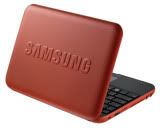 The speculation surrounding Samsung's first 11.6-inch ION-powered netbook continues to grow. Laptop Mag is reporting that the Samsung N510 will be heading to the United States in 2009 although the exact timing is unclear. A company representative says that it should appear during the "Q3 and Q4 time frame" which doesn't narrow it down much.
The Samsung N510 will not replace the company's 12.1-inch NC20 as it has been selling above expectations. It is currently exclusively on sale at Newegg, although other retailers are set to offer the model in the coming months.
The report also confirmed that the Samsung N310 will launch on 15th July 2009, but it has now been rebranded to Samsung Go. A strange decision, if true. The Samsung Go will come with a high capacity 8800mAh battery which is expected to last over 10 hours although it does not sit flush with the case. The Samsung Go will be priced at $479.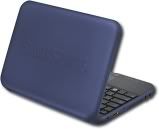 Not too far behind the European launch, both the funky Samsung N310 and long-lasting MSI Wind U115 Hybrid netbooks are now available to order in the US. The Samsung N310, complete with bold embossed logo and an array of snazzy colours, is now on order from Best Buy where it will set you back $479.99.
Whilst the exterior of the 10-inch Samsung N310 is certainly unique, it also comes with a flush glossy display and chiclet keyboard. The innards aren't anything to get too excited about though, powered by a 1.6GHz N270 Atom CPU, 1GB RAM and a 160GB HDD. It seems as if our US cousins will get a 6-cell battery with a promised 11 hour battery life, compared to the 4-cell battery seen in the European SKUs. The Samsung N310 is already available in the UK, where it costs £376.17.
There is a rumour that Microsoft is looking to ban hybrid storage netbooks that run XP Home, but that doesn't look like it's stopping MSI. It has placed its Wind U115 Hybrid netbook on sale on its official website for $499. The high cost is mainly due to dual internal storage of both a SSD and HDD. This combined with a power efficient Z series Atom CPU means some of the best battery times seen in a netbook. The Wind U115 is now available in the UK for £450.
Via Liliputing and Portable Monkey.
We have not seen too much of the Samsung N310 despite it being widely available in shops. We also realised that we have not seen too many clear videos of the N310 netbook in action since its launch. So we thought we'd share a very good user review of the N310 by Brian Clark, which shows the netbook across all angles and really shows off its design features.
He reviewed a blue version and the whole design does look very chic, with its curved edges, chiclet keyboard and flush display. The specifications are pretty average with the ubiquitous 1.6GHz N270 Atom CPU under the hood powering a 10.1-inch (1024 x 600) LED backlit display. Overall he was very impressed with its compact and portable design (the N310 weighs just 1.2kg). Click through for the video. Read more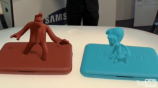 More and more companies are using viral ad campaigns to help market a product. We've found two such examples on YouTube. The first is for the Samsung N310 netbook which has two playful characters who emerge from the skin of the rubberised lids. I'm not really sure what message they are trying to deliver for this one, it has a distinct air of Looney Tunes about it. It's very well put together though and will probably get people talking.
The second video, for the Asus Eee PC 1008HA Seashell, has a clearer message. It's entitled 'picklock' and I'm sure you get the idea i.e. that the Seashell is thin enough to pick open a door. Both of these netbooks focus on design and as they stand out from the netbook crowd, it's hard not to see both models being a huge success. Check out the videos after the jump.
Update: It turns out that Asus has launched a whole host of viral videos for the 1008HA Seashell, following a similar theme as above i.e. how razor thin it is. It looks like that as well as picking locks, the 1008HA Seashell is also capable of cutting carrots, cut through some ropes that have you tied up, shaving and even be used as a frisbee. I've included them all below.
Read more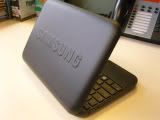 What Laptop has come out with the first review of Samsung's N310 netbook. Whilst they lauded the netbooks unique design, they felt it didn't quite sit right when looking at its price/performance ratio. At 1.2kg, portability was distinctly average, but what really hindered the overall proposition was a battery life lasting just 2 hours and 28 minutes.
Given the emphasis on battery life by most manufacturers nowadays this just doesn't cut the mustard. Judging by today's earlier Asus Eee PC 10008HA reviews, performance doesn't have to be sacrificed for a sexy design. The review doesn't state what conditions this battery life was achieved so we'll reserve judgement until we get a chance to test the 4-cell 4400mAh lithium ion battery ourselves.
On the more positive side, they loved the pebble (chiclet) keyboard, with decent spacing between keys and a comfortable typing experience. Overall they rated the Samsung N310 7/10. Check out a summary of the review after the jump. Read more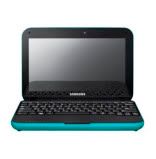 Whilst the specifications of Samsung's N310 netbook are average the same certainly can't be said of its design. In a departure from normal netbook aesthetics, Samsung enlisted the help of leading designer Naoto Fukasawa to create something unique. He definitely came up trumps, creating a look that has split opinion down the middle as to whether one finds it attractive or not.
The Samsung N310 netbook comes with a textured rubber casing and with a large embossed Samsung logo on the lid. It also comes with a 93 percent chiclet keyboard and a frameless 10-inch LED backlit display.
A number of UK retailers now have the Samsung N310 in stock, ready to ship. Prices vary between £382.26 from CCL Online to the official RRP of £399.99 (Amazon, Dabs, Laptops Direct). It will be interesting to see how popular the N310 becomes. Personally, I think it could become a big seller for Samsung. Most netbooks out there look very similar, by creating something very different, it should have a sizeable market willing to pay a premium for its unique looks.
Via SammyNetbook.
April 22, 2009 at 12:00 pm
Samsung has announced a number of new 10-inch netbooks that are due to hit retail shelves in the next few weeks. This includes the N110 netbook (refresh of the NC10), the N120 (which has a full sized keyboard and 2.1 sound system) and the N310. The Samsung N310 in many ways is probably the most interesting of them all. I say this, not because of the hardware (the specifications are not that different to the NC10), but mainly because of the love-it-or-hate-it design. No netbook released to date has caused such a chasm of opinion as to whether the design is attractive or not. Read more
We've posted a number of impressions of the 10-inch Samsung N310 from European sites, however this time round Laptop Mag managed to get hands-on with the Samsung N310 netbook at the CTIA convention in Las Vegas. We already know that whilst the specifications are pretty similar to the Samsung NC10, it is the design that sets it apart. It has a 'pebble' design with the Samsung logo embossed onto the lid. It will also have a 92 percent size standard keyboard and will come with a 4-cell battery.
Whilst I'm not too fond of the large logo, they found it to be a nice touch. The overall feel was quite solid and durable. They were also impressed with the 'chiclet' keyboard which felt even roomier than the Asus Eee PC 1000HE. Check out our previous post for the full specifications of the N310.
CTIA is the world's largest event dedicated to wireless gadgets. Interestingly, Samsung had the CTIA showfloor all to itself. Some of the biggest netbook manufacturers like Dell, Lenovo, MSI, Acer, Asus and Hewlett-Packard were all absent from the show. That left Samsung all alone to showcase its wares. A sign of the recessionary times we live in.
March 27, 2009 at 9:30 pm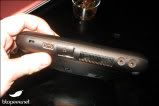 Blogeee managed to get some time hands-on with the Samsung N310 yesterday and posted a short video of its impressions. They played with the black version, which judging from the video seemed slightly susceptible to fingerprints. Overall they found the N310 very well finished and surprisingly light and compact. The netbook was one of the most popular products on the Samsung stand. Read more
March 24, 2009 at 6:09 pm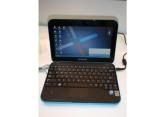 Despite only being officially announced yesterday, Samsung's N310 netbook has already been shown off to journalists at Samsung's European Forum in Vienna today. We revealed the full list of specifications yesterday and UK pricing (£399) as well as European pricing (€499). No new details were revealed today apart from the chance to go hands-on. Read more
March 23, 2009 at 6:25 pm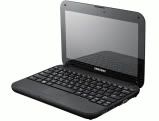 Samsung has now officially revealed the full specifications and pricing of it's upcoming 10-inch N310 netbook. [Note that the official name of the netbook is 'N310' rather than 'NC310' which Akihabara News reported on this morning]. The Samsung N310 will be powered by the ubiquitous 1.6GHz N270 Atom CPU and will sport a 10.1-inch (1024 x 600) LED backlit display. This may disappoint some who were hoping for a more beefier CPU under the hood or a higher-resolution screen.
It means that performance should be very similar to other netbooks and the main point of differentiation will come from the love-it-or-hate-it design. It will also come with a 4-cell lithium ion battery rated at 4400mAh. The N310 will release in May at a price point of £399. It is expected to release in Europe in April for €499. Check out the full specifications after the break along with the first official press shot. Read more