August 13, 2009 at 11:49 am
The guys over at NetbookNews spotted a Samsung ND10 netbook model on a trip to China. For those wondering how this particular model differs from the best-selling NC10, the answer is not much.
In fact the only difference appears to be that the ND10 does not come with an operating system and therefore is around $50 cheaper. This is great if you wanted to stick your own Linux distro on it without paying the 'Windows tax'. It's unlikely to make an appearance outside of China though. Check out the hands-on video after the jump. Read more
Most mods out there which tell you how to get internal 3G functionality are quite complicated and certainly not for the novice modder. João from BassoPT's Ultra Mobile Computing has come up with a relatively easier solution that will only work on the Samsung NC10. However, this still involves opening the bottom of the netbook, so you'll have to see where your skills fit before trying this at home.
João basically opened the bottom and replaced the Wi-Fi Mini PCI-E card with a 3G modem. Obviously this means that you'll have no wireless access, but João solved this problem by using a small Buffalo USB 2.0 Wi-Fi dongle. The other issue is that once you insert your sim card into the slot it will remain there unless you take off the whole bottom casing again. Or, you could always hack a hole into the casing to provide easy access. JKKMobile says that this is one of the few netbooks where you swap out the Wi-Fi module for a 3G one.
If you were wondering whether WiMAX would ever really kick-off, a number of WiMAX-enabled netbooks from different manufacturers have been announced this morning. First off, is the Samsung NC10 WiMAX (NC10-12PWBK). It doesn't come cheap, however, at $519.99 and is available to purchase now in the US. Other than the WiMAX module, the specs are exactly the same. The vanilla NC10, which costs $380, comes with a 10.2-inch (1024 x 600) display, 1.6GHz N270 Atom CPU, 1GB RAM, 160GB HDD, Wi-Fi (b/g), Bluetooth 2.0, a 1.3MP webcam and a 6-cell battery.
Intel along with UQ Communications is promoting the widespread deployment of WiMAX Services in Japan. UQ is committed to cover 90 percent of Japan with its WiMAX service by 2012 and sees the official UQ WiMAX launch on 1st July. As a result of this, several WiMAX-enabled netbooks and notebooks have been announced in Japan. Read more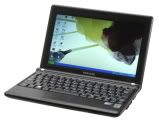 Whilst the Samsung N110 is still not available to pre-order in any of the main UK retailers, we may be one step closer, after the product page has now appeared on the official Samsung UK website. It's strange that whilst both Samsung's N120 and N310 netbooks have already hit UK retail, both of those product pages are still not up, yet the N110 netbook is, which isn't available.
We have also now learned that the Samsung N110's suggested retail price in the UK will be £349. Obviously, retailers will price this down slightly on release, but consumers need to consider whether the refresh is worth spending nearly £50 extra over the NC10, which retails for just over £300 on Amazon
. We'll keep you informed as soon as we have any details on the N110 release date.
Whilst there is still little sign of the Samsung N110 making on appearance on UK shores, TrustedReviews managed to take one for a spin. The Samsung N110 is effectively a light refresh over the best-selling NC10 netbook. Its improvements include an expanded touchpad and a higher capacity 6-cell 5900mAh battery (versus 5200mAh in the NC10) that should give 9.5 hours of continuous use according to Samsung.
The design is also slightly different with a glossy lid and red trim. The other main change is that the N110 will come with a glossy display as opposed to the matte one found in the NC10. Other than that, its specs are fairly similar. The N110 is powered by a 1.6GHz Atom N270 CPU and 1GB RAM. It also has a 160GB (5,400 rpm) hard-disk drive. It also comes with Wi-Fi (b/g), Bluetooth and Windows XP Home SP3.
TrustedReviews found that the Samsung N110 to be one of the best netbooks money can buy, offering a good keyboard, strong build quality, excellent battery life and attractive styling. Whilst current NC10 owners may not have anything to compel them to upgrade, those currently in the market will have a lot to find here. Overall they scored they the N110 9/10, if you head over to the site they also have a video review up. Click through for the key points of the review. Read more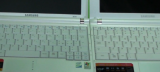 Yesterday, we brought to you our unboxing photos of the 10-inch Samsung N120 netbook. Today, Notebook Italia has provided a couple of N120 videos. The first goes through the unboxing whilst the second compares the N120 to the best-selling Samsung NC10.
The Samsung N120 has a similar 10-inch screen with 1024 x 600 resolution as the NC10. The Samsung N120 comes with a glossy screen compared to the matter screen of the NC10. To account for the full-sized keyboard, the chassis of the N120 keyboard is slightly wider and thinner. Check out the videos after the break. Read more
April 11, 2009 at 3:31 pm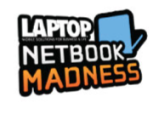 Over the last few weeks, Laptop Mag has organised a netbook faceoff featuring sixteen netbooks. Two netbooks have competed against each other vying for public votes to ensure it gets through to the next round. The netbook that has now emerged victorious is the Asus Eee PC 1000HE against the runner-up, the Samsung NC10. There wasn't that much in it, with just over 13,000 votes cast, the 1000HE took 54 percent of the vote compared to 46 percent to the NC10.
This is probably not surprising given that the Asus 1000HE costs a similar amount to the Samsung NC10 whilst having a longer battery life. However, it would be interesting to see how the 1000HE compares against Samsung's upcoming N110 which Samsung claims will last for 9.5 hours. Click through for a full chart of the final result. Read more
Last week when the Samsung N110 netbook first appeared on the Samsung US site, it listed that the maximum RAM available for the unit was just 1GB. We thought this was odd at the time as the N110 is a refresh of Samsungs NC10 which supported 2GB RAM.
Now potential N110 buyers can rest with ease. The product page has been updated and the N110 does indeed support 2GB RAM. The Samsung N110 is available to pre-order from a number of US retailers, however still no word on a UK release.
March 29, 2009 at 5:48 pm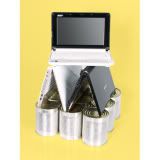 Netbooks with integrated 3G modules are generally very quick to broadcast their own signals and offer good signal strength according to a recent study by 'Connect' magazine. It studied three netbooks for wireless data transfer and by far the fastest was the Acer Aspire One A150x 3G that has an in-built Qualcomm module. The Acer was even faster than 3G phones that have been available over the last two years. Even the Samsung NP- NC10 3G and LG X110 came out with above-average performance compared to the 3G mobile phones.
With many mobile operators now offering netbooks as part of subsidised data packages, there will come a point that most netbooks will have the ability to access the internet in our view. Whether that means 3G modules will be included in most models from the start or we start to see the adoption of ARM based netbooks that are always connected to a 3G network, this can only be a good thing, giving more choice to consumers.
March 29, 2009 at 4:23 pm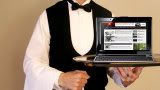 David Pogue's "Mr. Compromise" of the New York Times has finally taken a look at netbooks with a 'review ' of four different models. He asked Joanna Stern of Laptop Mag which ones to look at and came up with four 10-inch models. The Asus Eee PC 1000HE, HP Mini 1001, MSI Wind U120 and Samsung NC10.
Surprise, surprise he found that owning a netbook requires making compromises. Some of the issues with each netbook include mouse buttons on either side of the touchpad for the HP Mini 1001, the Samsung NC10 costs too much, the Asus is too heavy and the Wind doesn't have upgradeable memory. The video doesn't cover any new ground but is meant to be a bit of light relief, check it out after the break. Read more
March 23, 2009 at 10:28 am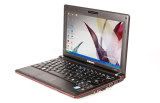 Samsung has unveiled yet another 10-inch netbook this morning, following the unveiling of the NC310. This time, Samsung is looking to build upon the success of its best-selling NC10, by announcing its third 10-inch netbook called the Samsung N110. The N110 has improved on its predecessor in a number of areas including an expanded touchpad and a higher capacity 6-cell 5900 mAh battery (versus 5200 mAh in the NC10) that should give over seven hours of battery life. The design is also slightly different with a glossy lid with red border. Read more
March 20, 2009 at 6:19 pm
Samsung and Yota, a Russian provider of mobile services, will release a modified version of the Samsung NC10 netbook which includes a built-in mobile WiMAX module. The Samsung NC10 4G is the first netbook to support WiMAX technology in Russia. Connection to Yota's fourth-generation network allows speeds of up to 10Mbps.
"This modification of our netbook is a historically first notebook of such class in Russia with a built-in Mobile WiMAX module. Samsung aims to dip into tomorrow, to shape new trends and to build a convenient future. Yota has already brought this future to Moscow and St. Petersburg, and soon will deliver it to other Russian cities. And the 4G netbook NC10 will be the simplest and the most affordable key to this future," said Sun Hong Lim, General Director, Samsung Electronics CIS & Baltics.
Apart from the built-in WiMAX other specifications remain the same. Samsung's NC10 is a 1.33kg netbook with a 10.2-inch LED display powered by an Intel Atom N270 processor. It also comes with a 160 GB hard drive, 3-in-1 multi memory slot, Bluetooth 2.0+EDR and a built-in 1.3 megapixel webcam. The NC10 also features a full size keyboard and 5200 mAH high capacity 6 cell Lithium battery, providing up to eight hours of use on a full charge. The Samsung NC10 4G netbook will be available at Yota stores costing RUB 19,990 (c$600).
March 18, 2009 at 5:33 pm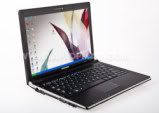 The Samsung NC20, the 12-inch brother to the ever-popular NC10 netbook, has seen its launch delayed in the US by a few weeks. The unit was meant to launch exclusively through NewEgg.com on March 16. However, here we are on March 18 and a quick search on its site yields no results (not even a placeholder page). According to Laptop Mag, the NC20 launch has been delayed by a few weeks for reasons unknown and now expects to be out in the first week of April.
NewEgg will be exclusively selling the US version in black only for $549. It will come with a 5900 mAh capacity battery compared to overseas models which have a 5200 mAh rated battery. The Samsung NC20 is the first netbook to support the 1.6GHz VIA Nano CPU and comes with 1GB RAM.
March 7, 2009 at 10:47 am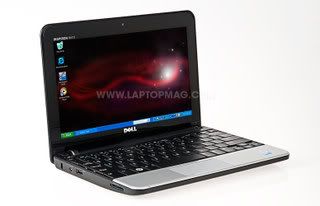 Laptop Mag has posted their review of Dell's upcoming Mini 10 netbook. Overall while they thought it was a competent offering, they believe other netbooks offer better value for money. The main criticisms came in the form of an awkward touchpad design and no six-cell battery offered at launch. Whilst the Dell Mini 10 is the thinnest and lightest in its class, both the Samsung NC10 and Asus 1000HA offer better battery life for less money.
Key points from review:
CPU performance was fairly standard (1.6-GHz Intel Atom Z530 CPU) although a 720p WMV video gave the Mini 10 some trouble.
The 10.1-inch display resolution of 1024×576 is less than standard for this size (typically 1024×600). This results in two less lines of text on Web pages.
The Mini 10 keyboard was larger than that of the Mini 12. They keyboard itself was relatively comfortable offering good, springy feedback.
Touchpad buttons quite small and hard to use.
The included three-cell battery lasted 2hrs 45 minutes.
Laptop Mag's review sample had a configured cost of $449, however Dell is currently offering the base configuration on pre-order for $299, a saving of $50. The base configuration includes a 1.33GHz Z520 Atom CPU, 10.1-inch (1024×576) display, 160GB HDD, 1GB RAM, 1.3MP webcam, 3-cell battery and Windows XP Home SP3.
The 'Special Edition' of Samsung's NC10 netbook is now shipping exclusively from Amazon. The difference over the standard version is that the SE (NC10-11PBK) comes in black and has a larger capacity six-cell battery (5900 mAh vs 5200 mAh) and bigger trackpad. As can be seen from the picture below, the trackpad is only marginally bigger than the original NC10. Amazon has reduced the price by $30, selling it for $469 delivered, however it looks like the first batch has already sold out and you're in for a two-five week wait for the second batch to appear. Availability outside of the US is unknown right now, although there is a rumour that a major UK high street retailer is due to get them in soon. More information as we get it.
Via Portable Monkey.