April 28, 2009 at 7:12 pm
Whilst Averatec are not the most well known brand when it comes to netbooks, this may be set to change with its next model. Averatec is set to launch a new netbook due in August or September which looks like a cross between Sony's Vaio P and Lenovo's Pocket Yoga concept and is rumoured to run Google's Android OS.
US-based Averatec is owned by a Korean company called TriGem. CEO Tae-Hyun "Tiger" Cho claims that this new device has been developed in-house "from scratch". Whilst the operating system has not been confirmed, Cho said that the "OS is going to be a surprise," however he also confirmed that it will be "a merger of cell phone and PC technology." It doesn't take a genius to work out that Google's Android is likely to be the front runner (unless Symbian is making moves behind the scene). Read more
March 17, 2009 at 1:24 pm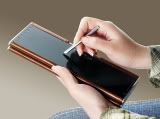 Lenovo has dashed the hopes of many by admitting that the Pocket Yoga pictures released yesterday were indeed a concept only with no plans for production, for now. It is difficult to understand why the pictures showed up on Lenovo's flickr stream yesterday, but whatever the reason, it seems that for now this will remain a concept only. This was confirmed straight from the Director of Lenovo's Beijing Innovation Center.
According to Li, Pocket Yoga was intended as a companion device that blurred the line between portable computing and the sort of accessories – wallet, diary, purse – users would conventionally carry with them. The almost-360 degree hinge allowed for multiple usage methods, from a tabletop or lap typing position, or – when fully rotated – a pad-style form factor more suited to standing or walking use, and which could be controlled with a touchscreen and pen.
Despite this fact, one can imagine a device like this appearing at some point, if not from Lenovo then from another competitor. Sony Vaio P's form factor is similar without the touchscreen so it cannot be ruled out in the future. However, given how everyone labelled this device as a Vaio P clone must irk the design team at Lenovo who came up with this concept two years ago, predating netbooks entirely.
March 16, 2009 at 12:55 pm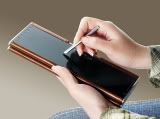 Lenovo seem to have confirmed the release of its 'Vaio P clone' which we reported on last week. Instead of the fuzzy spy-shot images from last week, Lenovo look to have released some teaser images pointing to a leather-clad netbook with form-factor similar to the Vaio P. The pictures also point to the system being dubbed as the 'Pocket Yoga' and one of the images tries to reinforce this point with the unit stuck in someone's jeans back-pocket.
Even more interestingly, it seems that it will be a touchscreen device with one of the images showing that the Pocket Yoga can be flipped around to be used as a tablet. One of the pictures shows that it comes with a belt that closes the yoga and also acts as a mouse! Hit the jump for lots more photos and details. Read more